First Dover City Council meeting held with interim mayor in place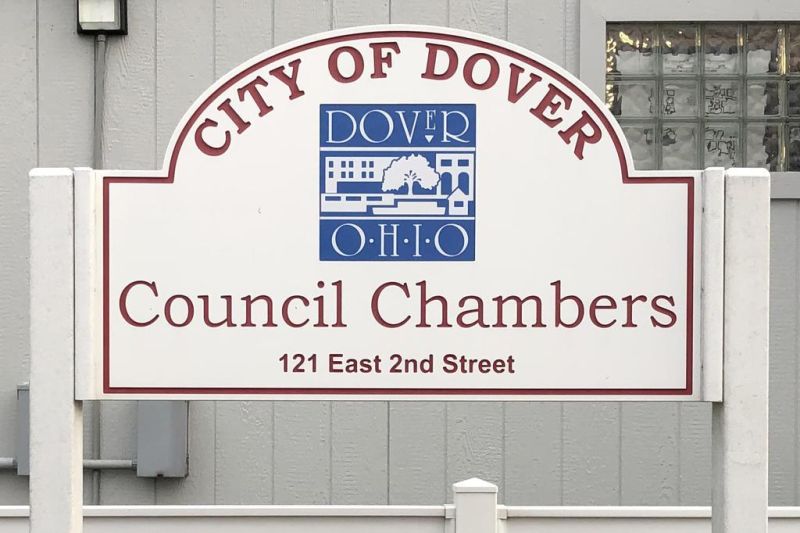 The mood at the May 16 Dover City Council meeting was noticeably lighter than it has been in more than a year. Interim Mayor Shane Gunnoe received a round of applause from council members. Justin Perkowski, council president pro tem, conducted the meeting.
In his first report to council as interim mayor, Gunnoe covered a lot of ground. After thanking council members for their support during a difficult time, Gunnoe had a message for Dover residents.
"I realize our city government is undergoing some unusual and difficult times," Gunnoe said. "And although my position as interim mayor is a temporary one, I pledge to make the most of whatever time I have in this position to stabilize city government, improve our city administration and move Dover forward."
Gunnoe announced the following:
Dover Light & Power was commended by the Ohio House of Representatives for being honored by the American Public Power Association at its engineering and operations technical conference in March 2014.
Dover Light & Power was honored with a 2021 Excellence and Safety Award for placing first in Group C and a 2021 Certificate of Excellence and Reliability by the American Public Power Association.
The annual Canal Dover Festival will kick off next Friday, May 27, and the parade will be Saturday, May 28. The schedule is on the city website, and entries for the parade must be received by May 20. Registrations are available at www.doverohio.com.
The replacement of approximately 600 water meters in the vicinity of Front Street will take place.
Dover Light & Power has included its maintenance shutdown. It is currently back in normal operation in the state within budget this year.
The appointment of Anne Bruno to the city's board of zoning appeals was announced.
Gunnoe also announced the reappointment of Justin Perkowski to the Tuscarawas County Regional Planning Commission.
HRN Construction has relocated approximately 35 jobs to Dover.
IT Director Matt Arnett, auditor Nicole Stoldt, executive assistant Even Newsome and Gunnoe are forming a committee to work on improving communication with the residents of the city via the use of social media and revamping of the city's website.
Gunnoe also requested an executive session following the meeting to discuss pending litigation.
In other reports
Law Director Douglas O'Meara said he filed four notices of dismissal regarding litigation against the city filed by former Mayor Richard Homrighausen. The purpose, according to O'Meara, is to terminate costs that were unnecessarily incurred and to stop any interference with the reinstatement of the three city employees who were fired by Homrighausen last December.
Safety/HR Director Gerry Mroczkowski reported on Ohio House Bill 172, which allows people to purchase and set off consumer grade fireworks on their property. At the same time, the bill provides Home Rule authority, allowing the city to restrict the use or ban the use of such fireworks. Mroczkowski said low-grade fireworks such as sparklers and bottle rockets are excluded from the bill.
Councilwoman Sandy Moss will take the matter up with the safety committee she chairs in June to determine the city's policy on the use of fireworks.
Council clerk Julie Leggett read an email from the Tuscarawas County Republican Party Central Committee. The committee is calling for applications to fill the vacant seat of Dover City Council. Applicants must live within the Dover city corporation limits and have voter registration with the Republican Party. Resumes should be sent to the Tuscarawas County Republican Party Central Committee at P.O. Box 542 by Thursday, May 26. The committee will choose a council president on Thursday, June 2 at 6 p.m. at the Tuscarawas County Republican Party headquarters, 203 S. Wooster Ave., Dover.
Legislation
Council passed emergency ordinances to do the following:
—Pay RCR Services $34,251 for work at Dover Light & Power in 2021 with Councilwoman Gina Space abstaining.
—Pay $199,349 to Sulzer, also for work at Dover Light & Power, with Space voting no.
Both ordinances are related to cost overruns incurred at the power plant last year. Space later explained her dissenting vote, saying she was not satisfied with Sulzer's explanation of why they authorized additional expenditures without council approval.
Council also heard the first reading of a resolution congratulating Hunter Armstrong for becoming the fastest swimmer in history in the 50-meter backstroke and for qualifying to compete in the 50-meter and 100-meter backstroke and the 400-meter relay at the World Aquatic Championships starting June 18.
Gunnoe post-meeting
In comments after the meeting, Gunnoe said he is excited to serve as interim mayor, but there is a lot of work to be done.
"I've made it a priority to try and speed up legislation and get things to council quickly because a number of projects have been delayed," Gunnoe said. "I'm looking to clear the backlog as quickly as we can."
Gunnoe said his employer has allowed him to take a leave in order to fulfill the duties of the mayor. Some of the projects he would like to see come to fruition include a long-term fire agreement with Dover Township, deciding how to use American Rescue Plan Act funds in ways that will set the city up for future growth and finding ways to use the city's revolving loan funds to attract business investment.
Gunnoe said he has not given any thought to whether he will run for mayor in the next election.