Hiland crossroad project rolling ahead of schedule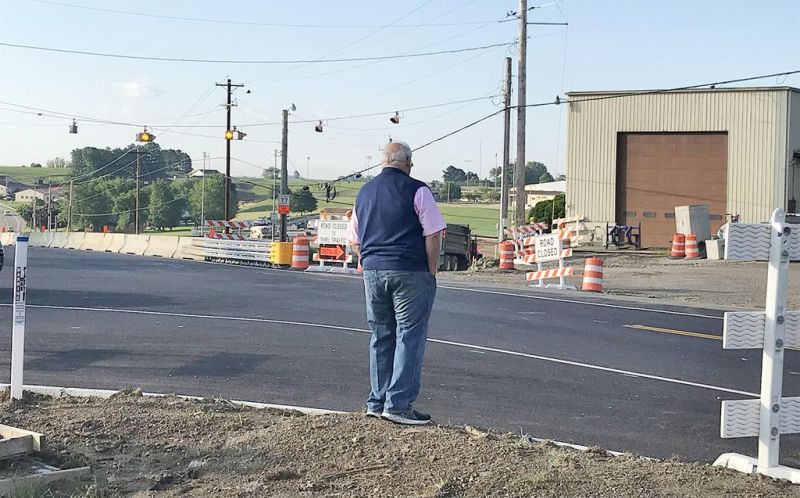 When the idea of construction at the crossroad of state Route 39 and County Road 77 and 367 near Hiland High School went from a concept to a plan months ago, the one big question was how is that going to affect traffic in an area near Berlin that is highly utilized by both locals and tourists.
How would work on a major thoroughfare interrupt the flow of traffic? Would it cause chaos and painful traffic flow during peak tourism season?
As June rolled into July, the answer was very positive to all of those questions. With construction company Eclipse taking the reins of the reconstruction of the crossroad, traffic flow has not been an issue, the company continuing to leave two lanes open most of the time.
"We were expecting something a lot more intrusive," local businessman Paul Miller said.
Not only that, according to Joe Sudol, project supervisor for Eclipse, they are currently close to five weeks ahead of schedule, something that thrilled Holmes County commissioner Joe Miller.
"We've had 10 or 12 rain days and some utility delays, but the job has really gone well," Sudol said. "The state has been great to work with, and we haven't had any glitches."
According to Sudol, paving will begin July 27. With a deadline set in October, Sudol said they will finish up well ahead of that deadline, probably in the next five weeks.
Sudol attributes that success to having good people willing to work hard and together to get the task completed.
"We find solutions to the problems we come across and move forward," Sudol said.
Once the paving is complete, a subcontractor for Eclipse will assemble the two sets of traffic lights that will help regulate the flow of traffic in what has been a dangerous intersection for years.
One major issue at the intersection has been students leaving school at the end of the day. With the intersection presenting a danger, Hiland High School had its students use the lower drive to the school to leave the premises after school.
"This should give everybody coming off of the intersection from 367 a much better line of sight," Sudol said. "It should be nice after it's done."
Miller said he has traveled through the intersection nearly every day of his life, and he said he has seen how dangerous it can be. He said he began lobbying for work to be done on the intersection many years ago, and while it took time, that has finally come to fruition.
"I've been a commissioner since 2003, and I started raising Cain with ODOT about this intersection and have been on them for the last 12 years," Miller said.
Miller went on to say he continued to hear there wasn't funding and that the accident results didn't warrant creating a solution. Still, Miller said he was adamant they find a solution. Eventually, he got state representatives like Al Landis involved, and the idea started to gain momentum.
Miller said District 11 could not find finding for the project and state money did not qualify, but Miller said District 11 began to set aside funding of several thousand dollars per year for the project four years ago.
Four years later District 11 had about $1.4 million set aside for the project, but it was estimated at a cost of about $2 million.
"The director said they just don't have the rest of the money, so we quickly said, 'We'll take care of it,'" Miller said. "The county put $600,000 in including $150,000 from the Berlin trustees."
Miller said District 11 had several plans including a round-about, but they eventually settled on the current plan, which includes a turning lane, better viewing angles over the crest of the hill and the traffic lights, which will be synchronized to allow proper traffic flow.
Miller said the other concern was having a company win the bid that the county was unfamiliar with. He said once the commissioners saw Eclipse in action, they were sold.
"When somebody bids on a project from out of town, a lot of them might not have the work ethic people have around here, but your company does," Miller told Sudol. "We have been really, really impressed with what has been going on and the way things have been moving."