Holmes Elections board meets state voting-security directive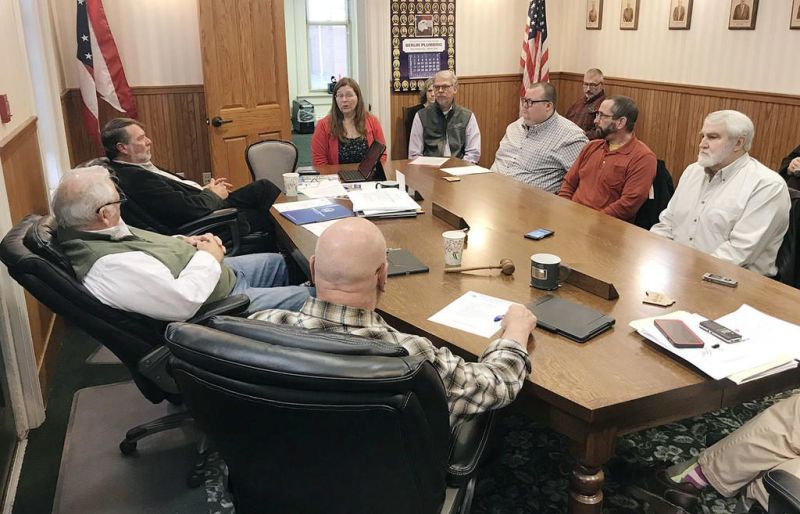 A decade ago many of the challenges state board of elections face would not have been an issue.
However, in today's world of cyber-hacking, accusations from all sides and the complexity of which elections are now run, the landscape of voting during elections has changed dramatically.
All 88 counties in Ohio are being asked to increase security and attain certain state-generated objectives so voting is as fair and honest as possible in hopes any issues that might crop up will be minimal.
During a recent press conference, Secretary of State Frank LaRose said county BOEs in Carroll, Clark, Hamilton, Holmes, Ottawa, Trumbull, Van Wert and Warren counties had not completed the requirements for cyber-attack detection, system hardening and network defense.
Those counties were asked to finish the checklist and get up to code by the start of early voting on Feb. 19.
LaRose issued the 34-point security plan for election security this past summer that was created to help guard against interference in the 2020 election. That comes on the heels of suspected meddling taking place in the presidential election of 2016.
The directive required county boards to install digital burglar alarms that would alert them to cyber criminals attempting to hack their systems, conduct annual training and assessments on cyber security, and complete physical security and criminal background checks on employees and vendors.
They were directed to transition their websites and email servers to those that end in .gov or .us and to ask for assessments and testing of their systems from the U.S. Department of Homeland Security.
Reacting quickly, the Holmes County board of elections team of Lisa Welch, BOE director, and Mary Shaffer, deputy director, are making sure everything is in place by the appropriate deadlines as the March election approaches.
The two Holmes BOE directors and the four BOE board members including chairman Michael Jaeb, Wesley Schmucker, Gary Wagers and Mark Baserman, Jr. met with the Holmes County Commissioners on Monday, Feb. 10 to discuss what has taken place in meeting the requirements to comply and what they can do to best improve voting issues.
Welch said as early as June 2018 the county received a directive issued to review the structural security in its offices. She said they did and took some proactive steps in changing and improving security.
"We changed over to a new server and a new transport system, moving that into their back room, which is much more secure than the office itself. Those upgrades were made in May of 2019," Welch said.
In the summer 2019 the Holmes BOE received another security directive from LaRose, who had taken the information from the reviews and created a minimum safety requirement plan based on the review of all 88 counties.
"We had already met many of the minimum requirements when that came out because of the improvements we were proactive about taking," Welch said.
Welch said going into that new directive, Holmes County's BOE was among the top-10 percent of counties in the state in terms of meeting the directive's requirements on cyber security. She said when the new directive came, the local BOE did change its website to a .gov website that is administered by an outside firm. They also did background checks on employees and went through an interview with the Department of Homeland Security, which inspected the secure area of the office and made a few requests that were then met.
Welch then said none of the changes have anything to do with the physical voting equipment that is offline and locked inside a double-locked security room at their facility.
The real problem was with the vendor the county used to provide its new equipment and security levels.
"The previous vendor we had that was handling our voter registration felt they could no longer help us, and the new vendor was unable to meet the deadlines for various reasons," Welch said. "We had a perfect storm. There was equipment not delivered on time. Equipment was delivered wrong, and we had to reorder it. Things were left off the statement of work quote. The former project manager that we had worked with has been removed from his position because it was basically a failure on our vendor's part. We are making every attempt to make it work. This is something we are constantly working on. Every week we have some type of update that we have to implement to make sure if there is any chance of a virus or a bug being out there that can attack our computers, that we are able to prevent that."
Welch said the equipment now has arrived. It is up and running and ready for the upcoming voting period, and everything should be in place as of Feb. 12.
With just two full-time employees at the BOE and more workload being thrust upon them, Welch said the need is growing for a county IT expert who could do the work required during critical voting date periods.
Commissioner Joe Miller said the county must work together to obtain quality IT personnel when it is needed.
In a letter addressed to the Holmes County commissioners, all four board members signed a statement that read:
"The Holmes County board of elections has two full-time employees (director and deputy director). They are exceptionally dedicated and hard-working. Complying with all the security directives from the Secretary of State's office has stretched them to the limit. This has been especially difficult as we are also getting ready for the primary on March 17. Some of our vendors did not deliver in a timely manner. This put us in a difficult situation that made us miss the deadline by a few days. We as a board strongly believe both Lisa and Mary are second to none. They have our complete confidence."
"Lisa and Mary have given us a very in-depth briefing on everything that has transpired over the past four, five, six months," Jaeb said to the commissioners. "They have been on top of it and have put in 70- to 80-hour work weeks for the past two months."
The commissioners said they would do whatever it takes to solve any issues and make sure Holmes County is in compliance, without putting too much burden on the two BOE staff members.