Holmes OSU Extension excited about 2022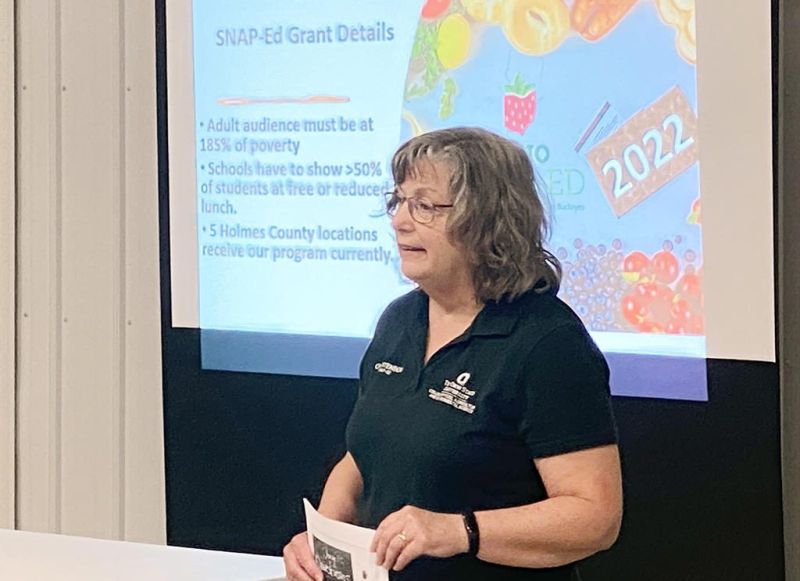 The Holmes County OSU Extension Advisory Committee and affiliates met Thursday, May 26 in the Baker Building at Harvest Ridge to discuss recent extension office programs and accomplishments and explore what is on the horizon.
Holmes County 4-H Junior Fair Board members Alex and Alysa Pringle provided the welcome and an icebreaker that included learning more about those in attendance.
Both youths also are Holmes County 4-H Camp counselors and provided a plug for the upcoming 4-H Camp.
Extension office educator Janessa Hill welcomed the office's new 4-H program assistant, Ella Lorentz, whose first day in the office was May 26.
Hill and Lorentz then presented brief updates from each of the department's program areas including 4-H, ANR, FCS and SNAP-ED.
Several of the topics discussed included the upcoming Wild Times at Cloverbud 4-H Camp June 21-22 at Harvest Ridge.
Hill discussed some of the 4-H numbers in Holmes County. There are currently 396 4-H youth members in 24 clubs, 126 4-H volunteers and 871 enrolled projects. Thirty-two junior fair board members is something Hill called an exciting growth in the 4-H program.
"We have 11 new junior fair board members," Hill said. "That is something we really worked hard on, and we are excited to see how this board continues to grow."
She said other exciting events included Alysa Pringle becoming a Holmes County Teen Leadership Council member.
"She is the first on in Holmes County and the only one in Holmes County that has made that commitment," Hill said of Pringle. "We're really proud of her because it is a pretty intense application and there is a lot she has to do."
Other areas covered included officer training components in Holmes and Knox counties, the recent Holmes County open house for new youth, two Holmes County delegates being selected to represent the county at Citizenship Washington Focus, and another elected to represent Holmes County at Ohio Leadership Camp.
Another new addition to the 4-H program is a second 4-H junior fair carcass show. In the past there has been one for steer, but this year the county will add another for the sheep and swine.
"It's a good opportunity for our kids to learn different parts of the animal and new skills, and we are excited to add it to the program," Hill said.
Gary Graham gave an update on the county's recycling programs and dealing with the program during the pandemic. He said they have teamed up with and worked well with Wayne County on programming application efforts, noting the cost of fertilizing farmland continues to grow.
"We've seen both chemicals and fertilizers at a 200-300% increase," Graham said.
Kate Shumaker, family consumer science educator, spoke on her efforts to grow the teaching in the classroom projects through family and consumer sciences within the 4-H world.
Kids in the Kitchen, Real Money: Real World, Microwave Cooking, Preserve It! Vegetables, Take Charge of Your Diabetes and more classes will be offered throughout the coming year as Shumaker continues to build relationships and make connections that enhance living and build skills within the youth and adult realm.
"We've tried to create a balanced list of opportunities for partners with us," Shumaker said. "These are valuable programs that are easy to follow through on and can be very beneficial."
Darcy Becker, program coordinator with Ohio State University Extension of Wayne and Holmes County, dug into some of the opportunities of Supplemental Nutrition Assistance Program, which focuses on good nutrition, stretching food dollars, living physically active lifestyles and engaging partners to build healthier communities.
"This helps to ensure the healthy choice is the easiest choice to make where people live, work, shop, play, eat and learn," Becker said of the program that took the place of food stamps. "It's supplemental, and there is an educational component of it. We provide the education that provides people with the knowledge to make things work."
She said their target audience must be at least at the 185% poverty level, or if it is in the school systems, the school must have 50% or more students on free or reduced lunches.
She said aside from working with children through school programs, they also are involved with Sunshine Villa Apartments, Kno-Ho-Co, Robin's Terrace Apartments, Glenmont Food Pantry and more.
"We try to speak to people at least three times," Becker said. "Hopefully, that inspires them to change."
She said they understand people can't always get to programs to hear them speak, so they have created a series of recorded videos that took place during COVID called Better Lives: Stronger Communities.
"I'm hoping to not just connect with an individual. We are hoping to make an impact in entire communities," Becker said.
In winding the program down, Hill presented a challenge to all the advisory board members and others in attendance.
She sent out some homework in hopes of developing a game plan that included the thoughts and ideas of others who could enhance what the extension office has to offer Holmes County and 4-H.
"I want you to dream big," Hill said of the homework.
She presented the three following questions to answer: What adult youth and adult programs would you like to see in Holmes County? What community partnerships would you like to see strengthened? What networking opportunities outside of Holmes County or even Ohio can Holmes County Extension benefit from?
"I want people to get creative and think big in expanding what the extension office has to offer and provide to the community, and our people in the community are a big resource, full of ideas," Hill said.
In its fall 2021 meeting, members were asked to brainstorm and write down emerging challenges in the social, political, economic, technological, scientific, business and industry realms Holmes County might face in the next decade.
This homework was a continuation of growing those ideas that were fleshed out during that meeting.