Immigration rally encourages community action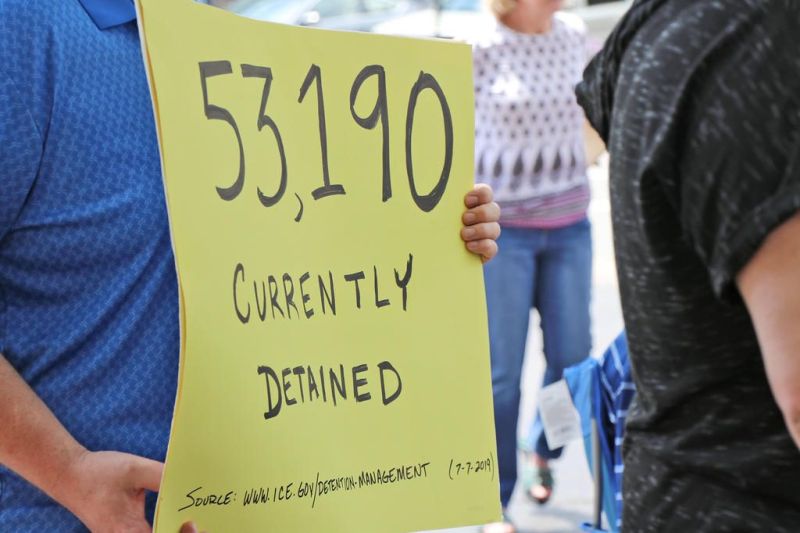 Nearly 70 individuals gathered on Wooster's public square on Sunday for the Rally for Immigration Reform. The event was coordinated by members of Wayne Forward and the Wayne County Democratic Party in an effort to bring awareness to the conditions at U.S. immigration detention centers, to find ways to end family separation and to assist migrants legally seeking asylum in the U.S.
Mandy White, one of the coordinators, said the rally was the second in as many years that highlights the plight of individuals as they flee violence and lack of opportunity with the hope of finding safety in the U.S.
"We hear about these detention centers on the border, but most people do not realize we have 26 such centers in Ohio that we know of," White said. "We have seen and heard reports about the deplorable conditions these people are subjected to, but nothing has been done. Nothing."
Don Vild, Kathy Perna and Sherrel Reiger travelled from Dover to attend the rally.
"Outrage has become normalized," Vild said. "No one is shocked anymore. When outrage is normalized, nothing is normal."
Bryon and Heidi Bell travelled from Rittman to participate in the rally. "We are here because of the injustice of detaining people coming to America," Bryon Bell said, holding a sign that put the number of detainees at 53,190, a figure he got from the U.S. Immigration and Customs Enforcement website.
Kevan Franklin of Trinity United Church of Christ in Wooster said he and members of his church have spent time serving people in Mexico. "Many legal residents of the U.S. choose to serve in the military because it can earn them citizenship, or so they thought," Franklin said.
Veterans are being deported in great numbers, and Franklin said this is wrong. "Military service claims to have a pathway to citizenship," he said.
Franklin also is concerned about the impact children in border facilities are experiencing. "The well-being of a nation is dependent on the well-being of its children," he said. "Most troubling is the secrecy about these detention facilities and the conditions people are living in."
Franklin said misplaced priorities in Washington, D.C. cost people dearly. "Be engaged," he said. "Be informed, stand in this square, make signs. We need to close the camps, restrict money for deportation and detainment, and reunite families who have been separated."
Jenny Fisher from the Catholic Migrant Farmworker Network and the Immigrant Worker Project said her story and most people's stories are similar to the stories told by modern-day immigrants. "I have not been to the border jails, but I have crossed the border. What is happening is immoral, illegal and just plain wrong," she said.
Fisher, whose ancestors migrated from Lithuania to America in 1919, said, "We all have these stories. We need to tell them because my family is your family, is the family in Guatemala, is the family in Nicaragua, is the family in Mexico who needs to feed themselves. Tell your stories, find them out and then tell others because it's then we can start making some changes."
Brian Hoffman, an immigration attorney now working with Catholic Charities, represents immigrants seeking asylum and spoke about the need for volunteers and monetary donations to small Ohio nonprofits like Ohio Immigrant Alliance, which works directly with immigrants detained within the state.
"There needs to be rioting on the switchboards and in the mailboxes of every one of our public officials. You need to call them and write them every single day," Hoffman said. "If you are from a generation who wondered what would I do during the civil rights movement or during Stonewall, you're doing it right now. If you are among the many of us who wonder what would I do if I lived during colonization, slavery or the Holocaust, you're doing it right now."
Harold Nunes of Open Arms Hispanic Ministry said he has been so overwhelmed with taking people to doctor appointments, school, immigration lawyers and assisting them with their immigration cases that he resigned as pastor of the Salem Mennonite Church to better serve people in need.
"So many needs that these sisters and brothers have every single day in our country," Nunes said. "Our immigration system is outdated. Our immigration laws are based on the '60s. This country cannot function with these immigration laws. We need a humane immigration law as soon as possible."
Local activists Lupe Williams and Juanita Greene also spoke at the rally and encouraged all residents to vote in the 2020 election.