Johnson Woods SNP inducted into OGFN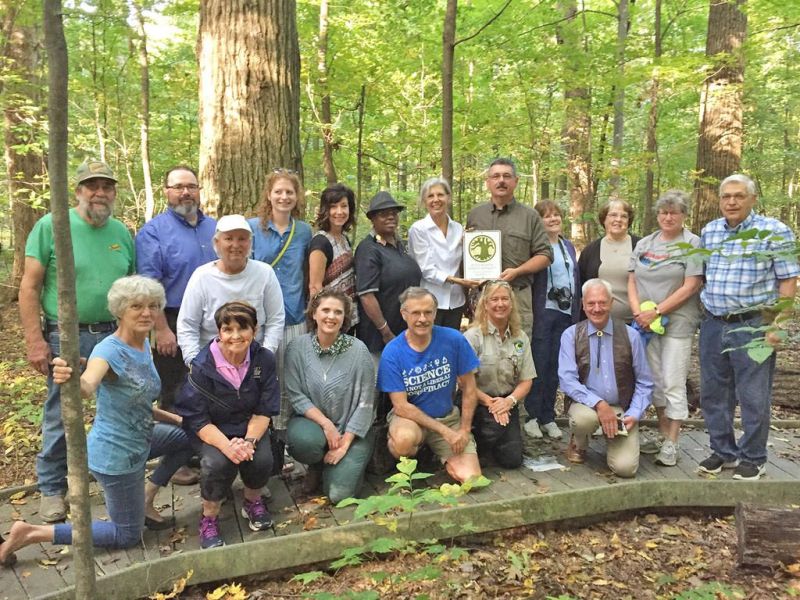 A group gathered at Johnson Woods State Nature Preserve on Fox Lake Road in Marshallville on Oct. 10 to celebrate the induction into the Old-Growth Forest Network. Johnson Woods is the 81st site inducted into the national network and the 10th site in Ohio.
Joan Maloof, the founder and director of the OGFN, officially dedicated the forest. "There should be at least one left 'forever wild' in each county where forests naturally grow," Maloof said. "These forests will have positive effects on both the humans and the wildlife in our nation."
Johnson Woods is one of Ohio's largest old-growth forests. Many trees rise 40-50 feet before the first limbs occur, and several are more than 400 years old. The largest trees, then and now, are white oaks, red oaks and hickories. The forest is proceeding through a natural succession from an oak-hickory community to a beech-maple community, so the maples and beeches are becoming more prominent members of the forest community.
Swamp forest communities, dominated by red maples and pin oaks, are found in the more poorly drained sections of the preserve. In addition to its importance as one of the few old-growth forest stands remaining in Ohio, Johnson Woods also is significant for its size. At 206 acres, Johnson Woods is a self-supporting ecosystem. Its large size makes it less vulnerable to storm damage and threats from disease.
Birds such as the pileated woodpecker, scarlet tanager, Acadian flycatcher, wood thrush, ovenbird and hooded warbler are found nesting at Johnson Woods along with many other species that are dependent upon larger tracts of forests. The size, age and history of Johnson Woods SNP make it one of the most significant forest communities in Ohio.
"What a great honor it is for Johnson Woods to be recognized in this national network," said Lori Reinbolt, president of Orrville Area Chamber of Commerce.
Reinbolt was in attendance with her staff at the event. "I hope that the community will take time this fall to experience this treasured forest. We are so fortunate to have it located in Wayne County," she said.
The mission of the OGFN is to connect people with nature by creating a national network of protected, mature, publicly accessible forests. The goal is to preserve at least one forest in every county in the United States that can sustain a forest, estimated to be 2,370 out of a total of 3,140 counties. OGFN's program works to identify forests for the network, ensure their protection from logging and inform people of the forest locations.
Johnson Woods was chosen as Wayne County's representative in the network. With the inclusion of Johnson Woods SNP, the network will have over 80 forests. The full list of forests may be viewed at www.oldgrowthforest.net.
OGFN also educates about the ecological benefits of old-growth forests and speaks out regarding immediate threats to specific ancient forests.
"In addition to creating a network of forests, we are also creating a network of people who care about forests," Maloof said.
The effort to identify and formally qualify a forest for inclusion in the OGFN is largely dependent on volunteers. Craig Limpach has been a valuable volunteer supporter of the OGFN and instrumental in identifying Johnson Woods SNP as a candidate for the network. Interested volunteers are welcome to contact OGFN through their website at www.oldgrowthforest.net.
Johnson Woods SNP will join the following Ohio forests already included in the OGFN: Ashland County's Crall Woods at Pine Hill Park; Cuyahoga County's A.B. Williams Memorial Woods — North Chagrin Reservation — Cleveland Metroparks; Fulton County's Goll Woods State Nature Preserve; Highland County's Fort Hill State Memorial; Hocking County's Camp Oty'Okwa Old-Growth Forest; Licking County's Flint Ridge Ancient Quarries and Nature Preserve; Lucas County's Secor Metropark; Richland County's Hammon Woods; and Wood County's Wintergarden/St. John's Nature Preserve.
Along with Johnson Woods SNP, Dysart Woods in Belmont County and Knox Woods State Nature Preserve in Knox County also are being dedicated. This will bring the total number of Ohio forests included in the OGFN to 12, more than any other state.