Lawrence Twp residents ask trustees to address water issues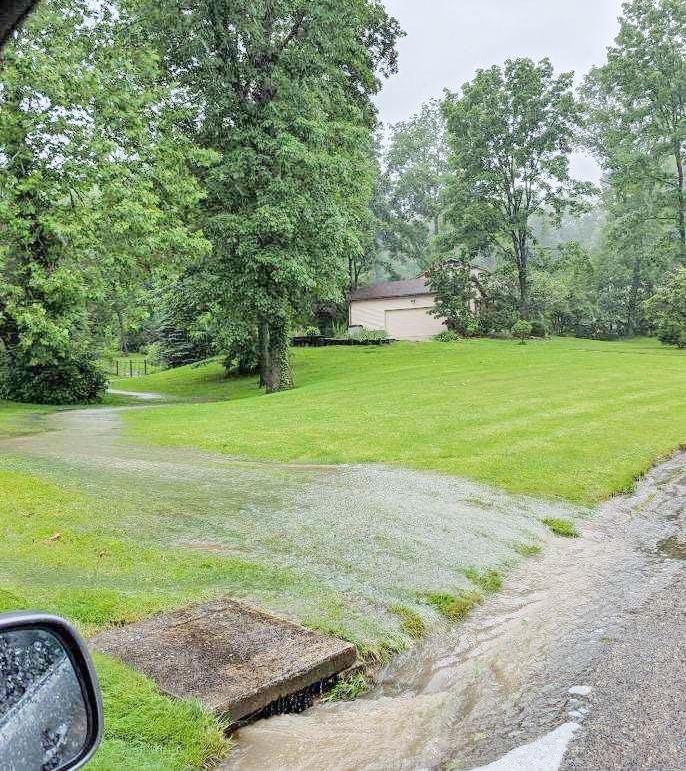 About 10 Wilkshire Hills residents who live on South Bimeler Street attended the Lawrence Township Trustees meeting on Thursday, June 25. They were looking for solutions to issues with brown drinking water and storm-water drainage. All live on the lower section of South Bimeler just outside of Zoar near the Faith Baptist Church.
Melody Niblick said her drinking water is coming out of the tap brown, and several others reported the same problem. Niblick said her neighbor had contacted the water department and was told there is too much manganese in the water.
Don Ackerman, chairman of the board of trustees, said brown drinking water was an issue that needed to be addressed with the county water and sewer department. While he encouraged residents to check with the department, he also offered to contact them and ask questions.
Trustee Matt Ritterbeck echoed Ackerman's comments. "Our board doesn't have any control of the drinking-water issues, but we can send in the sign-up sheet you signed in on tonight to the director, Mike Jones," Ritterbeck said. "He is also a township resident. I will ask him to follow up with all of you."
The conversation then turned to issues with storm-water drainage. Fred Shepler said he has had trouble with storm-water run-off for years. "I've lived here 25 years, and I've never seen the water come down into our yards like it does now," he said.
Jeannie Farber said they've had problems with the driveway washing out more than once. "I had cement pumped in under the driveway twice," Farber said. "Last year a company came in and pumped polyurethane under the driveway. Do I think my problem is fixed? No, I don't because there is still water running."
Farber also said she now has dampness on the walls of a garage that was added to their property a year ago whenever there is a hard rain. "I'm open to ideas on how to fix this," she said. "But I'm out of ideas."
Cindy Habrun had to replace her driveway when it caved in due to rushing storm water. "I now have a sinkhole in my yard," Habrun said. "My husband is in a wheelchair and has to enter the house in the back where we put in cement. Now that slab has a crack in it from the water, and it's very difficult for him to use."
Most of the residents seemed to think the water was coming down from inadequate water drainage on Lafont Circle on the hill behind their homes.
"The water that comes from Lafont comes down my neighbor's property and then onto ours," homeowner Mary Kreiter said. "It's literally a rushing river. We have two swales in the back of our yard, and they can't handle the water anymore. My patio flooded and is now cracked. We've had to replace all of our grass for the third time now. I have a storm drain right in front of my house, and the water floods the whole street in front of my house."
Niblick has lived in her home on South Bimeler for 35 years. She alleged the township trustees had caused the problem. "You put rock in, and that created havoc," she said. "The rock is disappearing, and the ground is caving in by my house."
Ackerman said it was possible the work they did had affected where the water is now running. "We've encountered water issues all through the township, more than ever before," he said. "Last year we had to completely close down Zutavern Church Road. I don't remember that ever happening before. So we are getting a lot more rain than we've had in the past."
Dan Shane said all the water from everyone else's properties ends up on his land. He said the township trustees don't want to do anything about it and that he was told if the water is on his property, it's his problem to deal with.
Niblick said her husband was told the same thing. She also said her husband and Shane were thinking if it's their problem, they would just cement everything to close it up. They were advised by the trustees that doing this would potentially create more problems.
"Unless there is a legal easement, we can't go on private property and perform the work you're asking for," Ritterbeck said. "We have to follow the Ohio Revised Code, which says we have to keep 30 feet on each side of the road from the center line mowed and ditched. But we legally cannot manage the water, and you can't control Mother Nature."
Ritterbeck went on to say there is now legislation that requires all new developments to have detention/retention ponds built. "It's mandatory," he said. "I've only been doing this for 13 years, but my experience has been that most developers eventually go belly-up."
Ritterbeck said developers often put in inadequate drainage, then file bankruptcy, leaving homeowners with no recourse other than footing the bill for repair.
Chuck McNutt, road supervisor, said as more developments are built and people mow their lawns more, there is nothing to hold the water back.
"When it rains normally, everything works," McNutt said. "When it rains hard, it doesn't work so well. But all that water isn't coming just from Lafont. And it's not the township's responsibility to address. The property owner has to."
Ackerman compared the issue to one he has on his property where there is a creek. "When it rains, the creek washes out on one side or the other," he said. "Every year we put cement and riprap on the side of the creek. If the township was legally responsible for doing that, I'd have them fix my problem too."
Ackerman said he would start checking into whether or not grant funds are available. "But even here in the industrial park, the businesses got a grant but had to come up with matching funds. Just like in that situation, there may be a burden on homeowners, but I'm willing to check."
Ritterbeck again reminded homeowners that the township does not have a legal easement that would allow them to put in another catch basin. "We can only do so much because the Ohio Revised Code does not allow us to go on private property."
"It seems funny that when it's convenient, you can't come on the property, but other times you can," Holly Shane said. "You came onto our property five years ago and redirected the water, and now all of a sudden it's not OK?"
Trustee Mike Haueter said the township put in riprap a few years ago. "Honestly, it has helped you out more than you may realize," he said. "If you concrete it or fill it in with dirt, you won't have problems with the township, but you may have legal problems with anyone whose property you may run the water onto."
"We have a boatload of water that comes down off of that hill," Tami Cantrell said. "We've already replaced the pipe once. The township told us what we needed, but it's not handling the water, and we are losing our yard for the third time."
Tami's husband Bobby Cantrell said he thinks the drainage system is too old. "When it was first put in, it was adequate for maybe half-a-dozen homes," he said. "But now with all the homes there, it's undersized and can't handle the flow. When it rains hard, it blows water out of the drain 20 feet into the air."
Tami Cantrell said, "One problem the township does have is that the water coming out of the drain we replaced actually caused the street to collapse. And it's going to keep doing that because the water comes out with such force. That's not our fault, what's happening to the road."
McNutt acknowledged the township has multiple neighborhoods where the water behaves that way. "That water is coming down off that hill in different ways that affect each of you differently," he said. "We know there is a problem, but we can't stop that water from coming down either. We could cut up the road and put in another 42-inch pipe — that's one solution — but it's not going to work. Multiple issues need to be looked at first by an engineer."
David Roadpouch said there is a legal easement between his property and that of Fred Shepler. "Why can't you just put in some kind of catch basin or drain? If you need a place to put another culvert, maybe it could be put in where the easement is."
McNutt said the issue was complicated and would require the services of an engineer.
Niblick said when she and her husband first moved in, they were going to bid on the lot next to theirs where her neighbors, the Shanes, now live.
"The township trustees told us we couldn't build on it," she said. "Then all of a sudden a house is being built there. It just seems like the rules change depending on who is involved. I'm not blaming you guys, but there has to be one set of rules, and you have to stand by them, buddy-boy or no buddy-boy. There have to be a certain amount of laws that you go by because here we are, how many years later and having problems."
Ackerman said he will have the county engineer come out and look at the issue. Ritterbeck said residents should check with the Ohio Mideast Governments Association.
"They're a great organization, and we may be able to secure some funding from them to throw at this problem. It would help if all of you would reach out to them and said you attended this meeting looking for a solution. There's strength in numbers," Ritterbeck said.