Learn more about flint knapping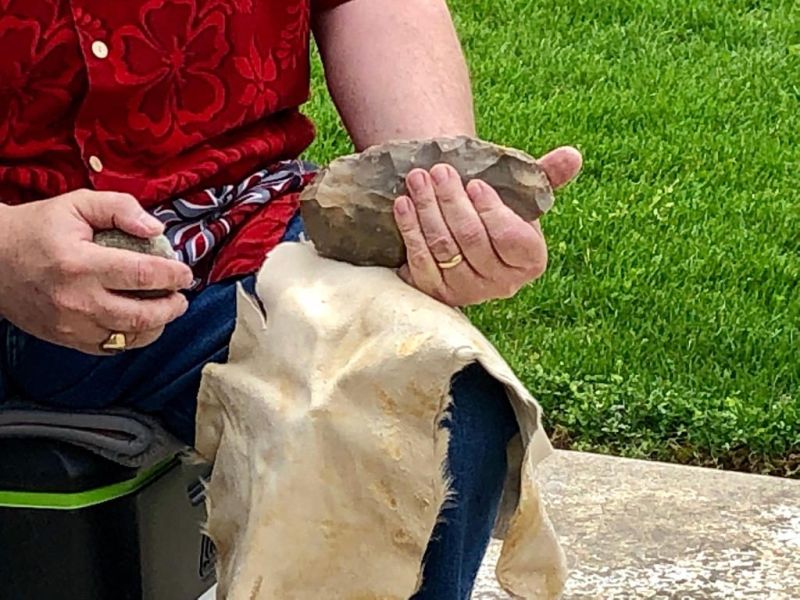 Amateur archaeologist Larry Wonderley will present a program called "The Ancient Art of Flint Knapping" on Thursday, Sept. 23 at 6 p.m. at the Dover Public Library.
Wonderley will show artifacts as he explains how the Native Americans crafted flint into arrowheads. He will demonstrate the use of each tool in the process of flint knapping. Participants are encouraged to bring artifacts for Wonderley to identify. The program is for all ages.
The word knapping is derived from the Germanic term knopp, which means to strike, shape or work.
Knapping was an essential skill for hunters and gatherers who needed to create their own tools and hunting implements in order to survive in the wilderness. Later in the history of mankind, flint knapping was used to form strikers for flintlock firearms or to produce flat-faced stones for building.
Today, many people continue to practice this ancient skill. Traditional bowyers, experimental archaeologists and primitive skills enthusiasts learn from each other and constantly hone their craft. They give knapping demonstrations and enjoy teaching their skills to younger enthusiasts. There are clubs and websites devoted to this ancient art.
Wonderley became interested in flint knapping, thanks to his children. They attended a presentation about the Native Americans and wanted to buy arrowheads. When Wonderley contacted a flint knapper in Bolivar, he discovered the cost of such a souvenir was too high for a child in school. So in 2001 he got a board and railroad spike and began making simple arrowheads that he gave away to the children.
After a while he invested in some knapping tools and taught himself how to make other crafts. As an active member of the Sugarcreek Valley Archaeological Society, Wonderley demonstrates his skills as a flint knapper at regional festivals. Wonderley is the pastor of a church in Midvale.
The program will be held in the community room at the library, which is located at 525 N. Walnut St. in Dover.
Register online at www.doverlibrary.org or call the library at 330-343-6123.