Mineral City Library to unveil new children's area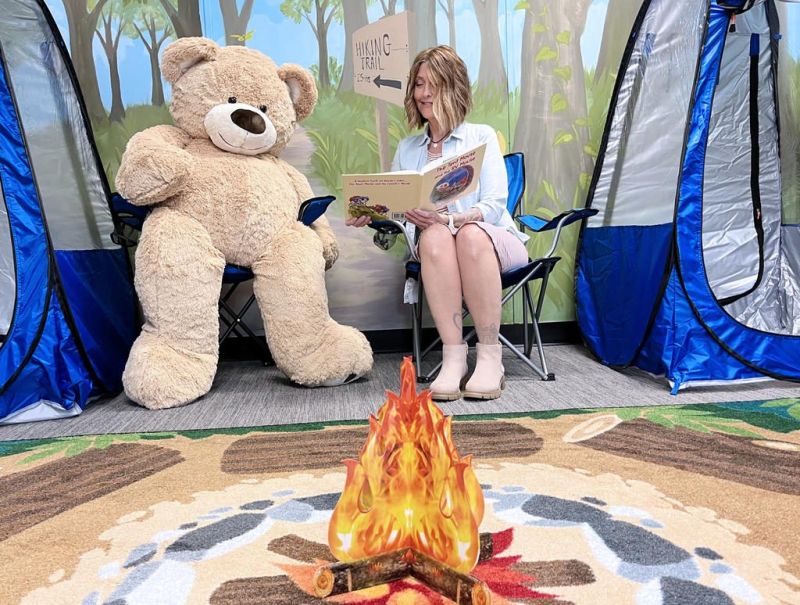 The Mineral City Nicole Donant Library recently expanded and renovated its children's area just in time to kick off its summer reading program. The public is invited to a grand reopening on Saturday, June 3 from 1-5 p.m. The celebration will include refreshments, games, crafts and a drawing for a full-day pontoon boat rental, courtesy of Atwood Lake Boats.
"We're going to be cooking hot dogs outside on the grill, and we'll have an old-fashioned popcorn machine going," said Carrie Moore, director of the library. "It will be a good time for families."
Nancy Schoenbaum from Camp Tuscazoar will bring samples of the camp's maple syrup and update people on all the new activities and services the camp offers for area families.
A community effort
According to Moore, a number of people came together to bring the new children's area to life. "The area was damaged by a water leak a few years back," she said. "There used to be a castle back there, but it was ruined, even though the walls still featured a sort of enchanted theme."
The area now features a camping and outdoor theme and is called Camp Read-A-Lot. The woodworking highlighting the entry to the area was created by Howard "Pinky" Brinkman.
Moore said a friend's son, Jagger Stutzman, a graduate of the Columbus College of Art and Design, drew the illustrations on the walls, which include a campfire, tents and a vintage Gulf Stream camper.
Jagger's mother Christy Stutzman is Moore's lifelong friend. "She and Jagger and I painted the walls, and then Jagger came back to add the finishing touches only a true artist can give to provide dimension," Moore said.
Funding for the renovation, which expanded the area to twice its original size, was provided by the Friends of Mineral City Nicole Donant Library.
Boat outing prize drawing
Visitors to the grand reopening can enter to win a pontoon boat outing for eight people valued at $350 and donated by Atwood Lake Boats. "All they have to do is fill out a ticket. Then it goes in the jar and we're going to pull the name later that evening," Moore said.
The winner need not be present and will be notified by phone and on the library's Facebook page.
Summer reading program
The library's summer reading program will begin Wednesday, June 7 and will take place every Wednesday in June from 1-3 p.m.
"This year's theme is 'Community and Unity,'" Moore said.
In addition to hearing a story, children will be treated to a snack and an activity centered on a different topic each week.
"The fire department is partnering with us the first week, so we'll be visiting the fire station, learning about what firefighters do and then we'll read the book, 'Jimmy the Firefighter,'" Moore said. "We will also have some special guests attending."
On June 14 children's author Farrah Raines will get kids up and moving with her Miss Farrah's Movement and Fun. She'll read her newest book, "Finding the Super You!" about a girl on a quest to find her superpowers.
Another children's author, Michele Richey, will lead story time on June 21. She'll read her book, "Grandma and the Moonbeam Fairy," and lead the children in making a craft project.
Parents can register their children for the summer reading program by calling the library at 330-859-9100 or sending a message on Facebook.