New Philadelphia holds community feedback meeting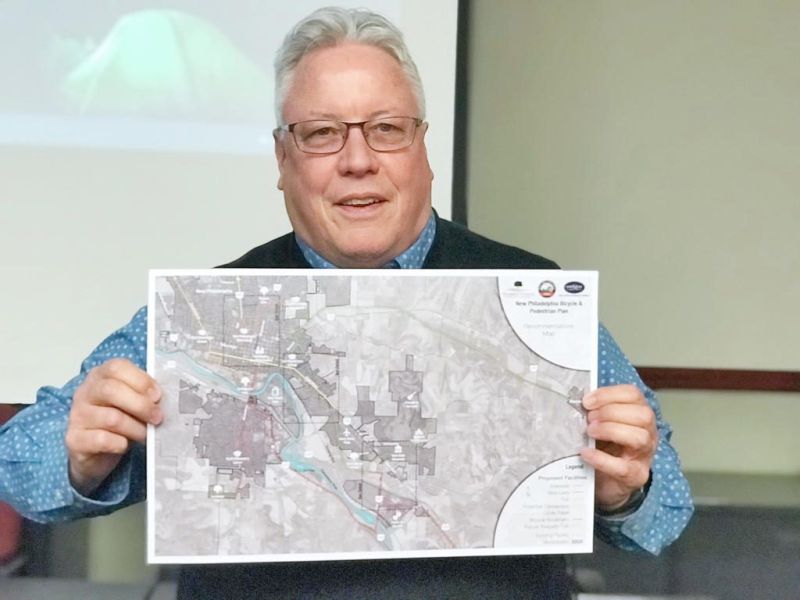 With a major park addition at the south side of town, a new dog park in the works, new boat ramps completed and now a major city bike path in the move-ahead stage, the City of New Philadelphia is making a full push for quality-of-life projects for its residents.
The city held a community feedback meeting on Wednesday, Feb. 19 at the John Knisely Municipal Centre to outline current progress for the New Philadelphia Bicycle and Pedestrian Connectivity Plan.
The meeting was hosted by Mayor Joel Day and included introductions by Ohio & Erie Canalway Coalition President and CEO Dan Rice and featured a presentation by Ryan Smalley of Envision Group, which has headed up the project planning. Day spoke of the meeting and subsequent call for input as "the last chance to get more good feedback from the community."
"The City of New Philadelphia is somewhat different from most of the cities we work with," Rice said. "Most cities tend to place pedestrians and bicyclists on a back seat, if you will. But what this plan says is that pedestrians and bicyclists are a priority in our community, so how can we make this a safe experience for everyone? It takes into account the placement of locations people may want to reach. Not everyone has a car or access to public transportation, so this is a very inclusive plan. But we need everybody's help and input to get this done."
"We want to dream a little bit," Smalley said as he began outlining the plan, "but we don't want to dream so big that it becomes impractical."
Results of initial public input, based on 23 people surveyed, showed a preference for a multi-use path or dedicated bike lane for the proposed trail. Must respondents indicated monthly bicycle use, chiefly for recreation.
Those traveling on foot tend to try to get in one good walk a day, again for recreation. Most sought access to downtown New Philadelphia and Dover, as well as Tuscora Park, rather than area historic sites. The highest response rate for the survey was among people age 50 and older.
"To keep it as practical as possible, we've tried to make use of existing roadways and right of ways," Smalley said. "We don't want to have to go out and ask for a lot of easements because if you aren't able to secure an easement for a particular section of the trail, the trail is kind of stuck."
Smalley brought several photos and graphics into play, showing successful paths that have been implemented in other areas of Ohio. The paths, most of which were dedicated bike lanes on current roadways separated by a median, also displayed clear markings, signs and dedicated signaling for safety.
Eventual plans would bring pedestrian and cycling access to New Towne Mall and Kent State University at Tuscarawas.
Day is prepared to continue to seek out such lifestyle-enhancing projects for New Philadelphia. "We have a great location," he said. "We have the Tuscarawas River. We have tremendous natural assets, so what we're doing is to use them to not only enhance quality of life, but to bring in dollars. People will want to come here to ride their bikes, to have a good walk, to get onto the river with their kayaks and canoes. That's good for everyone."
Day said no cost has been attached to the plan so far but said it is one he feels is on the right track. "Oh yes, this is just what I had envisioned," he said. "We have these trails all around us, up from the south, in Dover, and I think this just builds on that. You should be able to traverse the entire county on a bike or on foot. The other thing driving this is that Kent State Tuscarawas has plans to house students there in dormitories. So that will create a new need for new means of transportation from the university to the rest of the county."
Day said further community input is needed and welcome. "They should email me directly at jday@newphilaoh.com," he said.