Oldtown Valley Flyers to host public fly day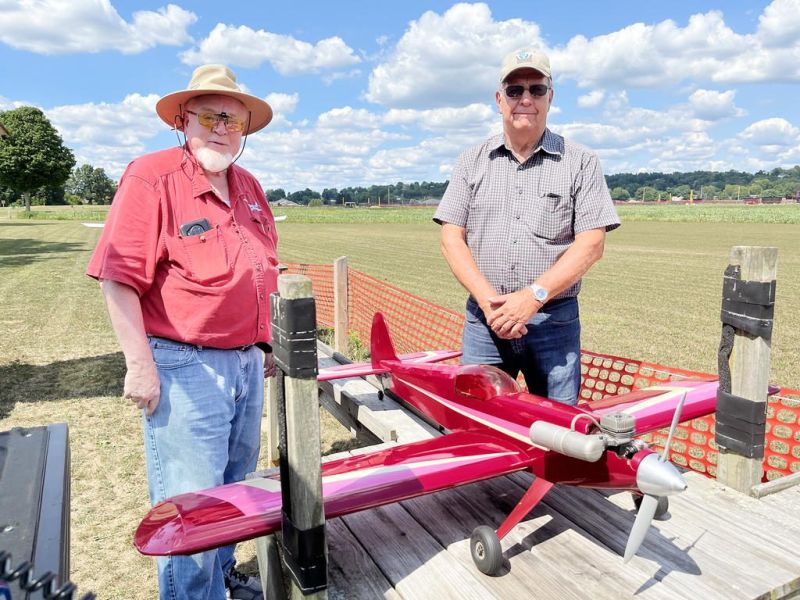 The Oldtown Valley Flyers radio-controlled airplane club invites the public to come fly with them on Aug. 13 from 10 a.m. to 4 p.m. The club is located on Arrowhead Road in Wilkshire Hills.
Robert Draman, club president, said members of the club will be there to help budding pilots try their hand at flying using club planes. There also will be a flight simulator onsite to practice before take-off.
Giant Eagle in Bolivar is donating water, and other refreshments will be available. However, those who plan to attend are encouraged to bring lawn chairs and food.
"We'll be demonstrating and letting people see all the ins and outs of flying," Draman said. "We'll also have members here to answer any questions people may have about the planes and about joining the club."
Terry Flitcraft is one of the club's newer members, having joined less than a year ago. "I would advise anybody who is interested to just come, bring a chair, sit down and watch these guys. Once you get to the point where you think you might want to give it a try, join the club."
At the other end of the spectrum, Ed Wentworth is a lifetime member. At age 93 Wentworth doesn't do as much flying as he used to, but he and his wife Toni still enjoy watching. An Air Force veteran, Wentworth served as a meteorologist during the occupation and reconstruction of Japan following WWII.
Wentworth said he only flew a real plane once. "I happened to be up with a pilot in a two-seater," he said. "The pilot had a hangover and wanted to take a nap. He said, 'Take ahold of the stick, put your feet on the rudder pedals and don't do anything stupid.' That was my one time flying an Air Force plane."
"These things fly just like real planes," said Jim Gowan, a longtime club member whose father was an aeronautical engineer for NASA. "He's the one that got me interested in this back in the late '50s and early '60s when I was a kid. I'm 73 now, and I still love doing it."
The planes are built to scale and represent just about every type of airplane out there, from turbo-props and jets to military fighters and floaters.
The Oldtown Valley Flyers is an Academy of Model Aeronautics club and seems to have landed in the right spot after moving to Wilkshire Hills from Dundee.
"We are in a perfect location," Gowan said. "We have people stop by when we're out here and ask how to join. They come off the walking trail or see us when they're driving by on Route 212."
As with their open house last year, the club is hoping to draw young people to the event. "We'd like to see them get away a bit from the Nintendo and X-Box and come outside," Draman said.
Memberships in the club cover the entire family and are $50 annually and $35 for those over 50. Junior memberships for those under 18 are free. Membership information and applications will be available at the event.
People also can join online at www.oldtownvalleyflyers.org. The website is currently being updated, but the membership form can be accessed by clicking Join.