Orrville vet recipient of 'Patios For Patriots'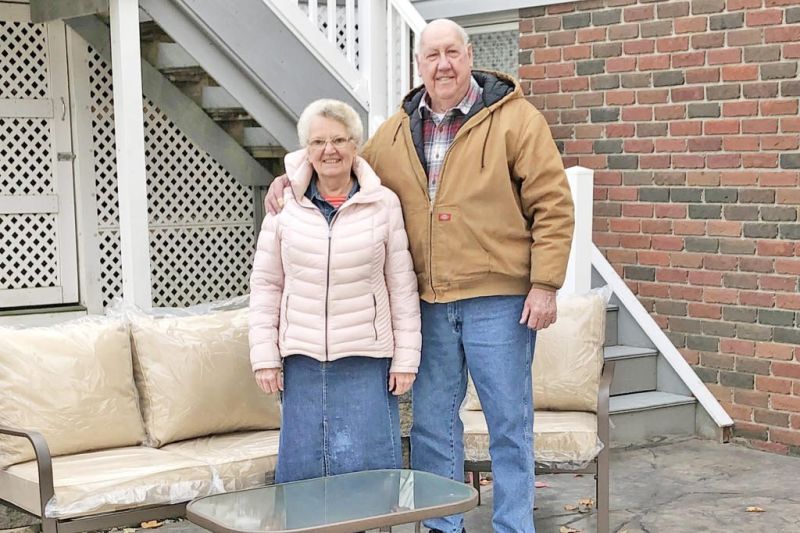 For nearly two months, Stan Hartzler of Orrville was told every time he drove beside his house, he had to keep from looking in his backyard.
On the Saturday before Veterans Day, the secret was revealed: Hartzler was honored as a recipient of a brand-new patio from the Patios For Patriots organization.
Surrounded by a large group of family and friends, Hartzler was emotional when seeing the reveal. "All my friends and family got to see a grown man cry," he said.
Hartzler served as a medic in the Vietnam War. "The ones who lost their limbs, their limbs are still gone. The ones who died are still dead. I don't know how I deserve this," he said of the patio.
Hartzler suffers from the effects of Agent Orange used during the war.
Hartzler's wife Gloria said the project went better than she ever expected. "For two months I've been pulling the shades and reminding him not to look," she said.
B&K Concrete provided the bulk of the labor for the project while several other area contractors also participated in the project.
The patio includes a stamped concrete surface bordered with a stone wall and custom landscaping.
The all-expenses-paid backyard patio was courtesy of Patios For Patriots and B&K Concrete Construction of Marshallville. Patios For Patriots wanted to give Hartzler a more stable surface he could enjoy outside his home.
A nonprofit 501(c)(3) company and a subsidiary of Deco-crete, Patios For Patriots was formed solely to honor and thank this country's brave men and women. Jason Geiser is the Deco-crete owner and founded the Patios For Patriots organization along with Todd Hershberger, an effort focused on designing and constructing concrete patios for veterans' residences.
The organization consists of volunteers and contractors who donate their time and energy to perform the work. Funds donated by the public — including fundraisers such as golf outings — are used toward the projects. This is the 21st project the organization has completed since it began operations in 2016.
The nonprofit has one goal: to show its appreciation to this country's veterans.
"We show it by giving veterans a place where they can enjoy time with family and friends, a place where they can relax," Geiser and Hershberger said. "Patios are what we know, and we believe in using our gifts to serve others. We can't think of any other group of individuals who are more deserving of having a fun, inviting, welcoming place to enjoy the outdoors than our country's veterans. Our veterans selflessly give of themselves through serving our country, and we think they deserve a special thank you for that service. This is our way of saying thanks by doing what we do best, designing and constructing concrete patios for residential homes."
Hartzler had been nominated for the project by his son and daughter. The process includes a board deciding the appropriateness of the project and includes a thorough background check.
Hartzler's project started in August, so the project had to be finished before the bad weather.
For more information regarding Patios For Patriots, visit www.patiosforpatriots.org.
To view other Patios For Patriots projects, go to www.youtube.com/channel/UCg1TeKI1ZLRHqp2A0PZCJvw/videos.