Pickleball a hit at Dover Council meeting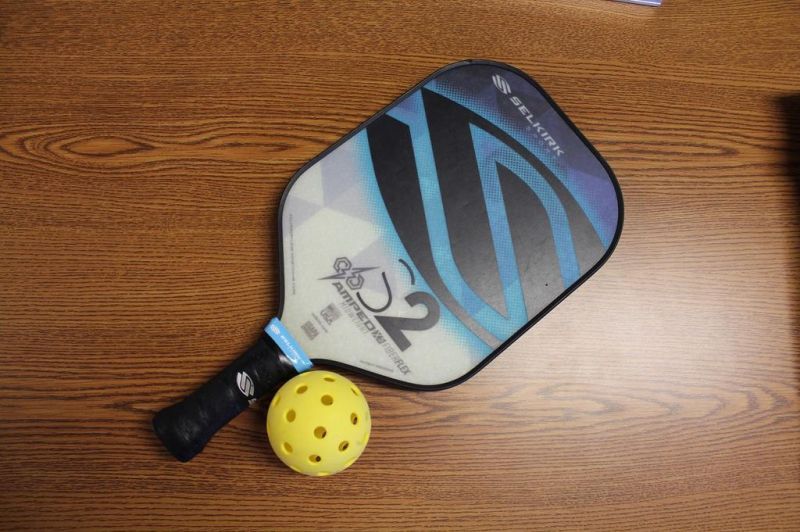 Dover resident Jeff Funk attended a park and recreation committee meeting on June 7 to present information on a growing sport: pickleball. Currently, there are no dedicated pickleball courts in Tuscarawas County, although a tennis court in New Philadelphia is lined for pickle ball.
Funk attended the meeting in his typical pickleball-playing attire — shorts, tennis shoes and a short-sleeve shirt — and brought along two rackets and a special Wiffle ball that are used for the sport. He passed the equipment around the room for those present to examine. A group of pickleball players are already having regular matches at the YMCA in Dover, which has lined part of the indoor basketball court to the game's specifications.
The group has been playing on existing tennis courts too by putting down masking tape and putting up temporary pickle ball nets. A pickleball court is only 44 feet long and 20 feet wide, making the game suitable for players of all ages.
The game combines elements of other paddle sports like badminton, table tennis and tennis. Two or four players use paddles made of wood or other composite materials to hit the ball over the net.
The closest pickleball court is in Canfield, according to research by Dover councilman Justin Perkowski. He found there is a United States Pickleball Association too.
"I would say if we can address this need, we'd be definitely providing something that you can't find within a close vicinity to our area," Perkowski said.
Pickleball is not new, but it is new to the area.
"It first came about in 1965 in Washington State, and the growth has been outstanding," Funk said.
There is a lot of pickleball-specific lingo. There's a "kitchen" area that is 7 feet on either side of the net, and the ball must bounce once in the kitchen area before you can return it. Players are not allowed to hit the ball in the kitchen. "Dinking" refers to when you hit the ball low so it just clears the net. There are indoor pickleballs and outdoor pickleballs to use depending on where you are playing. The ball is served underhand, and you only score when you serve.
"We currently have been playing at the (YMCA) on Tuesdays, Thursdays and Fridays from 7:30-9:30 a.m. It gets us up a little early, but we really enjoy it," Funk said, adding they also play at Tuscora Park on Wednesday and Saturday mornings.
The group has equipment with them so they can convert tennis courts.
"We can actually set up for three courts, and we still have people waiting to play," Funk said.
There is a group of about 50 area people who are playing the game regularly. A downside of pickleball is it is greatly affected by the wind. It is ideal to have a screened fence around the court to prevent gusts from affecting the game.
Funk highlighted the benefits of pickleball, which include the sport being a good opportunity to socialize, the strategy needed to play keeps players thinking throughout the game, it is a quick game to play and the average game lasts only 15 minutes, it is an inexpensive sport, it is good for families and teaches hand/eye coordination, and it's great exercise.
Park director Scott Jerles gave a report on his findings on the possibility of adding pickleball courts to Dover Park.
"The installation of two courts is $75,000, and the cost of four courts is $120,000," Jerles said.
The cost includes fencing, but Jerles was warned by a contractor that the cost of fencing is going up and would most likely add another $10,000 to any project.
Jerles had another solution though. He said it would be possible to convert two old bocce courts on the top of Deis Hill to pickleball courts. That option would only cost $5,000-$10,000, and lighting and parking is already there.
There are new bocce courts in another area of the park, and those are used most often. The pickleball courts would serve players of all ages.
"It's not just for senior citizens. We are getting grandparents with their grandchildren coming and playing," Funk said. "In Naples, Florida, they have the National Pickleball tournaments. At The Villages in Florida, they have over 100 pickleball courts. Orrville just put in new courts, and Canton just put in new courts. It is really picking up."
People who see the game being played for the first time want to join in. It is anticipated the sport of pickleball may soon be in schools.
"Years ago when we put in the disc golf, a lot of people were kind of reluctant, but there is not a day that goes by that the course is not being used. I think this pickleball court will be another asset to the city of Dover for recreation," councilman Greg Bair said. "I am in favor of it."
Another meeting will be scheduled to discuss the project and move it forward when more information is gathered on the option of placing it on Deis Hill.
At the service committee meeting, Debbie Cook, director of the Tuscarawas County Veteran's Service in New Philadelphia, spoke about a request received from a private citizen to place a marker on the city square to honor all past and present Dover veterans.
Cook presented photos of similar markers as examples of what could be done. A marker would probably cost about $8,000. Some ideas suggested were having area artists submit designs for the marker or have a Scout take charge as an Eagle Scout project. An area artist who also is a veteran would be willing to help also.
Council members present at the committee meeting thought the project was a great idea and thought they may be able to help partially fund it through monies from the city's bed tax. Cook presented several options for ways to raise money for the project. Cook, a veteran herself, said she would be pleased to have a marker placed on the square.
At the regular council meeting, Mayor Richard Homrighausen gave a report via Zoom and requested a committee be assigned to look into hiring a full-time human resources director for the city. Currently, HR is combined with the safety director duties and handled by Gerry Mroczkowski.
In the public comment section, Joe Sterling of Canton, president of the Hall of Fame Central Labor Council, spoke in favor of Dover's resolution 10-21, which recognizes the right of workers to organize. John Dyce, president of the Ohio State Association of Letter Carriers, also spoke.
"When employees have a voice and get better wages and healthcare, communities are strengthened," Dyce said.
Sterling and Dyce feel support at the local level would send a message on a piece of federal legislation that is being considered in Washington, D.C. and would bring labor laws up to date.
"Workers are not getting paid a fair share of what is being produced," Sterling said, adding the pending federal legislation was a way to bring fairness to all workers including women, minorities and LGBTQ.
It was learned resolution 10-21 was "turned down" in committee and never got to the council floor for a vote.
Service director Dave Douglas reported the salt price this year will be $54.52 a ton. Paving in designated areas of the city will probably begin the end of June or first of July.
Before council adjourned for the evening, they went into executive session to discuss pending litigation. The next council meeting is scheduled for June 21.