Poolside in a pandemic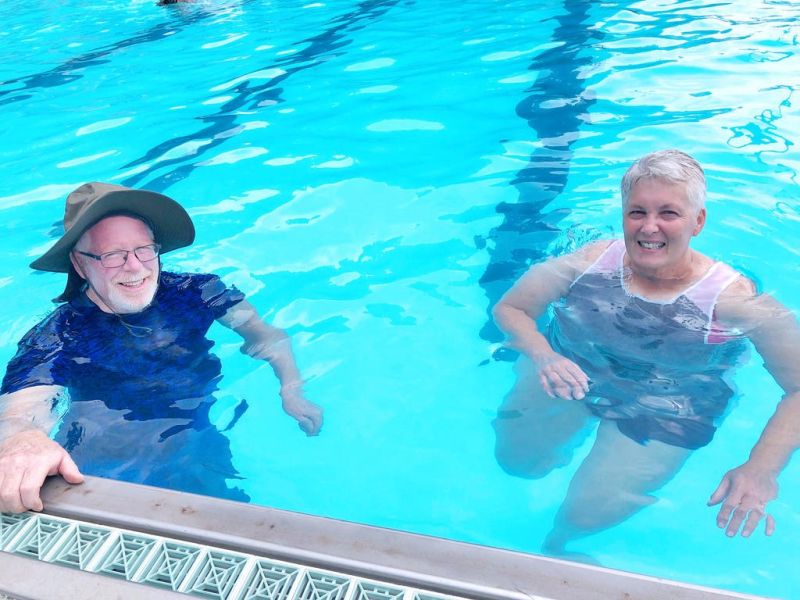 While some area pools and beaches remain closed due to the COVID-19 pandemic, others are welcoming people seeking respite from the heat.
The Commons Pool in Wilkshire Hills is one of those welcoming spots.
In order to comply with COVID-19 protocols, Lacey Wolf, a manager at the pool, said the facility is cleaned every day before opening and then again at 2, 4 and 6 p.m. Additionally, handles on the pool ladders and the lifeguard chairs are sanitized with bleach every hour, as are the bathrooms and concession stand.
"We are also requiring people to sign a waiver each time they come, stating that they are not sick and have not been around anyone who is sick," Wolf said.
As for monitoring social distancing practices, Wolf said blue and white stripes have been painted on the pool walls above the water line. Each stripe is 6 feet wide, so swimmers can easily look at the stripes and maintain the proper distance from others. There also are roped-off areas on the lawn to keep visitors and their families and friends 6 feet apart from one another.
"Pool personnel will designate an area for you to occupy on the lawn when you get here," Wolf said.
There have been a number of other safety changes made as well. "Our concessions are all prepackaged this summer," Wolf said. "There are no hot dogs, soft pretzels or nachos. People are allowed to bring in their own food in coolers because the only concessions we are selling are candy, chips and other packaged foods."
Matt Ritterbeck serves on the Lawrence Township Joint Recreation District Board, commonly referred to as the Commons Pool Board. He said the board didn't want people from other communities coming in and filling up the pool to capacity and leaving township residents out of luck.
"We followed CDC guidelines and the advice of the county health department when reopening," Ritterbeck said. "We also consulted with Robert Stephenson, assistant prosecutor for Tuscarawas County, about the potential for liability issues. We wanted to make sure we did everything right."
During a typical summer, the Commons Pools would host a number of special events. "This year we haven't planned anything because we really didn't know what to expect," Wolf said. "We are still doing private parties on Friday and Saturday evenings. From 7-9 p.m. it's $150, and it's just $35 to add on that extra hour from 9-10."
Groups who reserve the pool for private parties have the entire pool, playground and picnic pavilion to themselves.
The pool has a capacity meter on its Facebook page that lets people know if the pool is reaching maximum capacity or if there's plenty of room to jump in.
The Commons Pool is a public community pool that's open seven days a week. It is located at 10107 Hollingsworth Drive NE, Bolivar. They can be called at 330-874-4662.
Swimmers can pay for admission daily at $5 per adult, $4 per child or $4 per senior or purchase season passes. Children under 3 years of age are admitted free. All admission on Sundays is $3. Children 12 and younger must be accompanied by an adult.
Baylor Beach Park also has opened up recently. The lake and campground has been family-owned and family-operated since it originally opened in 1954. David Baylor, his wife Beth, sister Kelly and brother-in-law Matt Samaco are the third generation of Baylors to run the 75-acre park outside Navarre.
The park features a 2-acre lake for swimming that boasts a 90-foot tube slide, three kiddie slides, small and large log rolls, water fountains and buckets, and 1- and 3-meter diving boards.
"When we considered reopening, we almost opted to allow only members in," David Baylor said. "Fortunately, we decided not to do that. We do have a capacity limit which is communicated on our Facebook page via a capacity meter. Pools have specific numbers they can't exceed, but beaches don't, so we figure out our capacity limit by allowing 6 feet of space between people."
Baylor said there were two days when they actually had to turn people away at the gate who had not looked at the capacity meter on Facebook or the park's website before coming out. "When the weather is super-hot and sunny, we reach capacity. But we guarantee admission for season-pass holders."
According to Baylor, the pandemic has significantly affected their business. "Company picnics have all been canceled, as have most family reunions," he said. "And we lost the whole month of May, so we lost Memorial Day's swimming and camping. We will know more the first part of July if restrictions are going to be loosened on shelter rentals."
Baylor said in order to be in compliance with COVID-19 regulations, they had to install more hand-sanitizing stations. They also have to sanitize the mini-golf clubs after each use and the paddle boats and slide handrails every couple of hours.
"We also take all of our employees' temperatures when they report to work in order to make sure they're not sick," Baylor said.
In addition to swimming and camping, Baylor Beach Park offers miniature golf, paddle boats, volleyball, basketball and log rolling. Camping season lasts until Nov. 1. Other activities are available through Labor Day with the exception of the last two weeks in office when the park is closed because so many of their employees are students.
Visit the Baylor Beach Park Facebook page or website at www.baylorbeachpark.com for admission details, hours of operation and information on camping.
Cy Young Memorial Park and Pool in Newcomerstown also is helping folks beat the heat. The park reopened on Monday, June 8. "The first week was really slow," park and pool manager John Resh said. "We originally wanted to set our max capacity at 125, but when we measured the square footage and allowed for social distancing, we came up with a maximum of 75."
In addition to observing proper social distancing guidelines, Resh said pool personnel take everyone's temperatures before they are admitted and that visitors are required to sign a waiver saying they are not sick.
"We developed our own plan for dealing with the COVID situation, and when the state inspector came through, she was really impressed with what we have done," Resh said. "We have a pool council, and we ran everything past them to gain approval for limiting capacity to 75 and taking visitors' temperatures."
The pool opens from 10:30-11:30 a.m. each day for an adult swim, then is open from noon to 2 p.m. for the general public. The pool closes for about a half-hour at 2 p.m. each day to clean and sanitize, reopening after that until 5 p.m.
Resh, who has only been in position as the park and pool manager since April 16 of this year, said everyone was a bit nervous the first week they opened. "We thought that A., we would get bombarded with people, and B., we would upset people if we reached capacity and had to turn them away. But that didn't happen."
Resh said the lower numbers during the first week may have been the result of deciding to admit only Newcomerstown residents. "The second week, we opened up for anyone to come in, and our numbers got a lot better. Instead of getting 35-40 people a day, we got about 55-60."
In addition to swimming, the park offers a variety of other activities for area families. "We have two playgrounds," Resh said. "One is a small playground for toddlers, and the other one is for grade school children. We improved that playground recently by putting in regulation playground mulch and removing a dead tree. It's next to a pretty-good-sized pavilion so parents can wait in the shade while keeping an eye on the kids."
The park also has volleyball, a baseball field and basketball courts. "We recently held a three-on-three basketball tournament, and we're going to host another one," Resh said. "We're looking at adding kickball games for different ages as well."
There are walking and hiking trails in the park too. "Access is a bit limited right now because we've had some storm damage," Resh said. "But we'll be cleaning up and improving those trails this fall."
The park is considering eliminating the baby pool in order to put in a splash pad. Splash pads offer unique water features like fountains, sprayers and water buckets that tip water onto the kids. There is typically little to no standing water, so they're safe for young children who don't yet know how to swim.
Upcoming events at the park include a family swim night on Thursday, July 9 featuring a disc jockey. On Thursday, July 16 food trucks will be at the pool from noon to 5 p.m. and will remain for the family swim until 9 p.m., and a free family movie will be projected onto the backstop of the baseball field.
Resh said food trucks come to the park every other Thursday starting at around noon. Some of the more popular trucks are Three Lil Piggies BBQ, Backwoods BBQ and Le Macaron, a maker of French pastries. This is the first year for food trucks at the park.
Call 740-498-6954 for more information.