Prospect Perks Coffee and Cafe to open at senior center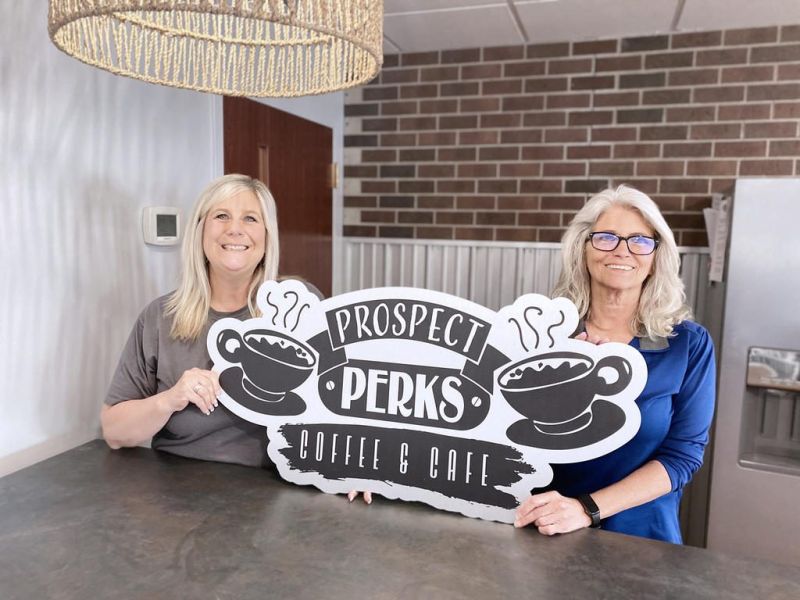 The Tuscarawas County Senior Center in Dover has closed its 1950s-inspired cafe, selling off all the tables and chairs, to make way for an entirely new concept coming in May.
"We have closed the Happy Days Cafe," said Jamie Smith, senior center executive director, "and are reopening as Prospect Perks Coffee and Cafe."
The new cafe will be managed by Tammy Swartzwelder and will feature sandwiches, wraps, salads and light fare, both for dine-in seating and a new grab and go feature. The new cafe will open May 8.
"We really want to stress that this is open to the public," Smith said. "We are trying to make it easy for people in the area to get something good to eat during the day. There is no coffee shop nearby, so we will make it easy for people to come and get something to eat."
A current brick wall around the adjacent patio is being opened up with designated parking added. "You can just park and come in and quickly get your food and coffee," Smith said.
The new cafe will feature new hours: Monday through Friday from 7 a.m. to 3 p.m.
The cafe is part of an effort by senior center leadership to look forward to a changing future.
"We have lost a number of our members," Smith said. "Many are older, and our local population is aging anyway. We lost quite a few members to the COVID-19 pandemic, and many are still concerned about venturing out. We took a look at the Happy Days Cafe and realized that those in their 40s or 50s or even 60s aren't going to have any connection to that theme.
"We really need to reshape how we communicate with seniors while bringing younger people here who are our future members. It's surprising how many people don't realize we are a community center and resource. With the new cafe, we can start getting younger people into the building who, when they are older, will then already be familiar with the senior center and all we have to offer and won't have any reservations about becoming a member."
The senior center has been hosting community events with an eye toward helping the community have a better understanding of the center and what it offers for those 50 and older.
"They can see it as a venue, as an opportunity," Smith said. "We have a large population of people who come here to the senior center to work out in our gym every day."
An open house last November drew more than 300 people, far more than anyone at the center expected, Smith said.
"We set up tables in the big dining room as stations explaining what we do, and it filled the dining room. People were surprised to learn all we offer, and many became members before they left. We literally had a line out the front door of people waiting to become members. Once people are aware of what we offer, they're generally eager to join," Smith said.
The new cafe is funded by contributions from local businesses including The Kimble Foundation, Reeves Foundation, Haman Foundation, the New Philadelphia and Tusky VFW clubs, and the Area Agency on Aging. The project is expected to cost $82,000.
"The new menu has been fun to create," Swartzwelder said as she prepares to be introduced to a new espresso machine.
Coffee will be supplied by Baltic Coffee, which is blending a Prospect Perks house blend. The coffee will be offered in bulk for sale at the cafe as well. "Once we get everything set up, the coffee we offer will be excellent and consistent," Swartzwelder said.
The new cafe is nearing completion, with a completely new design and decor. Smith said May will be a soft opening with a learning curve month for everyone. Smith also said the cafe will accept credit and debit cards, a first at the center.
The Tuscarawas County Senior Center is at 425 Prospect St. in Dover. Visit www.tuscsc.org.