Felled trees, renovations atop Holmes County Home to-do list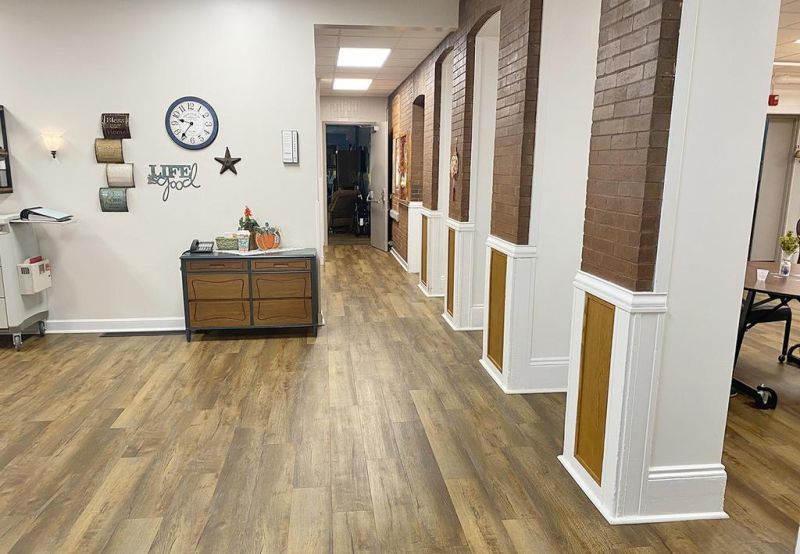 When the derecho storm hammered its way through Holmes County this past June, it left in its wake plenty of destruction, mainly consisting of a monumental number of downed trees.
The Holmes County Home was one entity that suffered quite a bit of tree damage on its property, particularly along the tree line of the field the home rents out.
On Monday, Jan. 23, Deb Miller, executive director of the Holmes County Home, met with Holmes County commissioners to discuss several topics, among them the ongoing effort to figure out how and when to clean up the felled trees.
Miller said the insurance companies have issued all payments that the county home could receive, so it is now a matter of finding the right time to clear the downed trees.
The insurance covered the removal of the trees along the fence line on the farmland acreage, but bad weather the week of Jan. 23 pushed that effort back to a later date.
"What will take place is that they will come in and remove the trees along the fence line about 20 feet out so the fence can be repaired," Miller said. "That should be done fairly quickly."
Jokingly, she added that when that is accomplished, it will leave them with the other 85,000 trees in the pasture to deal with at some point.
"We've had people call about coming out to remove the trees, but nothing is set yet," Miller said.
Commissioner Dave Hall said when addressing the removal of trees, the home must take into consideration the liability concerns.
Commissioner Joe Miller suggested the county has Holmes County prosecutor Matt Muzik draw up a document clarifying that anyone removing the trees would take on any liability.
Miller added that the estimate that they received to clear the trees from the property several months ago was around $25,000.
"Timing is becoming a bit of an issue because we are getting closer to farming season, and we do lease that land to a local farmer," Miller said.
Miller also said the home is currently discussing options to upgrade its WiFi capabilities.
"Our simplest setup is going to be obsolete, so we are going to have to upgrade," Miller said.
Such a move would allow the county home to improve its connectivity and streaming options, something Miller said is a growing trend among residents.
"I haven't had a chance to dive deep into what works best, but we have seen more and more residents becoming more tech-savvy, so we've been wanting to do that," Miller said.
She also updated the commissioners on the Holmes County Home Auxiliary, a partnership organization with the county home that helps provide funds for items outside the budget.
One auxiliary project that was recently completed was renovating the dining room area with new tables, floors and other décor that Miller said vastly improved the appeal of the dining hall.
She said this year the auxiliary plans include improving the pair of living room area day rooms and the upstairs bathrooms.
While the county home does have two new Covid rooms that were designed with their own contained bathrooms, the various halls utilize a shared bathroom, which Miller said isn't a major inconvenience, but there is a need to update and renovate the existing bathrooms. One of the rooms built during Covid is currently being rented out at a higher rate, while the other exists as an as-needed room should it be needed for an emergency.
"Each wing has a bathroom with sinks, mirrors, toilet stalls, a shower and a bathtub," Miller said. "We've looked at what we could to try to add some private bathrooms in existing bedrooms, but the building presents a lot of different challenges that would create an expensive upgrade, and it hasn't been an issue with the current setup."
The final project Miller is working on is a new generator enclosure. She said it has been an ongoing pursuit that has dragged on because the covering must be a custom-fabricated enclosure.
"It is a work in progress," Miller said.
Finally, Miller said the county home continues to seek to hire people to fill important positions, including nurse aides and dietary professionals.
"I feel like we're faring better than some places, but we do have some positions to fill," Miller said.
Anyone wishing to inquire about employment may contact Miller at the Holmes County Home by calling 330-279-2801, or sending a resume to: Holmes County Home, 7260, state Route 83, Holmesville, Ohio 44633.