Rockets have strong showing at state and national events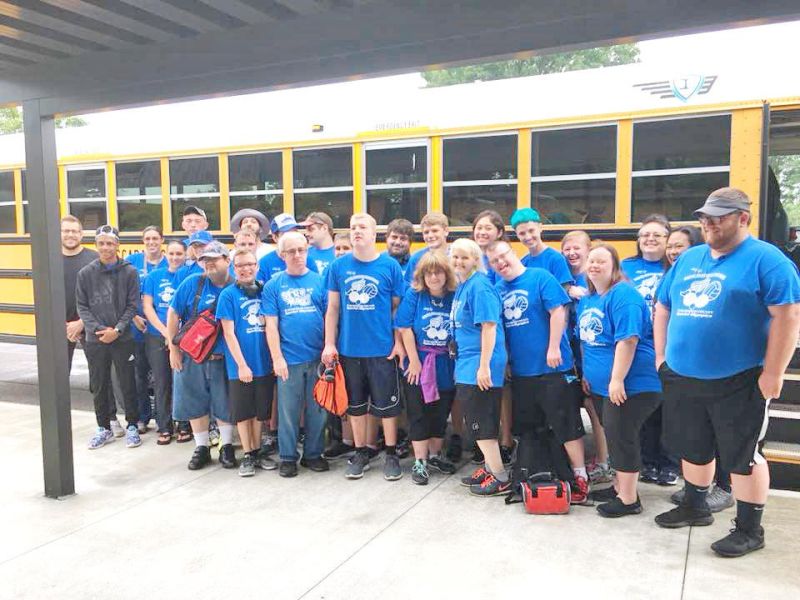 The end of June and beginning of July have solidified the athleticism and heart with which the Tuscarawas County Special Olympics teams and individuals compete.
The first event took place the weekend of June 22-24 at the Ohio State University as part of Ohio Special Olympics' Summer Games. The Rockets team was escorted through town by the New Philadelphia Police Department en route to the three-day competition.
The second event took place July 1-6 at a location much farther away — Seattle, Washington — as part of Special Olympics International's USA Games.
The Rockets secured several gold, silver and bronze medals as well as some ribbons. Both events held opening ceremonies that included the torch run, a parade of athletes and special guests. Both events took place on college campuses that allowed athletes, coaches and other volunteers to experience dorm life and the camaraderie that comes with living together.
The message from Butch Reynolds was clear. He said, "Be brave. Keep doing it for the love of the sport. Nobody can take that from you."
Tim Shriver echoed similar sentiments on a stage 2,464 miles away during the opening ceremonies of the USA Games just two weeks later. In his message, he said, "You are the leaders the world needs at this critical moment. So show America what it means to shower respect on your fellow human beings. Show the world what it means to choose to include. Show others, where they see tension and fear, show them togetherness."
The 30 athletes representing the Rockets at these two events definitely showed heart, dedication and leadership in their attempts. They practiced for these events starting in March and demonstrated true grit and determination when it came to competing at the bigger venues.
For some this was their first time experiencing higher levels of competition while others were veterans to the state games. When asked what he thought about Summer Games, Craig Gordon (100-meter dash, 4-by-100 relay and softball throw) said, "Awesome. I keep working and never quit."
Dalton Sprowl (unified partner in athletics) said he was very honored to represent Tuscarawas County Special Olympics in the Parade of Athletes and was so proud of his teammates during the relay and all of the other events.
Chelsea Lefler, who attended both events (Summer Games as a unified bocce participant and USA Games as a spectator) said, "I am so happy for these Rockets. We can do this. We are athletes, and we are awesome."
Matthew Medley (pentathlon) said, "I am so glad to be a part of the Rockets. I am so proud of my best friend Logan. He worked so hard to get gold, and he got it. I am so proud of him."
Athlete-Leadership Council chairman Alex Adkins (bowling) said, "Summer Games were incredible. Everyone should get to experience this."
Each athlete, every volunteer and the coaches all have their own stories. However, all would agree that the events were inspiring and challenging.
Local coordinator Richelle Lefler said, "Summer Games and USA Games remind us all of what Special Olympics should be. All of the athletes have worked so hard to set and achieve goals for themselves; they have dedicated themselves to learning and growing as individuals and in their respective sports. These events validate their commitments and serve as opportunities for them to show the state, the country and even the world that they will not be defined by their disabilities. Rather, they will rise because of their incredible abilities."
Lefler continued by thanking all of the community partners who helped make the athletes' dreams possible: Steve Meredith, Holly and Alan Metzcar, the Dover Moose, Indian Valley Local Schools (Bill Love), New Philadelphia City Schools (Matt Dennison), Special Olympics Ohio, Starlight School, the Tuscarawas County Board of Developmental Disabilities, and Wabash Lanes.
There were over 2,600 athletes at Summer Games from across the state of Ohio. Over 4,000 athletes participated in USA Games from every state (except New Mexico) and the District of Columbia. Sixty-seven athletes were from Ohio with four playing bocce. Sue Kloc served as assistant bocce coach at USA Games.
Results from the events are as follows:
Summer Games June 22-24 Athletics were Kaylee Arthurs, gold in softball throw, silver in 100-meter dash and bronze in 4-by-100 relay; Kristina Chambers, bronze in 100-meter dash, bronze in 4-by-100 relay and fourth in softball throw; Jehred Bennett, bronze in 4-by-100 unified relay and fifth in softball throw and 100-meter dash; Conner DiGenova, bronze in 4-by-100 unified relay and fourth in softball throw; Craig Gordon, silver in 100-meter dash and 4-by-100 relay and fourth in softball throw; Steve Hazelip, silver in 4-by-100 relay and bronze in shot put and 100-meter dash; Shane Johnson, gold in mini javelin, silver in 4-by-100 relay and sixth in 100-meter dash; Samantha Mastroine, silver in 400-meter dash, bronze in 4-by-100 relay and fourth in softball throw; Matthew Medley, fourth in pentathlon; Keilan Patterson, bronze in 4-by-100 unified relay; Rachel Russell, silver in mini javelin, bronze in 4-by-100 relay and fifth in 200-meter dash; Dalton Sprowl, bronze in 4-by-100 unified relay; Logan Wise, gold in pentathlon; and Kershel Zehnder, silver in 100-meter dash and 4-by-100 relay and fourth in mini javelin.
Summer Games June 22-24 Bocce were Chelsea Lefler and Angelica Mendoza, gold in unified women's; Eric Lingo and Rusty Parsons, gold in traditional men's; Easton Dillon and Patrick Dillon, bronze in unified men's; and Ginger Stalcup and Sammy Thornton, bronze for traditional women's.
Summer Games June 22-24 Bowling were Alex Adkins, Wendy Garver, Miranda Milburn and Lonnie Thornton with gold; Nathanial Wells with silver; Diana DeMonte with bronze; and Abby Cool with fourth.
USA Games July 1-6 Bocce was Shane York, gold in doubles, fourth in team and sixth in singles.
A "Night with Olympic Champions" event is being planned. Details will be forthcoming.