Rotary continues Salute Freedom project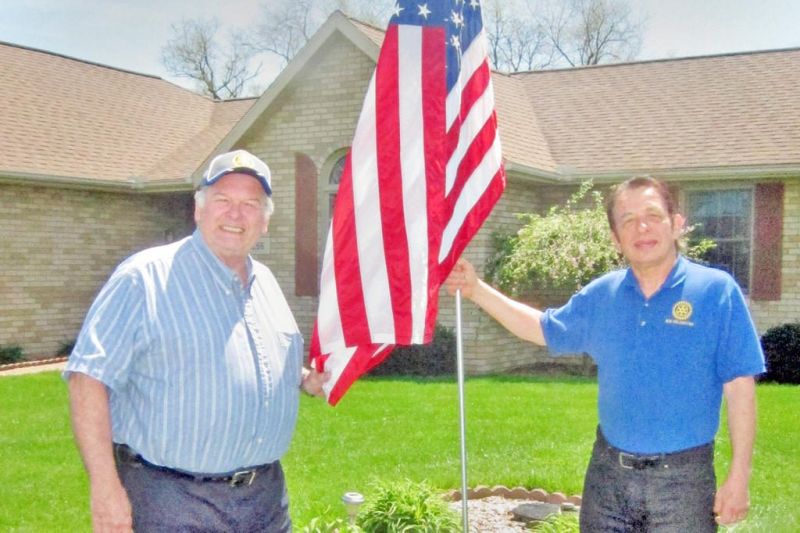 Encouraging their city's residents to display patriotism, members of the Rotary Club of New Philadelphia will again offer to place an American flag at homes and businesses within the New Philadelphia city limits for seven patriotic holidays in 2019.
"This will be the ninth year of the Salute Freedom project," according to Tom Police, co- chairman of the effort. "It's an easy and respectful way to express your patriotism by displaying the American flag."
Police said for the participation fee of $25 Rotary Club members will install the flag in the yard or business location prior to the Memorial Day holiday and leave it in place for the patriotic holidays of Flag Day, Independence Day, Labor Day, Patriots' Day, Election Day and Veterans Day. Flags will be installed within the New Philadelphia city limits only.
Past participants should receive a renewal invitation either by email or postal mail. Those wishing to participate for the first time may use the application form, available from the club's website at www.newphiladelphiarotary.com, the club's Facebook page and from any New Philadelphia Rotarian. Forms also are available by sending an email request to information@newphiladelphiarotary.com.
In addition to placing flags at homes and businesses around New Philadelphia, the Rotary Club places flags on light poles in the four blocks surrounding the downtown square and along North Broadway by the Tuscora Park tennis courts.
"The display of flags downtown and along North Broadway is a gift of the Rotary Club to the residents of New Philadelphia," Police said. "From the many positive comments, it's something people really appreciate, and we'll put the flags back up later in May."
Mark Garrison, the other project co-chairman, said the project has grown in its previous eight years.
"We now have more than 160 flag locations around New Philadelphia, and we'd like to have many more," Garrison said. "It would be great to see neighbors get together and create blocks, even entire streets of flags all standing tall in a line in front of homes."
Garrison said the 3-by-5-foot American-made embroidered American flag is mounted to a 10-foot metal flag pole. The flag installation includes a PVC holder driven flush into the ground.
Proceeds from the Salute Freedom project are used by the New Philadelphia Rotary to cover the cost of the American-made flags and materials. Any profits are used by the club to fund local student scholarships.