Runner to share her story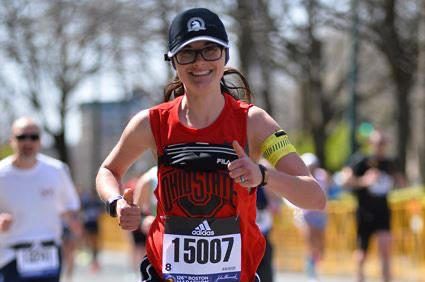 Local athlete Catherine Murphy, her husband Brian and her dad, Dover Public Library's Rick Slayman, will be at the library on Monday, July 11 at 6:30 p.m. to talk about running and relationships. They will share stories of crushes, destination races and fractured ankles.
Murphy also will talk about the excitement of getting married the day after completing the Boston Marathon.
Murphy's first experience with running was in 2011 when she helped her church pass out water during a 5k in Beach City. She thought it looked like fun and ran the race the following year. As a result of that first run, she learned running takes training.
Prior to the Boston Marathon, Murphy had completed two marathons in Columbus and one in Chicago. Her last run in Columbus qualified her for the marathon in Boston, but COVID affected overall participation. She decided to participate in the 2022 Boston Marathon, so she began training in February.
On April 18 of this year, she found herself in Boston, accompanied by her fiance Brian and her parents, Michelle and Rick Slayman. She completed the marathon in three hours, 34 minutes and 58 seconds. That same evening she and her entourage flew back to Ohio because she had to be at the courthouse in New Philadelphia at 11 a.m. in order to exchange marriage vows.
"What an eventful weekend for them," said Sherrel Rieger, adult programming specialist. "We are so happy to share in the physical and emotional journey that led them to this moment in their lives. What an accomplishment."
This program will be held in the community room at the DPL, 525 N. Walnut St., Dover. Register online at www.doverlibrary.org or call the library at 330-343-6123.