Sciarretti says future looks bright for Tusc County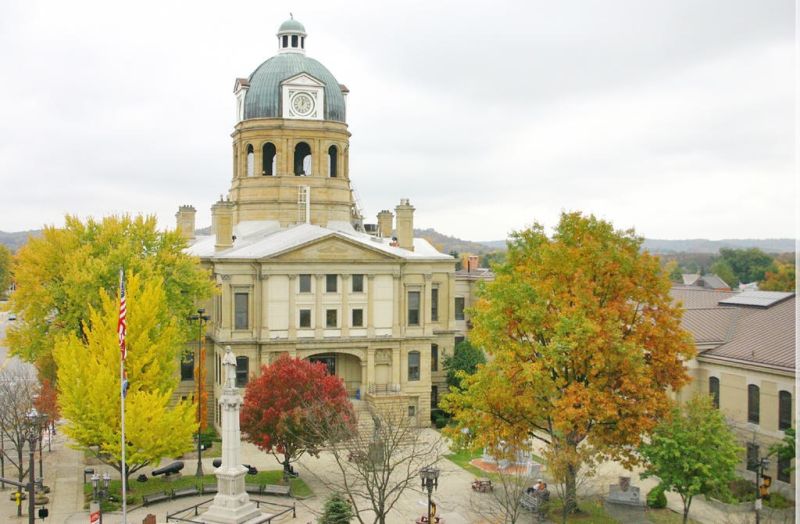 Two years into his post, County Commissioner Joe Sciarretti said he is still motivated and driven to make Tuscarawas County the best it can be. "We are blessed with the time we have," is written on a whiteboard in his office to remind him he will hold the position for a finite period of time and as motivation to work hard with the time he has.
"You know your time is always going to be limited," Sciarretti said, "whether you're fortunate enough to retire from government or whether the people decide for you that it's your time to go."
The county's annual budget was completed last year and includes funds for a few projects. The building directly behind the public defender's office on First Drive Northeast will come down sometime this year. It was once used for storage but is now an eyesore.
"They're going to have to surgically remove it," Sciarretti said.
The building abuts a few others and will have to be carefully demolished to avoid damaging its neighbors.
Sciarretti also said there are some timbers from old-growth trees in the building from when it was built in 1910. There is no plan for what will happen to these valuable assets after the building is gone, but there may be an auction.
Another project moving ahead in 2019 is work on the towpath trail from Bolivar to Newcomerstown. Most work is being done by cities, but the county will hire a park manager this year to help with coordination. The salary will be paid for out of the general fund instead of by levy, as happens in some more populous counties.
A highlight of the coming year is that the county will be paying off the nearly $500,000 loan for the Southern District Court Building in Uhrichsville. This leaves a loan for the Justice Center as the only commercial note the county holds. Recent improvements to the County Courthouse dome were paid for by a loan from the treasurer's office.
Sciarretti spoke of some of his accomplishments as commissioner. One of them is the resolution of a lawsuit between Dover and Tuscarawas County regarding water and sewer services to the Willow Glenn area. The dispute stemmed from a 1989 agreement and has been costing citizens money in court costs and fees for nearly a decade.
"Because of the leadership of both Mayor Homrighausen, Shane Gunnoe, the city council in Dover as well as our leadership, we were able to put that lawsuit to rest," Sciarretti said.
There will be no annexation of the area, and the county will no longer act as a middleman for the water and sewer services.
Sciarretti also said the 0.5-percent sales tax approved in 2018 to pay for upgrades to the 911 system is counting down and will be paid off in 2020. The changeover is happening right now because the old system reached its end of life on Dec. 31.
"Motorola said, 'You won't fall off the face of the earth, but you'll start seeing glitches,'" Sciarretti said about the decision to upgrade. "Well, I don't want a glitch. If I have an emergency and my kid is not responding, I want that happening now."
The statewide Multi-Agency Radio Communications System will automatically be updated every other year and cover all the county's needs for the foreseeable future.
An idea that hasn't come to fruition yet is for a suggestion box the county's 750 employees could use. Sciarretti wanted workers to offer suggestions and voice concerns, but because of sunshine laws making government documents available to the public, there is no way to make this private.
The idea hasn't been completely shelved and is still being worked on. Sciarretti said the commissioners are always present at board meetings of the various agencies and try to create an open atmosphere to make sure they have time to listen to the concerns of county employees.
Another issue still in the works is plans for metal detectors and security for the Courthouse Annex Building, like there is for the courthouse.
Sciarretti is excited by the many construction projects happening around the area and hopes to "keep that wheel spinning." He credits a lot of this development to the newly formed Tuscarawas County Economic Development Corporation, which combines the Community Improvement Corporation, Economic Development and Finance Alliance, and other organizations to create a single point of contact for businesses looking to start or expand.
Sciarretti credits part of the enjoyment of his job to the fact Tuscarawas County has already been very successful. He also credits a good relationship with fellow commissioners, a hard-working population and being a regional hub as reasons to be optimistic about the future. "I think there's a really bright road ahead," he said.