Sheriff's office makes large drug bust during routine stop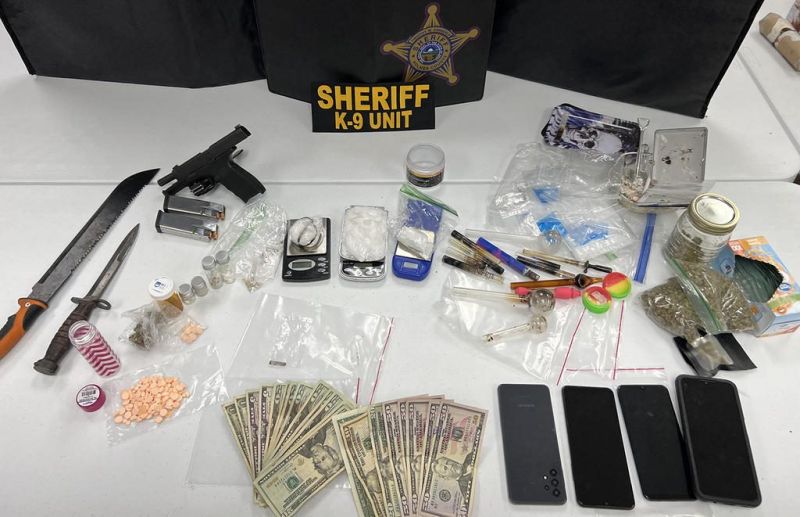 A routine traffic stop turned into a major drug bust on Independence Day when a Killbuck woman lost her independence.
While patrolling along state Route 83 south of Millersburg in Mechanic Township, Holmes County Sheriff's Office deputy Triston Herron conducted a traffic stop of a 2003 Toyota Matrix traveling southbound for following too closely at 6:11 p.m.
After detecting criminal indicators during the onset of the stop, Herron requested aid from his partner, Sgt. Brian Bernhart, along with Bernhart's K-9 dog Diego.
"It's typical that if one K-9 officer makes a traffic stop, they allow the other officer to come if they are both working," said Holmes County Sheriff's Office Lt. Tim Stryker, road division. "On this night they both happened to be working."
Diego indicated a presence of narcotics in the vehicle, and a subsequent search revealed a large amount of drug paraphernalia and weapons. Included in the discovery were approximately 160 grams of methamphetamine, digital scales, a loaded handgun, pills, drug paraphernalia and cash that was seized from the vehicle owned and operated by Rachel Elizabeth Whitman, 42, of Millersburg.
Whitman was indicted on aggravated trafficking in drugs, a felony in the first degree, and possession of a controlled substance, also a felony in the first degree.
"That is a very large amount of meth," Stryker said. "And those are large chunks of crystal methamphetamine. Usually when we get seizures, we get what amounts to a felony three amount, which is personal amount in bulk that we can't prove they are trafficking. This was a major amount."
Whitman gave officers permission to investigate her house, where more narcotics were discovered.
Stryker said the number of discoveries of individuals producing methamphetamine continues to rise, so busts such as this one are becoming more critical.
Stryker said they had prior knowledge Whitman may have been dealing narcotics, but it wasn't until the traffic stop they were able to act on it.
Holmes County Sheriff Tim Zimmerly said they continue to make plenty of arrests on traffic stops that don't get reported, those including weed or other drug paraphernalia. He said rarely does that get reported to the community, but this arrest was of the magnitude that the department wanted to make the public aware.
"We want people to know we're out here and we're watching," Zimmerly said. "The fight on drugs has changed so much over the past years."
He said because people being arrested on minor drug charges has become so prevalent, those with minor amounts or felony five charges rarely receive anything more than a slap on the wrist. He said it isn't anyone's fault, but rather a lack of facilities to incarcerate everyone who gets brought up on minor charges.
"We keep working and doing our best to continue to work behind the scenes on many of these smaller busts, but then you get a big one, and we want to let people know we are doing our best to stop these drug trackers from making and selling illegal drugs in our county," Zimmerly said.
Stryker said whether it is publicized or not, the department continues to get drugs off the streets.
"Every week we are getting methamphetamine off the streets and out of the hands of drug traffickers," Stryker said. "The public doesn't necessarily know it, but we want people to know that we are going to continue to enforce traffic when it comes to narcotics."