Smithville Historical Society to host its annual Apple Butter Making Day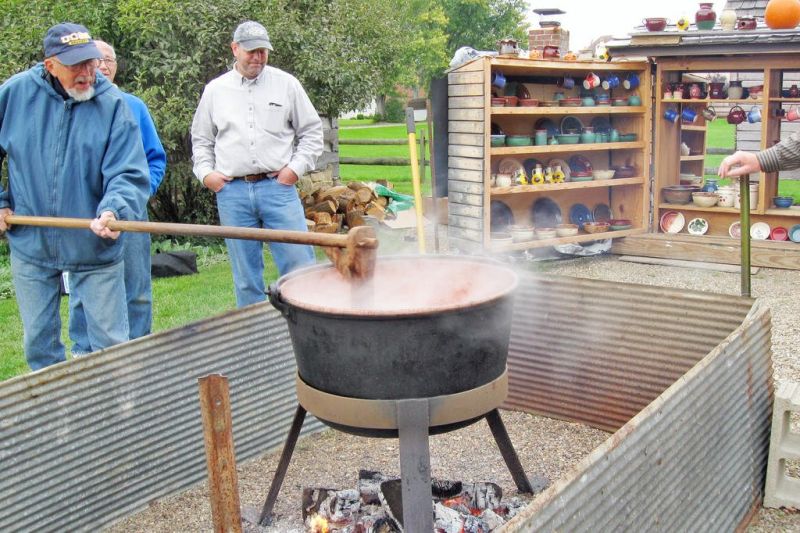 The Historical Society annual Apple Butter Making Day will take place in Smithville at the Smithville Historical Society and Mishler Mill on Saturday, Oct. 19.
This event requires preparation, from cleaning the copper kettle, to gathering firewood (it must not be green), to cleaning and sterilizing the pint jars, to peeling three to four bushels of a variety of apples. A mix of Cortland, McIntosh and Golden Delicious apples are used to make the sauce.
The members will start the open fire around 6 a.m., and then at 9 a.m., they will place the large copper kettle on the fire and fill it with apples. At around 10 a.m., they will need some extra hands to start stirring the bubbling apples, and it will take constant stirring until around 3:30 p.m.
The jars will be filled and labeled, as it must be refrigerated once you take it home, unless you consume it with your dinner. The apple butter will be available for a donation to help with the cost of purchasing the apple and jars.
Apples, which provide apple butter, apple sauce, apples for pies or crisps, along with vinegar, were all staples to the early settlers of the area. Some areas had orchards planted before they arrived in the area by a gentleman named John Chapman, also known as "Johnny Appleseed." He planted an apple tree known as the English Rambo, which was an all-purpose apple.
The Pioneer Village and Mishler Weaving Mill will come alive at 1:30 p.m. as the blacksmith, potters and tin smith will be in their shops. The Mishler Weaving Mill, Model-T Museum and Heritage Center at 381 E. Main St. also will be open.