Smithville's Christmas in the Village Dec. 7-8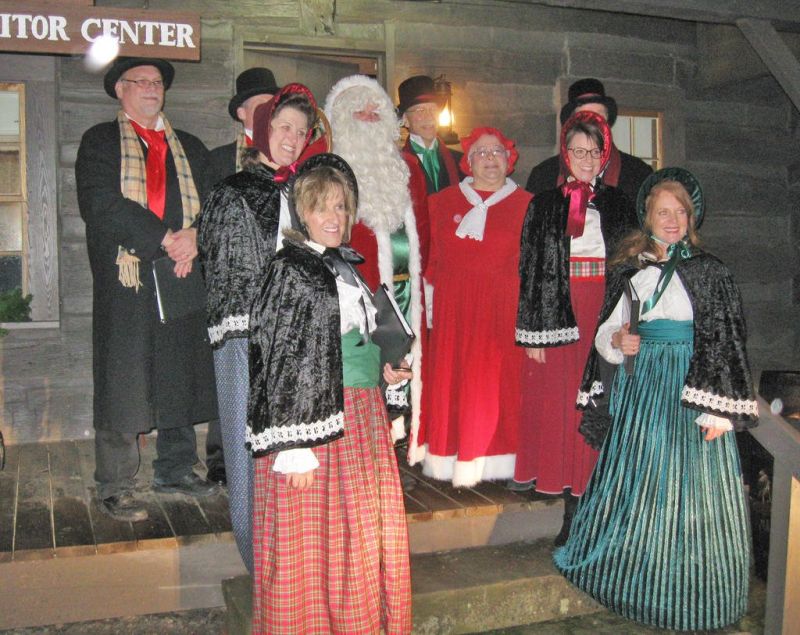 This year Christmas in the Village in Smithville's Pioneer Village will be held Saturday, Dec. 7 from 6-8:30 p.m. and Sunday, Dec. 8 from 1:30-4 p.m.
St. Nicholas and Mrs. Claus will be in one of the buildings waiting for pictures. This event is free to the public.
On Saturday the Pioneer Village will open with Christmas carols at 6 p.m., presented by the Dickens Singers and sponsored by the Carpenter's Cup. While traveling through the village, craftsmen will be in their buildings, and some will have treats for the children.
In the Sheller Log House, Dorothy Hodgdon will play the 1873 organ, and her sons will play a variety of other instruments. Their concert through the evening will reflect many of the carols attendees' grandparents heard.
Attendees will be able to warm up in the Blacksmith Shop as items are made to help Saint Nicholas load his sled. At the Sheller Log House, there will be hot cider, and in the Irvin Pioneer Cabin, visitors can roast marshmallows over the open fire.
At the Lydo Barn, some of the tools used by early farmers will be on display while the Historic Church of God has hung greens to prepare for the holiday.
Also in the Pioneer Village, the Children's Museum in the Caboose will have a display paying tribute to "Frosty the Snowman," and in the depot a model train layout will be in operation.
The 1921 Kid Wagon will travel between the village and the Mishler Weaving Mill, offering a ride and a trip back to how it felt to travel to school in 1921. At the Mishler Weaving Mill, the ladies will weave rugs, dish towels and other items for the home. Those items along with items from craftsmen at the Pioneer Village are offered for sale in the gift shop.
Next door is the Greater Akron Model-T Museum. The Heritage Center will have old-fashioned crafts to view, and visitors can make their own ornaments from materials provided, even a toy for dogs. Also available for visits are the John Mishler Heritage room, the Dan Mishler camera collection and the room with Smithville School's history.
St. Nicholas and Mrs. Claus will be available for family pictures on Dec. 8. In the Sheller Log Home, Lyla Smucker will play the 1873 organ, reminding listeners of the music of the season, and the Kid Wagon will once again travel between the Pioneer Village and the Mishler Weaving Mill.
At 3 p.m. the Orrville Community Band will present its annual Christmas concert in the Historic Church of God.