The Tree City Quilters' Guild presents Paradise in Bloom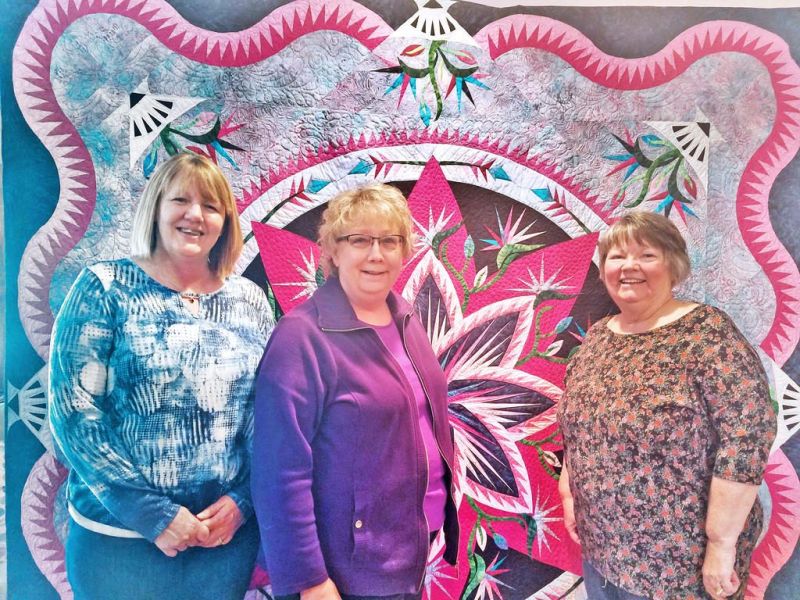 The Tree City Quilters' Guild 2018 quilt show, Paradise in Bloom, will be held Friday, April 20 from 9 a.m. to 6 p.m. and Saturday, April 21 from 9 a.m. to 3:30 p.m. at the Wooster Church of the Nazarene.
"The theme of this year's show is Paradise in Bloom," said Jeri Fickes, co-chair of Tree City Quilters' Guild's upcoming event.
Members of the guild were given the challenge to create a quilted item with a floral component. "We had two challenges," Fickes said, "to either use flowers or floral fabric or use applique."
One way or another, every entry into the upcoming show will somehow reflect the blooming theme.
The guild puts on these shows every two years, and each show has a different theme that is voted on and chosen by the event committee. Each show also features a quilt that is raffled at the event.
This year's raffle quilt was completed by 19 members of the guild. "It's amazing how it went together so well," said Becky Hamilton, a member of the quilt show committee.
The technique used in the beautifully crafted queen-sized quilt is called paper piecing. "It's very time-consuming," said Vicky Hartzler, another committee member.
Generally the raffle quilt is created by a smaller group to avoid discrepancies in piece size. With paper piecing the process involves a built-in accuracy that allowed a much larger group to work together with perfect precision.
The quilt show also will feature a wide variety of vendors, demonstrations, a boutique with items for purchase and snacks for purchase.
The guild members devote much of their time and quilting energy to giving back to both the local community and some more far-reaching causes. The list of their philanthropic endeavors is seemingly endless.
"We do Linus quilts," Fickes said.
Project Linus is an organization dedicated to providing handmade blankets to children who are seriously ill or otherwise in need.
The guild provides a handmade quilt for the first baby boy and girl born at Wooster Community Hospital and Aultman Orrville Hospital every year. They also work with Akron Children's Hospital.
Some members participate in Quilts of Valor, a group that provides for those who have been wounded in war. Currently the guild is working on quilts for OneEighty's women's shelter.
After the mass shooting at Sandy Hook Elementary School, Fickes, who was a school secretary, emailed the Sandy Hook school secretary to let her know she was sending prayers.
A few weeks later Fickes saw that the school was asking for donations of crocheted snowflakes to create a winter wonderland for the students when they returned to class.
"I don't know how to make snowflakes," Fickes said, "but I knew they were also going to have a pajama day. We couldn't make that many quilts, so I thought maybe we could make pillowcases for all the kids."
Fickes received a phone call from a Sandy Hook school board member, extremely grateful for the offer and explaining they had been overwhelmed with donations. He suggested they instead make and donate pillowcases in memory of the children who were murdered that day.
Guild and community members donated materials, the group gathered for several workdays, and when all was said and done, they had sewn 483 pillowcases.
"I took them to Everywoman's House, the Salvation Army, Children's Services, the Christian Children's Home, Family and Children First Council. They were distributed all over town," Fickes said.
Each pillowcase carried a tag saying it was created in memory of the Sandy Hook shooting.
"It's all about the social, the education and the charity," Fickes said. "I think the quilt guild has created a lot of friendships."
Fickes is a founding member of the guild, which started in 1992 with 10 members. Currently they have over 70 members.
Monthly meetings for the group are about more than working on individual projects. Each meeting includes an educational program along with refreshments and a show and tell where members share what they are currently working on.
The guild also organizes a retreat for members each year. "Every other year we have no frills, and the other year we have frills," Fickes said.
The no-frills retreats are close to home with potluck meals while the fancier events are held at a venue away from home.
New members are always welcome to the guild. Anyone interested may attend two meetings free of charge. Membership is $20 per year. Meetings are held the second Monday each month at 7 p.m. at Parkview Christian Church, 1912 Burbank Road, Wooster.
The Wooster Church of the Nazarene is located at 3100 Oak Hill Road in Wooster. Admission is $7 while children 12 and under are free.
Quilt raffle tickets are $1 each or six for $5 and may be purchased prior to the event from any guild member or by calling 330-201-0932. Tickets also will be on sale at the show.
For more information call Hartzler at 330-465-4209. Find Tree City Quilters' Guild online at www.treecityquiltguild.blogspot.com/ and on Facebook @treecityquiltersguild.wooster.ohio.