Township addresses Welton Road concerns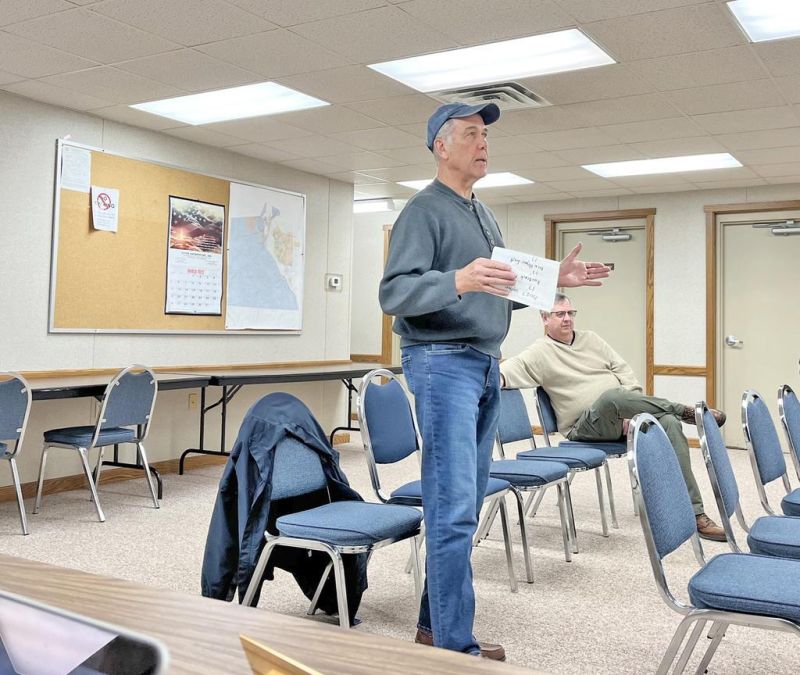 Jesse James, a longtime Welton Road resident, spoke to Lawrence Township trustees during their March 9 meeting. James expressed concerns about the narrowness of the road, particularly in certain areas.
James said he measured the pavement from side to side. "In front of my house, it's 19 feet. Going towards Zoar, it's 17 feet, and there's a spot across from 10175 Welton where the pavement is only 15 feet wide. It would be tough for two trucks to pass there, let alone two hauling trailers."
James said a standard trailer is 8 1/2 feet wide. "You've also got a couple of hills and turns, and sometimes it gets a little dicey," he said.
Perry Myers, the township's assistant road supervisor, said preparations are underway to pave the road to at least 20 feet. Chairman Don Ackerman told James paving likely will not take place until fall.
"We started with the culverts this week," Myers said. "There are phone lines under the asphalt, gas lines, sewer lines, all kinds of utilities. I don't know if the phone lines are old and dead, but we have to locate them all to make sure we don't dig through them."
Ackerman asked for a report on the controlled low-strength material being used to repair culverts. Myers said the material worked well on the culvert repaired that day.
"Normally, that's a job that could take six or eight people, but Todd and I were able to do it in one day," Myers said.
Reports
Scott Ritterbeck said Mike Jones, sanitary engineer and director of the county's water and sewer district, asked for a letterhead endorsement of support for grants he is seeking. The funds would be used for water upgrades allowing the district to tie into Canton's Beach City water transmission line near Shepler Church Road.
Ritterbeck said the request is related to the East Palestine train derailment and water issues. "The plan is if one wellfield is contaminated, they can block it off and get water from a different source coming from the north. It's a backup plan."
Shawn Lynch, Bolivar fire chief, said he has received a number of calls regarding potential train derailments in the township. Trustees agreed to provide the letter.
Lynch also asked for a letter of support so the fire department can apply for a state grant to purchase approximately $5,000 in EMS equipment. Trustees agreed to provide the letter.
Reminder
Fiscal officer Ann Ackerman issued a reminder that all cemetery decorations must be removed by March 20. The deadline typically falls on March 15, but trustees extended the deadline to be sure the notice was included in the next issue of The Bargain Hunter.
Voting and legislation
Trustees approved spending $52,068 for a Vermeer All Roads 74-HP brush chipper through state cooperative bidding and trading in the old chipper for $3,900. The new chipper will accept larger branches, has more safety features and will save time, according to Myers, who estimated the unit will last up to 40 years.
The board also approved $3,771 to purchase a hydraulic clamp attachment for use with the Leppo Mini and the excavator.
Four resolutions were passed, approving the following:
—A fire contract for the township and the villages of Zoar and Bolivar for the calendar year 2023 (Zoar and Bolivar are yet to approve and sign).
—Realignment of appropriations to correct a clerical error.
—$288 to Leppo for rental of a masonry saw to perform work on Welton Road.
—$4,526 for purchase of pipe from Marlborough Supply for Welton Road repairs.
The board held an executive session before adjourning to discuss possible employee rehires.
The Lawrence Township Board of Trustees meets the second and last Thursday of every month at 7 p.m. at the Charles E. Lundenberger Hall, 10867 Industrial Parkway NW, Bolivar.