Toys for Tots assists many local families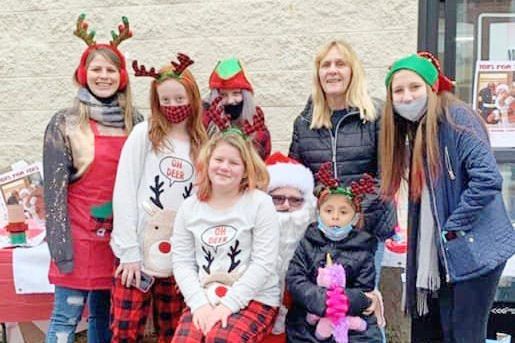 Struggles and hardships are all too common in the world. One particularly sad reality is many children do not experience the joy of opening a new toy on Christmas morning. However, thanks to the Tuscarawas County community, nearly 3,000 children received toys so they would feel that joy this year.
"Even in the midst of a pandemic, people and businesses opened their hearts and gave generously by donating 20,000 toys when the need was greater than ever," said Bob Stratton, local Toys for Tots coordinator.
Donations were gathered at approximately 50 locations countywide including Dollar General Stores, which help the cause nationwide, and Simpson Heating & Air, which pledged and gave one toy for every toy donated to the cause.
Hog Heaven BBQ, Big Lots, SoBoho, Berner Trucking, Aleris, The PittBull Bar & Grill, New Philadelphia Fire Department, Rural King, No Contract Wireless, the Tuscarawas County Commissioners and others also contributed.
Stratton and his assistant coordinator Megan Jones, a previous year's recipient, nearly ran out of toys several times throughout the season, but each time, collections or donations came in and needs were met for all who contacted the campaign.
In a previous year, Jones had reached out after learning about the Toys for Tots program in Tuscarawas County. Her worries dissolved, her children's needs were met and a new passion was discovered.
After meeting Stratton at the drive, she admired his kindness and generosity. Jones saw the organization in action, helping kids throughout the community who needed toys for Christmas. She also saw the way the entire community stepped up and donated goods and the way merchants helped by providing bins and locations for the giveaways. She and Stratton have worked throughout 2020 preparing for the holiday season.
Giveaways began on Nov. 28 with all the necessary social distancing requirements in place and were held six hours a day, five days a week, through Christmas Eve by taking gifts to cars for patrons.
A typical day consisted of nearly 100 children receiving holiday gifts. This was accomplished strictly through countless hours donated by volunteers.
Numerous events also were held in the community. The New Philadelphia Fire Department held a collection drive on Dec. 5, and on Dec. 6 Hog Heaven hosted a giveaway with precautions in place. Over 300 children were helped that day alone.
A giveaway was held outside on Bluebell Drive with Dollar General, Rent-A-Center, Newton Mattress and Shear Attitude Hair Salon all giving support in addition to Big Lots. The Dollar Tree and generous patrons provided hundreds of stocking-stuffer gifts for children who came from all over the county.
An event was held outside in Uhrichsville in the Dollar General plaza, and another event was held at the Warren Township Community Center.
Toys for Tots is a charity drive that helps families give their children a good Christmas. Even during this difficult time for many, the community made it a Christmas to remember for nearly 3,000 children.