Trail system that will connect the coasts is closer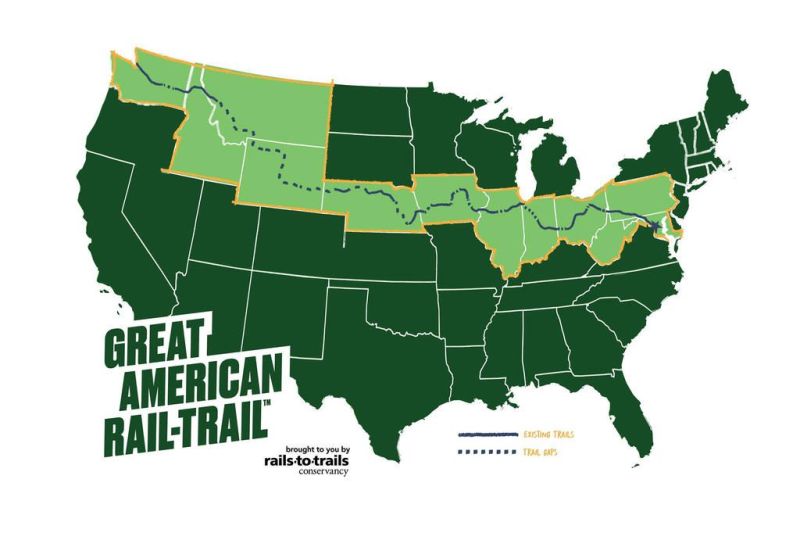 Rails-to-Trails of Wayne County joins Rails-to-Trails Conservancy as it unveils the preferred route for the Great American Rail-Trail or the "Great American," an iconic piece of American infrastructure that connects more than 125 existing trails and 90 trail gaps over more than 3,700 miles between Washington, D.C. and Washington state.
The preferred route of the nation's first cross-country, multi-use trail is detailed in a comprehensive report released by RTC. The Great American Rail-Trail Route Assessment Report outlines RTC's recommendation for the route, developed in close partnership with states and local trail planners and managers including RTWC.
The Heartland Trail, which will connect Orrville to Clinton, is included in the planned route for the GART. Currently RTWC is nearing completion of a 2.4-mile section of the trail from Forrer Road in Orrville to Marshallville and also is in the process of developing plans for completing a connecting section of trail in Orrville.
The next phase will connect Allen Avenue in Orrville to Forrer Road. Long-range plans include completing the Heartland Trail from Marshallville to Clinton and continuing to analyze options for connecting Orrville to Fredericksburg and the Holmes County Trail.
"We are extremely pleased to be an important part of the plans for this incredible nationwide project," said Don Noble II, RTWC board president. "As a not-for-profit organization, our volunteer board is especially honored to have the recognition and trust of the Rails-to-Trails Conservancy. We are energized to continue our mission to build excellent trails in Wayne County."
The route assessment was developed over 12 months with input from RTC's GIS analysis of more than 34,000 miles of multi-use trails, review of state and local trail plans, and discussions with RTWC as well as hundreds of additional local trail partners and state agencies representing the trails along the route.
Traveling through 12 states and the District of Columbia, the Great American Rail-Trail is defined as more than 3,700 miles, comprising more than 1,900 miles of existing trails. Those trails already developed will help carry the route across the country and more than 1,700 miles of "trail gaps," sections of trail in need of development, to fully connect the Great American into one contiguous route.
As the nation's first cross-country, multi-use trail, the Great American will connect people of all ages and abilities with America's landscapes and communities. Nearly 50 million people living within 50 miles of its route will be able to call this American infrastructure their own.
"The RTWC board recently identified our theme as 'Passion, Patience, Persistence Means Progress,'" said Becky Jewell, Heartland Trail manager. "We invite and encourage all of Wayne County to join us in this exciting opportunity for expanded health and wellness benefits as well as economic development and tourism potential. Building trails on abandoned rail beds is not a fad. It is a growing nationwide trend, and we are very fortunate to be in this position."
While completion of the Great American Rail-Trail is a significant undertaking and several decades away, 52 percent of the path is already complete and available for public use with plans to work in partnership with states and local jurisdictions and organizations to bring new segments online year after year.
The Great American Rail-Trail is a signature project of RTC and the most ambitious in its portfolio of TrailNation projects, the organization's initiative to encourage the rapid replication of regional trail networks across the country. The Great American was first envisioned at RTC in the late 1980s and for decades has been an underpinning of the organization's strategy to create a nationwide network of public trails.
To learn more about the Great American Rail-Trail and to view the preferred route, visit greatamericanrailtrail.org and follow @greatamericanrailtrail on Facebook and Instagram.