Twin City Christian Service Center Food Pantry celebrates 35th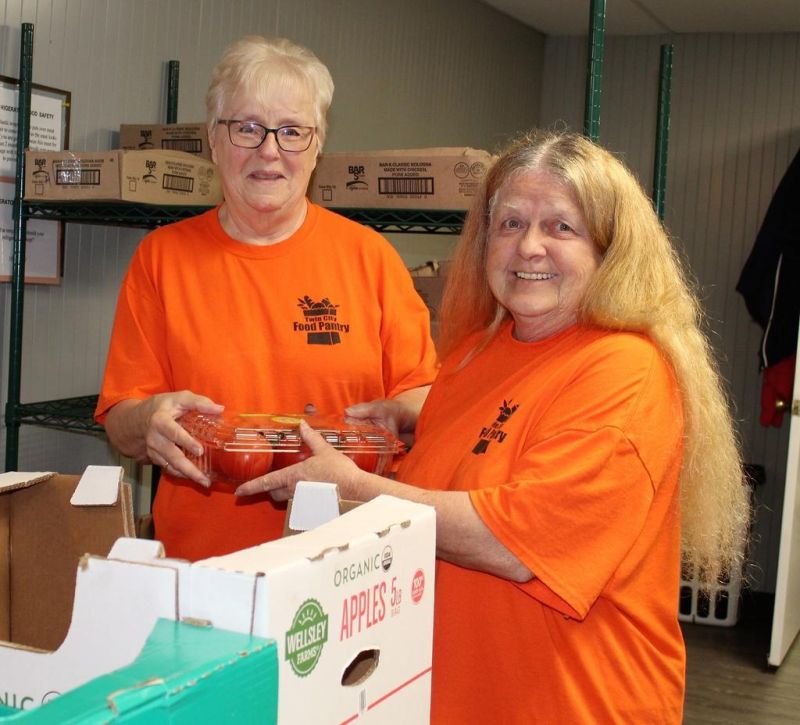 The Twin City Christian Service Center Food Pantry is celebrating 35 years of service this year with an open house and fundraiser on Sunday, May 15 from 3-5 p.m. at the center.
The food pantry held its first organizational meeting May 19, 1987, with 17 people present to discuss the feasibility of opening a center. The meeting was in response to the Twin City Ministerial Association's need to provide help for emergencies.
After six months of planning, the center was opened at its first two-room location in Dennison on Nov. 9, 1987. Over the years the pantry made several moves, ending up at its current Uhrichsville location.
To raise money for the pantry, raffle tickets for prizes including gift cards will be available at the open house. They will accept other donations as well.
The food pantry also is looking for a few more volunteers, so the open house will be a good time to see what the food pantry does and how you can help. With open hours four days each week, volunteers can set their own hours to help.
The center operates on donations and grants only to supply food to people, not only in the Twin City area, but also anyone in need. They have helped people from all over Tuscarawas County in addition to those from surrounding counties.
To receive food, those coming to the center only need to provide identification as pickups are limited to one time per month. They fill a large grocery cart with supplies worth about $200 or more.
The food pantry is much larger than it looks from the street. According to food pantry director and volunteer coordinator Deb Bier, they plan to have volunteers to lead tours through the pantry so people can see how they work.
The food pantry is returning to the levels of giving they saw prior to the pandemic.
"The pandemic affected us a lot at first. We used to serve slightly less than 1,200 people each month, and with the first lockdown, we got about 300, but now we're back up. This April we served around 700 or more," Bier said.
Volunteers also drive to the Canton Food Bank each week to secure food to distribute.
"They bring it here, and they unload the truck," Bier said. "We get a lot of donations from churches and from schools who are collecting for us."
If Bier is able to secure grants for the pantry, many times the money is used to purchase hygiene products such as soap and shampoo. She recently received a grant for paper products.
"I'll be getting sanitary napkins, tampons, Depends, diapers, all kinds of things with that," Bier said.
The open house will be a good chance for the pantry to show off some updates that have been made there. They recently updated the flooring, thanks to a donation from one individual. They will redo the cupboards in their kitchen and put on new countertops. Some areas of the pantry were repainted. The pantry also changed all their chest freezers in addition to some other improvements.
The food pantry has the ability to serve more people who are in need. Bier said some people may need food but think someone else can use the help more than them. They encourage anyone having a tough time to come to the pantry for help, whether they just need one-time assistance or assistance for a longer period of time.
"You can come here every 30 days as long as it doesn't land in the same month. We're not supposed to put anybody in the computer twice in one month, but at the same time if they've gotten food and it's an emergency, say the house caught on fire or people in the home split up, we're not going to tell them no."
The pantry is operated by a board. They usually meet the last Monday of each month, and anyone can attend. The board officials include President Lois Grandison, Vice President Carl Sowers, Treasurer Angela Johns, Secretary Wendy Haga and Bier, director.
Bier appreciates the opportunity to volunteer at the pantry.
"Part of the reason I volunteer is I love socializing with people," Bier said. "We have a good time. I enjoy it."
As director, Bier just doesn't have one job. She will pitch in to do whatever is needed from getting grants, stocking shelves, pushing a cart to fill with food, cleaning and more.
The center is normally open Monday, Tuesday and Thursday from 10 a.m. to 12:45 p.m. and Wednesday from 6-7:45 p.m. Call the center at 740-922-6276.
The Twin City Christian Service Center Food Pantry is located at 109 N. Water St. in Uhrichsville.