Wayne County receives STaR Award for comprehensive plan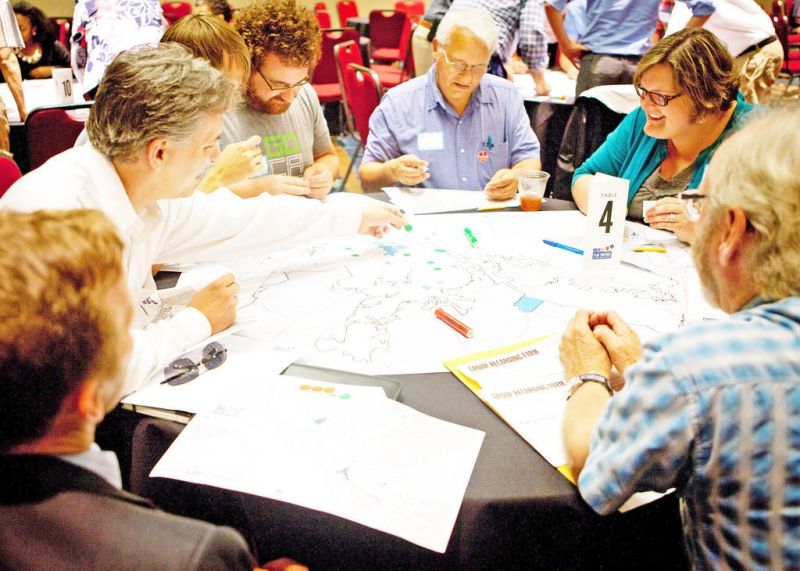 The Wayne County Comprehensive Plan — known as Wayne Onward — received national recognition recently by the American Planning Association.
Wayne County was one of three counties across the U.S. that received the Small Town and Rural Award from the Small Town and Rural Planning Division of the APA for excellence in rural planning.
"It is an honor to be recognized by the APA," said Pete Wearstler, Wayne County Planning Department director. "A lot of effort went into Wayne Onward. This award is a testament to everyone that took the time to be involved with the project."
Updates to Wayne Onward began in July 2018, and the final version was adopted in November 2019 by Wayne County commissioners Ron Amstutz, Becky Foster and Sue Smail. The document will serve as a guide for the next decade to provide a framework that preserves and celebrates Wayne County's rural character and small-town lifestyle while focusing on economic development and community values.
"We are very proud of the planning team and the immense amount of work they completed during this 18-month process," Smail said. "Looking ahead, Wayne County is excited to begin implementing some of the action items laid out in the comprehensive plan, one of them being Agricultural Security Areas. The team has already compiled one of the largest, if not the largest, ASAs in the state, located in Baughman and Chippewa townships, and is diligently working on the second ASA in Green and Wayne townships."
In all, there were four public workshops and multiple remote kiosks set up at various locations throughout the county to help gather comments from residents, and throughout the process, online activities mimicked in-person activities.
Thanks to this process, it was determined a great deal of public sentiment expressing the need to expand and improve recreational amenities exists. Hundreds of Wayne County residents took time to make their opinions heard. Thanks to their efforts, a vision for the future of Wayne County began to unfold as four key themes emerged. Those themes are the balancing of rural character and growth, improvement of land-use tools, providing additional housing options, and supporting area parks and trailways.
"Implementing these actions is no easy task," Wearstler said. "It takes the cooperation of many different entities focusing on different areas."
According to Wearstler, the plan will help direct new development in the county and focus on the revitalization of existing infrastructure.
While much of the legwork was being done on the plan, Wearstler served as assistant planning director under then-director Trevor Hunt, who resigned in May. Wearstler was promoted to director in July as Hunt's replacement.
"I am very familiar with every aspect of the plan," Wearstler said. "I worked closely with our consultants, Planning NEXT, to help foster community involvement. We felt that it was essential to get residents involved to help guide the future of Wayne County. We received a lot of input, and much of it focused around keeping a rural feel."
Although many of the county's core values have remained the same over the years, having a strategy in place is critical to realize funding to address current trends and planning issues that impact the future of the county.
A copy of Wayne Onward can be downloaded, free of charge, at www.WayneOnward.com.
Dan Starcher is a public communications specialist for the Wayne County government.