Wayne County residents raise a stink over proposed sewage storage lagoon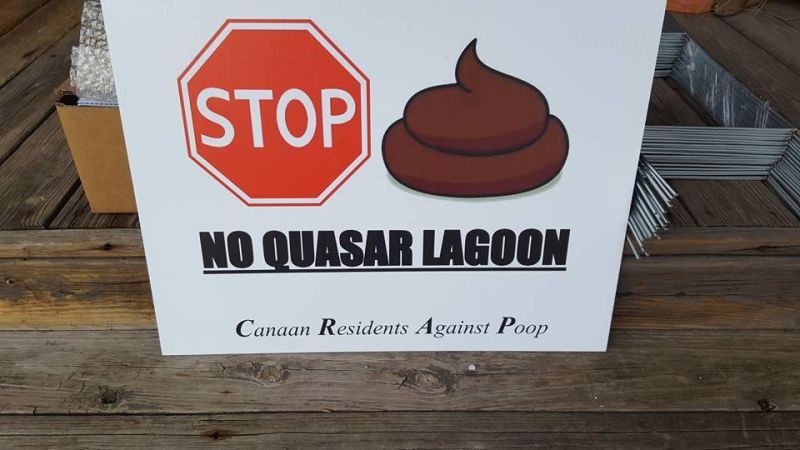 Local citizens are asking for community support at an upcoming rally on July 21 from 4-6 p.m. in downtown Wooster at public square to oppose a proposed 10-million-gallon sewage storage lagoon in Wayne County on Pleasant Home Road, east of Friendsville Road.
The contents of the lagoon will be applied to fields that grow corn, soy beans, hay and wheat for livestock consumption.
"It might not be in your backyard now," said Kelly J. Miller, who lives within a mile of the proposed Canaan Township Quasar Energy Group lagoon, "but if we allow this one, there is nothing stopping Quasar from putting one near you."
Quasar is an Ohio-based renewable energy and organics management firm specializing in the deployment of sustainable technology solutions in agricultural, municipal and industrial applications.
It can be difficult to piece together Quasar's track record. While the agency reports its facilities to be safe and posing no risk, the stories from those who reside near its current projects seem to tell a different story.
Last November at a Quasar Energy facility in Zanesville, a large tank failed, spilling thousands of gallons of what the Zanesville Times Recorder called "sewage-type material."
In May 2014 the Niagara Falls Reporter headline spread the news that Quasar had hired a public relations firm that specializes in cases where environmental issues are at stake and companies are facing community scrutiny and protest. In that case, local residents were concerned about the company's plan to spread effluent, a mixture of raw human sewage and food waste on Niagara County, New York farm fields.
An Ohio Environmental Protection Agency document dated April 4, 2017 reported numerous complaints of odor had been filed in conjunction with Quasar's facilities in Collinwood, Wooster and Sheffield Village and that investigation had confirmed the presence of odor.
The Wooster facility alone was the source of 233 odor complaints filed with the OEPA. Quasar was ordered to mitigate the odors at all three facilities.
One of the founders of the Canaan Township community organization trying to halt the building of the proposed facility, Jodi Tincher, lives with her family about one-fourth mile from the Quasar site. Tincher described the numerous concerns she and her neighbors have discussed in meetings with the OEPA. These include groundwater contamination, air and noise pollution, road damage, contamination from vehicle spills, and lowered property values.
According to Tincher, the biosolids material brought to the proposed site "is not regulated for pharmaceuticals or thousands of chemicals."
According to the EPA, biosolids are treated sewage sludge. Although biosolids have been used in agriculture for many years, concerns regarding potential health risks and odor make application of this practice on a large scale a concern for those residing near biosolid facilities.
The EPA classifies biosolids as Class A EQ, Class A and Class B.
The Canaan Township proposed Quasar facility would be approved for Class B biosolids that are allowed to contain higher levels of detected pathogens. A pathogen is a bacteria, virus or other microorganism that can cause disease.
Residents brought a container of Class A biosolids to a meeting with EPA representatives. According to Tincher, they were not allowed to transport Class B material.
"When the class A sample was placed on the table," Tincher said, "the EPA representatives did not find that amusing. They wanted the lid placed back on it immediately."
The citizens explained that they had made their point. The EPA representatives did not want to be in proximity to Class A biosolids. Tincher and her fellow residents posed the question, "You don't want to be here with the 'safe" Class A, but it is OK for us to live next to Class B?"
Tincher explained when Quasar attempted to build a similar project in Pittsfield, the community sued the company and won. The lagoon was not built.
Members of the local community are concerned they will end up in a similar situation to what they have heard of in other areas with Quasar facilities: in effect "trapped" in their homes, unable to sell them due to drops in property value yet unable to live normal lives due to complications from the proposed facility.
According to David Bell, the attorney working on behalf of the Canaan Township residents, in some instances it has been shown Quasar's preliminary testing was not done in compliance with OEPA standards.
In comments Bell filed last month on behalf of Canaan Residents Against Pollution, it says, "Indeed, the information suggests there is a direct pathway for anything that leaves the pond to reach groundwater. Combined with an inadequately designed liner, the question is not 'whether' water wells will be contaminated but only 'when.'"
Additionally Bell explained that Quasar cleared the land in question prior to obtaining permits to do so. The filed comments explain, "Quasar bulldozed the site prior to obtaining the wetlands permit required by Ohio yet is so far facing no consequence for ignoring the rules."
The comments filed by Bell further explain at the date of filing that Quasar had not yet applied for a required air permit.
Joe Jenkins is the director of public relations and staff attorney for Quasar Energy Group.
"Quasar recognizes there are concerns regarding this project. Our plans for the facility are responsive to several of the issues raised by the community," Jenkins said.
In response to the potential for water contamination, Jenkins said, "The pond will include mechanisms that monitor any potential ground water leeching and will be checked frequently. Wells [for homes in close proximity to the proposed facility] will be tested prior to construction to determine a baseline for water quality. The primary misconception about this project is the facility will contain untreated human waste and/or hazardous materials. This is false. Quasar does not accept any hazardous waste or materials as part of its anaerobic digestion process. Quasar has a very strong relationship with the EPA, and we are following all of their established rules for the design, engineering and potential construction of this project."
Comments filed on behalf of the Canaan Township citizen group are in direct contrast to this statement and indicate what Bell described as a "terrible compliance history."
The filed comments say, "Quasar has repeatedly been issued notices of violation for odors and other deficiencies at its operations throughout the state of Ohio. Of the violations cited by OEPA, less than half had been returned to compliance. Quasar gets cited repeatedly for violations, and then nothing changes."
According to News 5 Cleveland in an article from May 2017, a Collinwood resident claimed when the smell from the facility in his neighborhood is at its worst, "it even penetrates the walls, and you can smell it in the house."
Residents in Collinwood reported no improvement was noted after the OEPA ordered Quasar to mitigate the odor.
In May 2017 local residents filed another lawsuit against the Collinwood facility. Quasar has faced numerous lawsuits across Northeast Ohio in conjunction with their facilities. Some lawsuits have been denied when Quasar claims the local sewage treatment plants cause the odors.
The use of biomass power as an alternative energy source is listed in the Sustainable Cleveland 2019 report on Advanced and Renewable Energy: Powering Northeast Ohio.
Jenkins said, "Quasar plays a key role as an environmental steward by diverting tons of food waste and converting it into electricity, natural gas, CNG fuel and effluent material. This waste would otherwise go to area landfills and contribute to harmful greenhouse gas emissions."
Canaan Township residents as well as those in other Ohio communities where Quasar has already built facilities are not convinced this company is the path they wish to take toward clean, sustainable energy in Ohio.
"My family has a large dairy farm," Miller said. "We have lived in this area since before the 1900s. We love this township and county and want it to stay clean and beautiful."
The public is invited to the rally to show support for stopping the proposed biosolid lagoon.
For more information, find Canaan-Residents-Against-the-Poop-Pond on Facebook.
"We cannot allow this to happen in our county," Miller said. "We as a community need to say no."