Wedding one of many highlights at Pioneer Days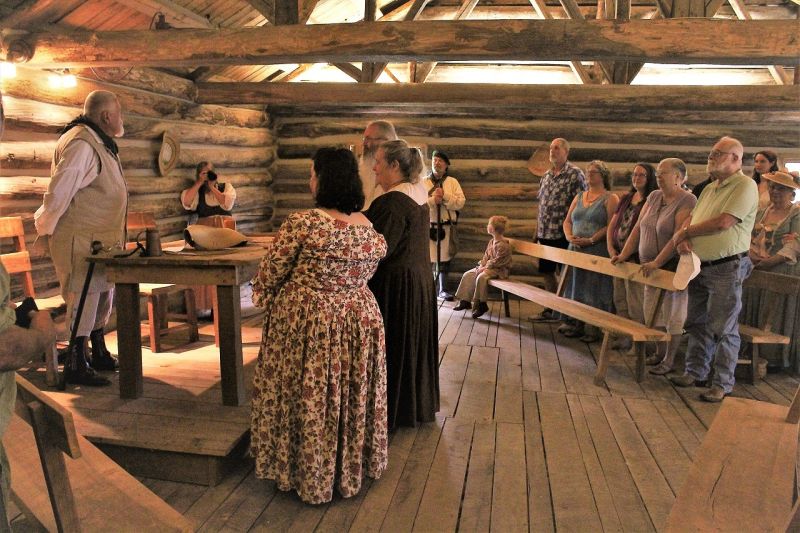 The Gnadenhutten Pioneer Days held each August is a gathering of family. The proof was in the renewal of marriage vows by Becky and Ed "Grizz" Ackman of East Palestine. They first married in December 2021 but wanted to renew their vows at a ceremony for their reenacting family at Gnadenhutten.
The couple met for the first time in Pennsylvania at a rendezvous for historical reenactors. The attraction was there from the first time they met.
"I asked her where, within a travelable distance, I could go to a rendezvous, and when I talked to her, I really liked her," Grizz Ackman said. "She told me to come here to Gnadenhutten. I had never been here; I'd never even heard of Gnadenhutten. I had no idea it was Ohio's oldest settlement. I came down here and camped that weekend. And over the course of the weekend, she and I got together. We've been together every day since that."
A year later the couple became engaged at Pioneer Days. The couple would have liked to have gotten married at Pioneer Days but married earlier for practical reasons.
"We wanted to renew our vows here amongst all our rendezvous family. We love it down here," Grizz Ackman said.
The mission house was filled with guests as the couple read their vows to each other and sealed it with a kiss.
Gnadenhutten will always be a special place for the couple.
"We had our first date here. We got engaged here," Becky Ackman said. She has been reenacting since the mid-1990s.
One year Becky Ackman and her sister were selling baskets at the Great Trail Festival in Malvern when they noticed how much the reenactors were enjoying themselves.
"We kept looking over and saying they're having more fun over there than we are having over here. We went across to the rendezvous side, and that was it. We just fell in love with it," Becky Ackman said.
When she and her sister first became involved in reenacting, they went to two or three rendezvous a month.
Grizz Ackman considers himself a newbie to reenacting.
"I only started doing this in 2005, almost 17 years. Some of these people have been for 30, 40 or 50 years," he said. "I joined a black powder club to shoot black powder rifles and then eventually got into the idea of camping and setting up the colonial-style tents. I really liked it and was trying to find more venues and places to go. And that's when I met up with her."
Grizz Ackman moved from Oakdale, Pennsylvania to his wife's hometown of East Palestine, and they purchased the house her parents built.
Reenactor Dan'l Cain of Uniontown, a former Akron school teacher, has been attending Pioneer Days for many years. He and his wife renewed their marriage vows at the Mission House 28 years ago, one month after they were married.
Dan'l Cain's father performed the renewal ceremony for the couple.
"When they got to the part if anyone objected to the marriage, a woman stood up and shouted, 'He's not good enough for her.' My father said, 'I agree,' but he went on with the ceremony,'" Cain said.
The Gnadenhutten Historical Park is a meaningful location.
"This park is important to a lot of people for a lot of different reasons. Every person here, I consider a brother. Native Americans consider this to be hallowed ground," Cain said of the Gnadenhutten Historical Park, which marks the graves of the 96 Christian Indians who were brutally massacred in 1782.
Though he didn't teach history in his profession, Cain was upset Native American history was not widely covered for students. In one textbook that was used, The Trail of Tears information was only five paragraphs.
"I love history and anything I can talk about historical — why we do this, why they did this, where we're from," Cain said.
In researching his family history, Cain found he had ancestors who participated in the Revolutionary War.
Another highlight of the event was a presentation by Trevor Biggs of Newcomerstown and Brent Heishman of Marion, formerly of Newcomerstown. The two recreated a meeting between Chief Netawatwees of the Lenape (Delaware) tribe and David Zeisberger. Biggs, who is of Lenape descent, portrayed Netawatwees, and Heishman, former pastor of Victory Assembly of God church in Newcomerstown, played Zeisberger.
"It's a crazy story. It's a God story that he brought together two groups who didn't even speak the same language," Biggs said in answering questions after the presentation. "God's message brought them hope."
The two men felt it was important the Moravians came as brothers and that Zeisberger translated many religious teachings into the native language so they could understand.
The Trumpet in the Land singers and dancers also performed several scenes from the outdoor drama.
John Heil, in his last year as coordinator of the Gnadenhutten Museum, was pleased with the way the event went this year, and he thanked everyone who supported the festival including those at the annual auction, which earned $4,575 for the Gnadenhutten Historical Society, which operates the museum and park.
The first crock went for $900 to Brotherhood Heating and Cooling of Gnadenhutten. The remaining nine went to the following: Gnadenhutten Village Hardware for $325, Tom and Sharon Frank of Gnadenhutten for $325, Lee Brown of Gnadenhutten for $300, Top Notch Auto of Gnadenhutten for $300, John Heil for $275, Jane and Tom Miller of Gnadenhutten for $325, The Commercial & Savings Bank of Gnadenhutten for $275, First National Bank of Dennison for $275, and Rick and Janita Weals of Carrollton for $275.
The Ohio plaque went for $100 to Brotherhood Heating and Cooling, along with the replica of the Cooper cabin for $600. The replica of the Mission House was purchased by the Weals.