Weller portrait to be unveiled in Sugarcreek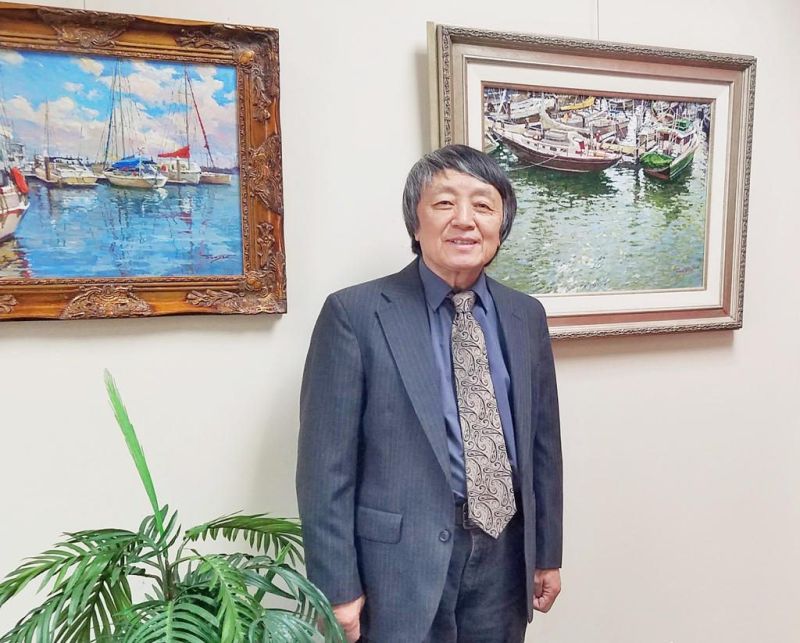 Clayton Weller, mayor of Sugarcreek from 2012-19, is well remembered in the community as a significant contributor to the quality of life for area residents and a tireless promoter of the village and all it has to offer.
Weller, who passed away Aug. 5, 2020, will be memorialized with the unveiling of a specially commissioned portrait by well-known artist Yan Sun on Aug. 7 at 7 p.m. in downtown Sugarcreek. The event will be attended by local dignitaries and people who were close to Weller during his lifetime.
"Clayton Weller was active in the Sugarcreek Community Arts Council," Sherry Crilow said. "He was instrumental in guiding the council's project to construct a brick wall sculpture downtown."
Crilow was the artist who carved the sculpture, which is now a major attraction in downtown Sugarcreek. "He really pushed to get that done," she said.
When it came time to honor Weller in some way, art was the natural choice. "He was so active with the Arts Council, so what more fitting way could there be to honor him than with an original work of art?" Crilow said.
With support from Weller's family and guidance from Jeannine Kennedy at the Tuscarawas County Center for the Arts, the group approached Muskingum University professor of art Yan Sun, who agreed to take on the project.
Sun began the painting in February of this year and finished in March. After the Aug. 7 unveiling, the painting will find a permanent home at the Alpine Museum in Sugarcreek.
The artist said he was more than pleased to receive the commission. "When they asked me, through Jeannine Kennedy at the arts center, would I do the portrait, I was very pleased to say yes," Sun said.
Weller also was not unknown to Sun. "Every year my wife and I go to Sugarcreek to attend the (Swiss Festival) parade, and I saw him on the stage. When the chance to paint his portrait came, I immediately said, 'yes, I want to do this.'"
The Arts Council sent Sun a photo to use as a reference, and the artist also had his own photos of Weller taken during those annual Sugarcreek visits.
"I approached the portrait knowing a bit about him and his community service. I am very happy to do a portrait of such a great gentleman who contributed so much to the whole community in his lifetime," Sun said.
Sun has painted the portraits of many well-known people including astronaut and U.S. Sen. John Glenn.
Sun plans to attend the unveiling of the portrait in August.
"Mayor Weller's family has been very supportive of our efforts to memorialize him this way," Crilow said. "We are hoping for a good turnout for the unveiling."
Weller, born in Dover in 1950, served as Sugarcreek village administrator after retiring from the village street department. He was a member of the Sugarcreek Planning Commission in addition to his later mayoral duties.
He received numerous awards and accolades for his community-service efforts, garnering special recognition from the Ohio legislature and a Tourism Ambassador Award from the Tuscarawas County Convention and Visitors Bureau. He was instrumental in bringing the large cuckoo clock to downtown Sugarcreek that has become a major attraction for the village.
The unveiling ceremony will be held in front of the cuckoo clock.
"He was such a big part of Sugarcreek and helped advance the quality of life here for all its residents," Crilow said. "The Village Arts Council is pleased to be able to remember and honor him this way."