Work on the Zoar Levee is delayed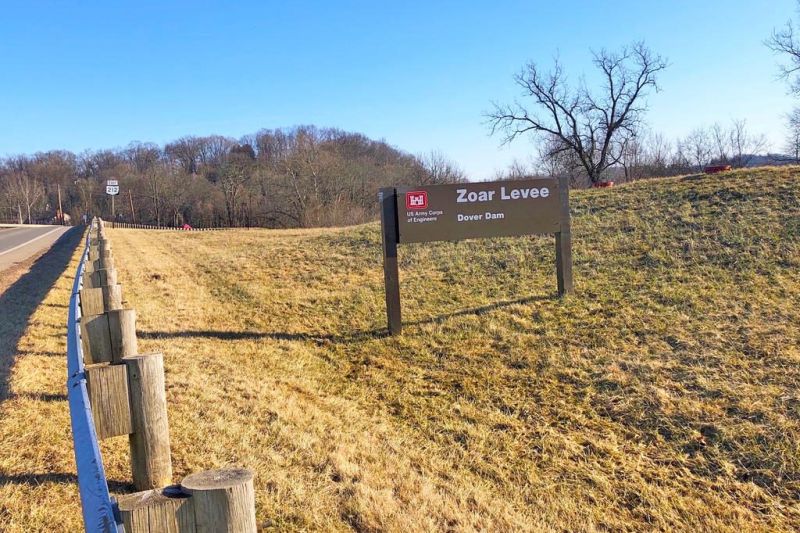 In a virtual meeting on Monday, May 18, representatives of the U.S. Army Corps of Engineers announced work scheduled to begin May 25 on a ponding area adjacent to the Zoar Levee will be delayed until June or even July. They cited the impact of COVID-19 and the inability to dispatch crews under current conditions for the delay.
Nathan White, an archaeologist with the Corps, said a soil-bearing-capacity study that was recently completed prior to installation of relief wells and piezometers did not locate any cultural deposits and that a full report is forthcoming. He also said archaeological work will continue as work progresses, and if anything is uncovered, the proper parties will be notified.
White also announced a new website has gone live containing all past meeting presentations, minutes, the Historic Property Baseline Study and links to information about the Zoar National Register Nomination at www.lrh.usace.army.mil/Missions/Civil-Works/Current-Projects/Zoar/.
The website also includes an email link to the Corps for questions and responses.
Dates for future activity still need to be set including those for a vibration assessment and a survey of preconstruction conditions, which will survey residential properties and provide guidelines for protecting their property and valuables, as permitted by individual residents. The dates will need to be scheduled as closely as possible to the commencement of trenching, which will probably not take place until after January 2021.
White and Mike Nield, a geologist for the Corps, reviewed how vibration-monitoring systems will work, alerting workers to vibrations exceeding certain decibel levels and stopping work. Four seismographs will be moved daily, depending on where work is taking place.
Nield said the Corps is in the process of putting together a firm plan for how homeowners can report damage, should it occur. If needed, repairs will be made in accordance with the Secretary of Interior's Standards for the Treatment of Historic Properties and the Village Preservation Council.
A public meeting will be scheduled in June to make sure property owners understand the time line and structural-stability assessments.
Other issues were raised during the meeting including potential damage to and replacement of historic varietal vegetation. White said the contractor is required to evaluate current conditions and vegetation before beginning work, and if any damage occurs, "like will be replaced with like."
White said another meeting will be held to address a question regarding ongoing parking issues and the potential for parking problems during public events in Historic Zoar Village.