Workshop addresses poverty, solutions to it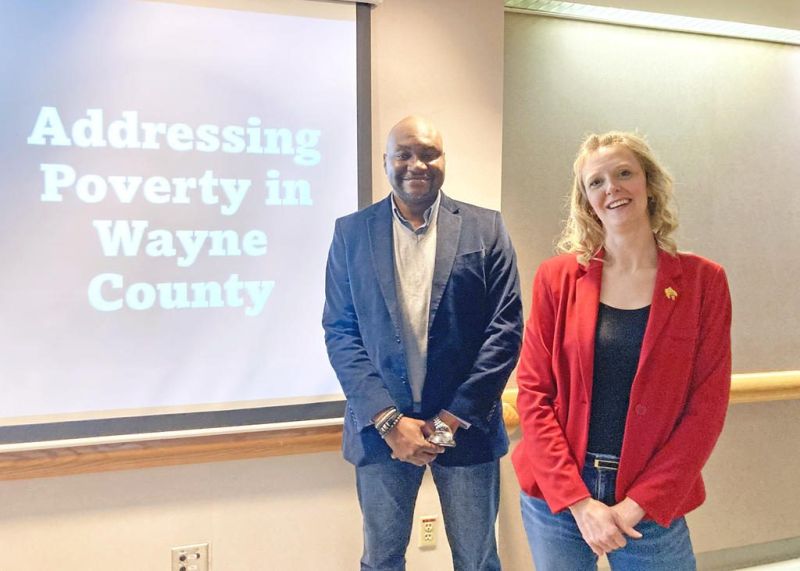 Poverty is often hidden in the community, and few realize how many people are impacted and to what extent. In mid-January community members came together in a poverty workshop to identify small actions to make a difference in Wayne County.
The duo of Cassie Shaum and Olufemi Olugbemiro started offering these poverty workshops four or five years ago while both were working at Community Action Wayne/Medina. Shaum said she often gets asked how poverty can exist with so many job openings in the county.
This workshop was her answer to the question — a way to show the multitude of complex drivers of poverty.
Also for Shaum, the issue is personal.
"My mom had me when she was 15 and my sister when she was 18. My mother came from generational poverty," said Shaum, who was able to break the cycle.
She currently is the social service manager at CAW/M and runs its Head Start program, which targets preschool-aged children and their families.
"We realized that there is a need for building a bridge between the different sides of the tracks. That bridge will allow different groups to understand what other groups are going through," Olugbemiro said.
Olugbemiro's moment of clarity came from teaching a Getting Ahead program to women in a local domestic violence shelter. The program provides workforce development, soft skills and coaching.
"(Through teaching that program), I came to the realization that there are a lot of working poor in the community, and it debunked the myth that poor people are lazy," Olugbemiro said. "Today all 10 graduated, and nine of them got better jobs and are doing well. And I link that to the support that they got through Community Action and other agencies in the county. That showed me that something can be done; we can lift people out of poverty, even if one at a time."
Addressing poverty locally
The Addressing Poverty Workshop, co-sponsored by CAW/M, United Way of Wayne and Holmes Counties, and the Mental Health Recovery Board of Wayne & Holmes County, was hosted by the Wooster Community Hospital.
Workshop participants started with definitions: Poverty is a lack of ability to meet your basic needs. One can measure it using the poverty index, which for Wayne County means a family of four making $27,750 or less each year. In Wayne County a little less than one of every 10 people live in poverty.
Three barriers were discussed in the workshop. Lack of transportation is an issue in the county, and even those who do own a car may find they cannot afford gas or the necessary repairs for their vehicle.
Lack of time is a big challenge for everyone but can be especially burdensome for those who work hourly jobs and are too busy to get the support they need.
One participant who works with the Supplemental Nutrition Program for Women, Infants and Children noted a challenge facing the populations she serves: "We service people 8 a.m. to 4:30 p.m., and people work 8 a.m. to 4:30 p.m. People are too busy to get into our clinic."
"Mental health is another barrier," Shaum said. "They may be struggling to get the mental healthcare they need while in crisis.
"What makes people successful? What takes people from these dire straits and puts them in opportunity? It's often things like mentorship, stability and increased ability to attend to our basic needs."
The participants identified more support to mentorship programs in Wayne County as being an immediate solution to work on.
"For me, one key takeaway was the proven importance of mentorship, for both adults and kids living in poverty. Knowing that someone cares and is there to help them navigate the resources and options available can really make a difference," said Melanie Garcia, workshop participant and executive director of the Wayne County Community Foundation. "Luckily, we have mentoring programs in place in our community — they just need more volunteers to serve all the kids waiting for mentors."
A recent solution CAW/M is starting to explore is unrestricted funds for safety net issues for stability. Shaum said these new funds cover needs outside of the normal services offered by the organization.
There's a gradually shifting perspective in the social services community that only those in poverty can fully understand their own circumstances and needs. Shaum used an analogy of a pyramid that no longer has the base to keep it stable. That's what those living in poverty often face when they lose a job at no notice or have an urgent medical need.
"That's what is really cool about this new unrestricted fund that James Fox, our CEO, developed," Shaum said. "We are putting that pillar back in to give that individual stability when they most need it. We can't stop poverty. But we can aid the symptoms of poverty."