ZCA recognizes volunteers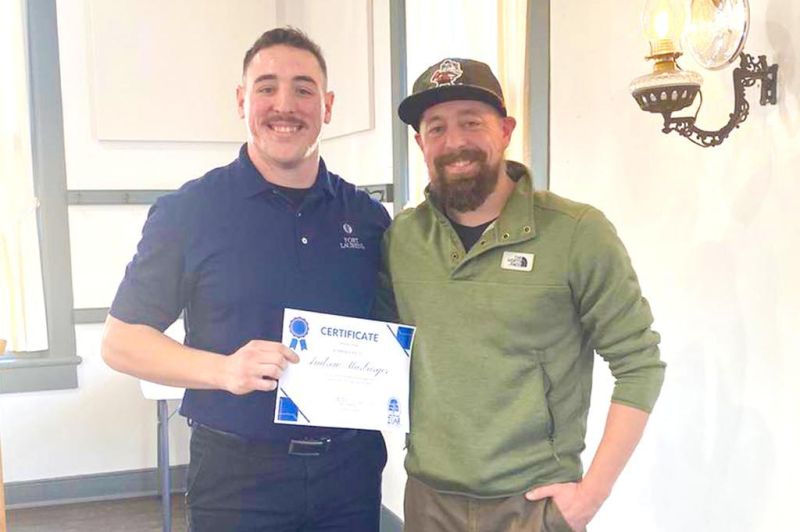 The Zoar Community Association, which manages both Historic Zoar Village and the Fort Laurens Museum for the Ohio History Connection, recently recognized several volunteers at its annual appreciation dinner.
Barbara Mills of New Philadelphia and Marcie Smith of Zoarville were named Historic Zoar Village Volunteers of the Year for their contributions throughout the 2022 season. Mills routinely shares her knowledge of Zoar as a costumed guide and steps in to help with many jobs around the village. Smith demonstrates the spinning wheel during school tours and also volunteers her time at the Algonquin Mill in Carrollton.
Additional Zoar award recipients are as follows:
—Lifetime Achievement Award to Craig Stambaugh, a board member, greeter, salesperson and outreach representative. Stambaugh is recognized as one of Zoar's most knowledgeable guides and has volunteered for six years.
—Spotlight Award to Shirley Stambaugh for researching and creating a portable program that features spinning, artifacts and stories about her own family's Zoar heritage and Brenda Kohler for her participation in outreach programs for senior citizens and volunteering in the bakery during large events.
—Rising Star Award to Andrew Marburger for his board service on the Zoar Community Association and tour guide participation.
—Junior Star Award to Tressie Brown for her service as a volunteer under the age of 14. Brown has volunteered in the Zoar Store and for Christmas in Zoar.
The Fort Laurens Volunteer of the Year was Beth Parks of Fresno, who volunteers on weekends at both Fort Laurens and Historic Zoar Village and offers guidance on many programs at both sites.
Additional Fort Laurens award recipients are as follows:
—Lifetime Achievement Award to Doug Angeloni, who has been involved with Fort Laurens for more than 50 years. Angeloni has extensive experience with research and writing about Fort Laurens and participates in reenactments. His personal artifact collection has been instrumental in creating Fort Laurens displays.
—Spotlight Award to Darrell Markijohn for serving on several committees to ensure the success of Fort Laurens and Historic Zoar Village as historical, cultural and educational sites.
—Rising Star to Toivo Motter for his assistance in the Fort Laurens Museum and support of Friends of Fort Laurens, which raises funds to support the eventual reconstruction of the fort.
Bolivar-Zoar Rotary also was honored with the Community Pride Award, which recognizes volunteer contributions and support by an organization.