Zoar to bid out fire contract and hire fiscal officer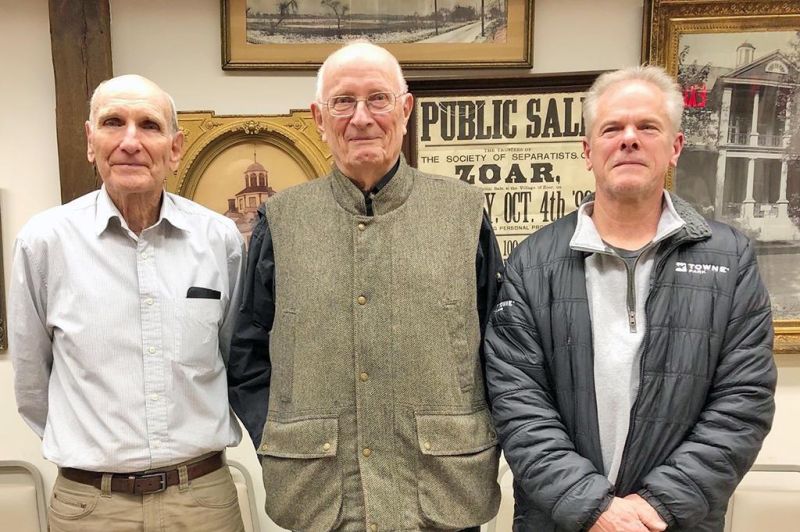 During the Zoar Village Council meeting on Jan. 14, it was decided the village will advertise for bids for fire protection. Mayor Scott Gordon announced the village will look for a fiscal officer to replace Patty Smith, who is leaving the position. He went on to report council is looking for people to serve on the cemetery board and on the shade tree committee. Anyone interested in serving in any of these positions should contact the village of Zoar.
In an organizational meeting prior to the regular council meeting, Gordon was sworn in as mayor for a four-year term, and Hans Fischer and Tom Klingaman were sworn in as council members through the end of 2023. Gayle Potelicki was elected council president pro tem.
Reports
Smith said the financial statements for 2019 are complete and can be reviewed at the Feb. 10 council meeting.
Gordon reported the historic preservation commission is making progress on new design guidelines that will govern construction and renovation of buildings within the historic district.
The mayor also announced the U.S. Army Corps of Engineers' public meeting on Jan. 23 regarding work on the levee.
Law director Doug Frautschy and Gordon reviewed various levels of conflict of interest, what constitutes a conflict of interest and in which cases council members are required to abstain from discussion and voting.
Other action
Council heard a first reading of Ordinance 2020-05 in title only. The ordinance proposes to make zoning changes. A public meeting will be held in April to address the ordinance. Council also approved a contract with the Bolivar Police Department for protective services through 2022.
A contract was approved securing EMS services from the Village of Bolivar for a period of four years. An emergency measure was passed to authorize the mayor and fiscal officer to enter into a contract with Environmental Design Group to update the open spaces section of the village's master plan with the approval of council.
EDG developed the master plan 10 years ago. This action is in regards to two priority projects that will provide better access from the village to the Towpath Trail. Council also passed an ordinance authorizing a call for mowing bids for 2020, approved the appointment of Frautschy as law director for a period of two years and approved a contract with Harold Raines for burial services at the Zoar Cemetery for a period of two years.
Gordon also expressed condolences to the family of Richard Lebold, who passed away on Dec. 27, 2019. Gordon said Lebold was a driving force behind much of the progress made by the village in the historic district including work on the Town Hall, where the council meetings take place.
The next meeting will be Feb. 11 at 6 p.m. in the Town Hall.