Andrea Miller is stepping down as Hiland head volleyball coach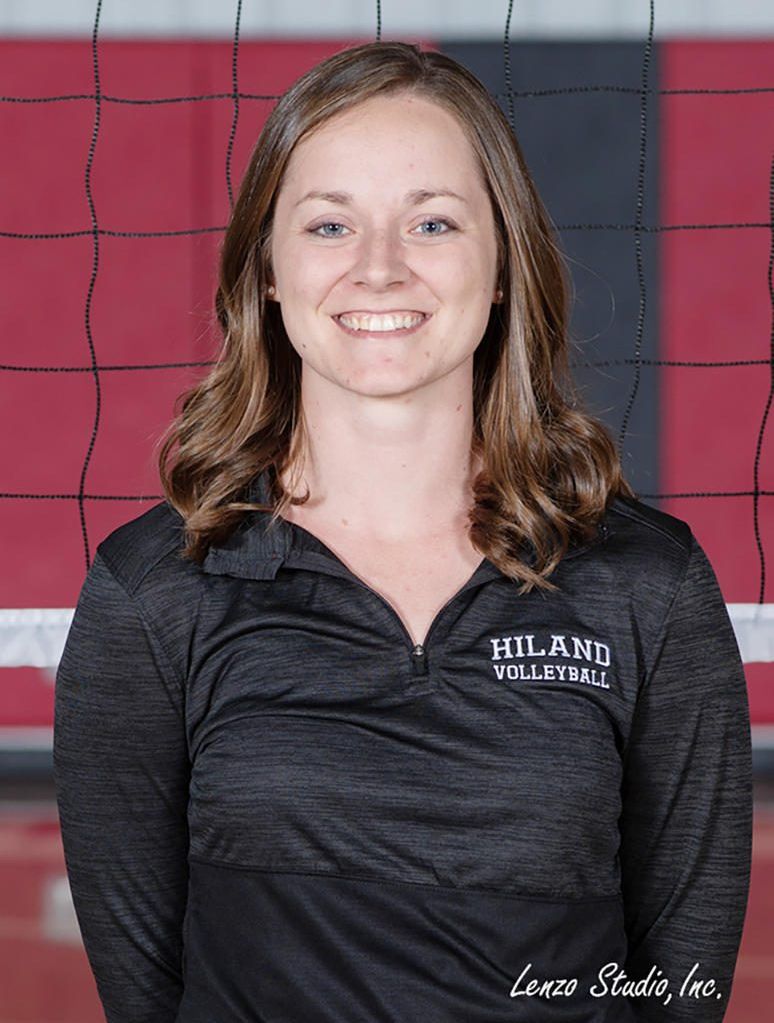 It is not rare to hear coaches say they are stepping down from their coaching position to spend more time with their family, but for 2010 graduate Andrea Miller, head coach of the Hiland Lady Hawks volleyball program, she isn't just stepping down to spend time with family; she is creating it.
Miller recently announced she will step down as head coach because she is expecting sometime in March. She said leaving her volleyball family was not an easy decision, and having served as an assistant coach at Hiland prior to her two-year term as head coach, she has left an indelible mark on the program.
"It's never easy to leave when you pour yourself into something like this," Miller said. "I thought about staying on, but with all of the late nights and putting all of that extra burden on my husband seemed to be a lot, so I made the decision to step down. I don't want to miss out on this moment."
During Miller's two-year tenure as head coach, she received the 2019-20 Inter-Valley Conference South Division and District 5 Coach of the Year honors, broke the school win record with a 26-2 season during the 2019 season, and led her team to a Div. III regional runner-up spot that season. Her overall record leading the Lady Hawks stands at 41-12.
"I'm grateful I had the opportunity to coach these past two years, and while it was not an easy decision to leave, I think it will be the best decision for me and my family," Miller said. "I hope to be able to continue to support the program in whatever way I can because there is a lot of talent in these upcoming grades and they deserve to have a great season every year. Also, thank you to everyone who supported me during these last two years and helped the program get to where it is today."
Miller said during her three previous years as a junior varsity coach, former head coach Adri Bryk and her staff did a tremendous job of building the program back to prominence.
Miller said the thing she will miss the most in leaving is the relationships and the fun the team had together. She said it will be particularly tough to leave behind this year's junior class, which she said holds a great deal of returning talent for whomever takes over the reins of the program next season.
"This year's juniors will be hard to walk away from because they are talented and I have coached them ever since they came into the program, and it will be hard to not see them through all the way," Miller said. "It's a great group, and we have some really nice underclassmen coming back that are going to give whoever takes over a lot of good skill players to work with. They should continue to be very successful."
"On behalf of the Hiland community, athletic department and administration, we thank you too, Andrea, for everything you've done to promote Hiland student-athletes," Hiland athletic director Art Yoder said.
The volleyball head coach position will soon be posted on the East Holmes School District website. Any interested candidates can go there and follow the instructions to apply.
In addition, the program recently doled out its year-end awards. Most Improved went to Ava Weaver, Anika Schneider received Offensive Playmaker, Defensive Playmaker went to Amanda Troyer, the Coach's Award was presented to Sara Schlabach and Miss Volleyball went to Troyer, whose leadership and hustle the past four years made her an integral part of the program's growth.