Bears have high expectations and own them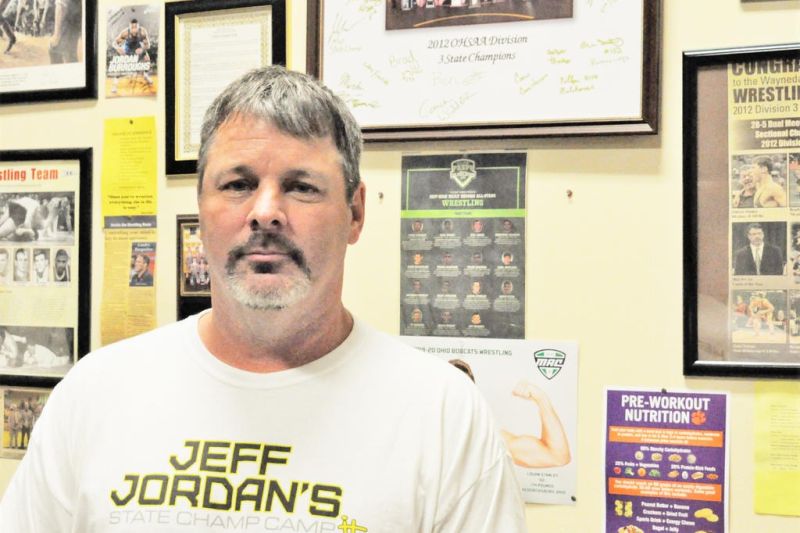 Rarely is motivation a concern for those who choose to wedge their muscular bodies into a skin-tight Waynedale singlet. Golden Bear wrestlers take ownership of historically high expectations by accepting full responsibility for their performances on the mat.
Head coach Louie Stanley, who has methodically molded his syllabus into a Wayne County Athletic League empire over the past 26 years, wouldn't have it any other way.
"It's on us. Coach tells us what we should do and what can help us, and then it's up to us to follow it. So anybody who's doing really good or wants to do good, it's their dedication, not just him forcing it on us," 126-pound senior Seth Unkefer said following a recent practice in the team's workout facility adjacent to the Golden Bears' football stadium.
Inside, the walls are plastered with inspirational quotes and sayings, as well as banners, posters and even pictures of past Waynedale High standout grapplers. The décor includes a rundown of each year the Bears have captured the conference championship. Dating back to 1971, that number is up to 27. And with a list of "promising newcomers" that's actually longer than the impressive roster of "returning lettermen," it appears as though the beat will go forward for some time to come.
Waynedale is seeking its ninth straight WCAL crown.
If there's a "secret sauce" to the program, Stanley, 445-91-2 heading into the weekend's season-opening varsity tournament in Cuyahoga Heights, seems to have figured out the winning recipe.
"I think as a coach it's obviously surrounding yourself with good people," said Stanley, who led Waynedale to a Div. III state championship in 2012. "I'm so blessed, and I've been here so long that now my people are my own alumni I've coached for the most part."
Even for a man as driven as OHSAA Hall of Famer Stanley, there was a learning curve to be negotiated.
"I've told everybody it took me honestly eight or 10 years to become a good coach," Stanley said. "I thought I was OK. I thought I was doing the right things and had things headed in the right direction. I went to camps, and I studied. But it literally took me trial and error, countless formulas and talking to other people who had been around. That's where other programs suffer. They don't have that continuity. They don't get people to that six, eight or 10 years. They're done after three, four and five. I was blessed that while I was learning, we were still pretty solid with good kids, good individuals, good families and a good Waynedale tradition. So I was able to kind of grow with the program."
Truth be told, everybody grew. The Bears team now boasts second- and third-generation wrestlers such as senior 170-pounder Micah Hershberger, whose father and uncle came up through the Waynedale program.
"Coach really doesn't force us to do stuff," said Hershberger, a senior who plans to jump up to the 182-pound weight class on occasion this season. A year ago he was one match shy of placing at state.
"He tells us what's on the line and what we need to do get it done. Then we have to decide to get it done. I just love being here in this room," Hershberger said. "This year I get to wrestle with my little brother (Justin), and that makes it special too. We've got a lot of leaders on this team, juniors and even sophomores who are leaders. It's a tough atmosphere in here. You really don't have to push kids in here much. We all go to battle every day on our own terms."
Unkefer, who placed eighth at state a year ago, backed up Hershberger's claim. "It's like a family, and you have to work as hard as you can to break into the lineup. Nobody is a slacker in here," he said. "If somebody doesn't want to work hard, it's kind of hard to sell. So we all push each other. If somebody doesn't push hard, we call him out on it."
Stanley, also the Bears' head football coach, is busy in the classroom as well, teaching health and physical education and special education. All three of his own sons have wrestled under his tutelage. Storm Stanley, a great nephew, is a junior on the team this season.
"The potential this year is through the roof," Stanley said. "The kids have done everything right. It's just a matter of continuing to grind. It's a long season. We're excited for January. We'll be excited to get into the second part of the season and start thinking about the end run."
Still passionate about the sport, there is no step-away date anywhere in Stanley's foreseeable future. He said he's confident the foundation for success is in place for many years to come once his time to pursue other interests finally arrives.
"I will miss the competition," Stanley said. "I will miss the relationship with the kids. I will miss watching kids who aren't very good as freshmen turn into studs as a senior. It's so much fun to see."