Before AU, Geiser focused on final season at Dalton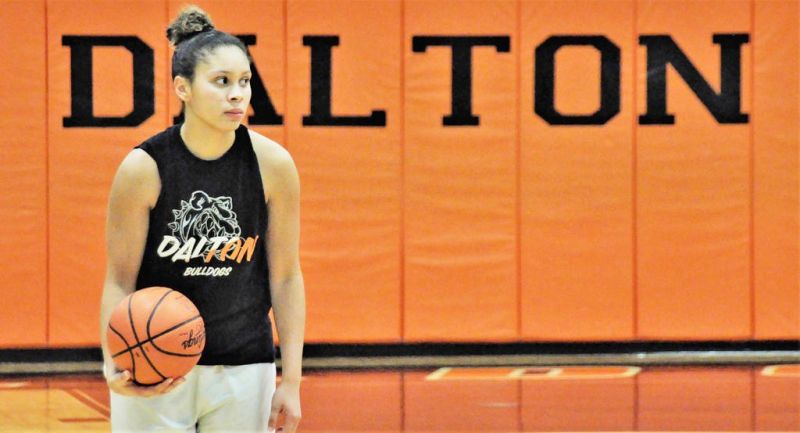 She knows she's been to the regional finals twice. She knows she's going to Ashland University next year.
Senior playmaker Makenna Geiser of Dalton High School now can get on with the task of leading her Bulldogs to yet another memorable season of basketball.
"I really don't feel any added pressure. Just going out there and having fun is the big thing this year," the 18-year-old Geiser said after a recent practice inside what is known as the "Boneyard."
The juices are flowing as another challenging schedule of Wayne County Athletic League action looms.
"As a team it's not only me out there. We are a team, and we fit together so well. I'm just excited about being with my teammates, and we've been working hard," Geiser said. "I'm blessed that I'm going to be playing for a great program for four years after high school. But right now my goal is to do my best for my teammates and for Dalton."
It was during the recent early signing period that Geiser made it official, committing to continue her basketball endeavors at AU, one of the top Div. II women's basketball operations in the country. The Eagles went 37-0 on their way to the 2017 national championship, following that feat with a 36-1 national runner-up season in 2018. In the three years of coach Robyn Fralick's leadership, the Eagles won all but three of their 107 games. They were 29-3 last year with Kari Pickens at the helm.
Ashland also won the Div. II national title in the 2012-13 season, which was preceded by a national runner-up finish in 2011-12.
"She'll fit in [at Ashland] just like she has here at Dalton," Bulldogs head coach Katie Miller said of Geiser. "She's got a skill set that is one-of-a-kind. They will need her there like we need her here. That Ashland wanted her to be a part of their program says a lot."
While the majority of players take delight in putting the ball in the basket at flabbergasting rates, Geiser, who last year averaged slightly more than 16 points per game, is of a different mind-set.
"My absolutely favorite play is blocking someone out, grabbing a big rebound and making that long outlet pass that helps us score in transition at the other end," the 5-foot-10 rebounding/defensive player said.
Miller has been Geiser's coach ever since the student's seventh-grade season. The two pretty much know what to expect from each other. Miller said she's never gotten less than Geiser's best.
"When the girls here walk through the doors of the gymnasium, they know that effort is non-negotiable," Miller said. "Makenna has always been one to work as hard as possible. Team basketball is her basketball. I just really think she's an unselfish kid. You can ask her teachers in the classroom and they would say the same thing about her. You could check in the library, maybe down at Wendy's or anywhere in the community. They would feel the same way."
The Bulldogs consistently have been among the state contenders since Geiser's freshman year when they went 20-7 and bowed in the regional semifinals. Her sophomore season, Dalton was a win shy of an appearance in the state final four after a 55-41 regional final setback to Buckeye Central in the Perry High gym in Massillon. That's the same court where last year Cornerstone Christian knocked off the Dawgs 35-29 in the regional championship.
There were moments last season when Miller actually thought Geiser was too unselfish on the floor, that she passed up scoring opportunities to distribute the ball among her teammates. In the season ahead, the coach hopes Geiser will assert herself a little more on the offensive end.
"We lean on Makenna in all kinds of ways. We've told her we want her to take good shots and take a lot of them. Her attempts need to be up, and I would say this year she's not shying away. She's doing a much better job of going and getting the basketball," Miller said. "When things do get a little unsettled, we want her to get the ball and put some confidence back into the team. Let's get things rollin'."
Normally a hard-nosed competitor on travel teams in the off-season, Geiser said she took this summer off in hopes of getting herself physically ready and mentally fresh for her final high school campaign.
Miller thinks Geiser's gang has learned much from its near-misses the past two seasons.
"We've learned to take advantage of the opportunities you have in front of you," Miller said. "We've tried to beef up our nonleagues to maybe get us a little more prepped. We've been there twice; we know how it feels. We know what we need to do and to play the type of basketball that we want to play in March all season. Let's not wait to turn it on in January or February. Let's get it goin' now."