Bittersweet opening day for Triway baseball team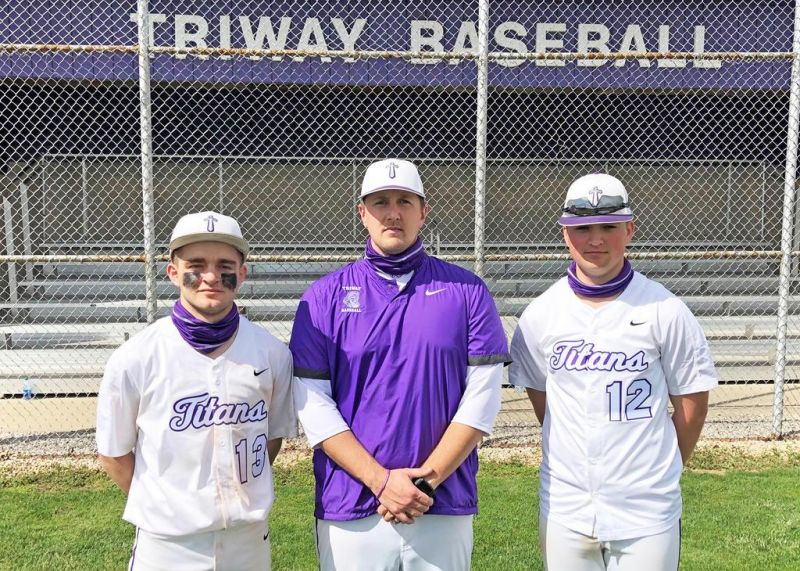 The COVID-19 pandemic has taken away a great deal. Included somewhere on the list is the 2020 OHSAA spring sports season.
On March 27 the Triway and Wooster baseball teams, coaches and fans were given a gift.
The sun was shining bright, and the familiar crack of the bat and a ball slamming into a glove were back. A varsity game was played in Wayne County for the first time since spring 2019.
The Generals defeated the host Titans 5-4 in nine innings at Blaine Carmichael Field. Everyone savored being at a ball game like never before, but emotions ran especially deep for Triway.
It was the first game in 25 years that Sean Carmichael wasn't at the helm for the Titans. Carmichael, who guided his alma mater to a 379-198 record from 1997-2019, passed away after suffering a heart attack at age 52 on Aug. 11, 2019.
The last game Carmichael coached was a sectional loss against Justin McDowell's Waynedale team. McDowell wound up being hired at Triway as Carmichael's successor as baseball coach and co-athletic director with Pat Honza.
"It's very bittersweet to be here, and it's not lost on me what Sean did, who he was and what he stood for," said McDowell, who had a 101-44 record at Waynedale, highlighted by a Div. III state runner-up finish in 2016. "I wish I was here with him. Unfortunately, that's not the way it worked, but we're gonna do everything like he did."
In a perfect world, Triway would have won in walk-off fashion when junior Griffin Braun, wearing Carmichael's No. 12, came to bat with two outs and two runners in scoring position in the bottom of the ninth. However, Elisha Steiner was able to retire Braun and notch the save.
"The thought went through my mind that it could be a story-book finish, but Griffin will get a lot of other at-bats," said McDowell, whose coaching staff consists of Brandon Giles, Aaron Spidell, Andrew Marcum and Chance Lomas. "He's worked extremely hard, as has our entire team. It was great to be out here, and you couldn't ask for a better day for baseball. We've done a lot of work to make the field look great. I wish the result was a little bit better, and it very easily could have been, but sometimes that's the way it goes."
Ohio State signee Tyler Pettorini's single in the top of the ninth held up as the game-winning hit. Pettorini, Drew Becker (6 IP, 5 Ks) and Jack Williams had three hits apiece for the Generals, and Pettorini (2 IP, 3 Ks) notched the win in relief.
Triway second baseman Colton Snyder, the Titans' lone senior starter, led his team with three runs scored. He singled, walked twice and stole two bases.
"Griffin and me were on coach Carmichael's last-ever team, and the way everything happened, it was really heartbreaking for all of us," Snyder said. "After it happened, I don't think there was a better guy to bring in than coach McDowell."
The Titans badly wanted to win for Carmichael and McDowell.
"I feel like coach Carmichael would be proud of how hard we played and how aggressive we were," Snyder said. "I think a lot of teams counted us out coming into the season, and coach McDowell's gotten us ready. We showed we have a pretty good team too."
Snyder will letter in four sports this year: football, golf, basketball and baseball.
"Colton is a great kid," McDowell said. "He is going to be the valedictorian and was on the state golf team. He started on the football and basketball teams. We had a scrimmage last week, and the opposing coach said, 'I want your second baseman on my team. He's just one of those kids who does everything right.'"
Griffin Braun's dad, Doran, played sports with Carmichael, and they were best friends. Griffin's two older siblings were teammates with Carmichael's kids.
"I kind of decided on my own (to wear No. 12) and asked (the Carmichael family) if it was OK," Griffin Braun said. "My dad and him were really close, and my brother and sister were in the same grades as two of his kids. Our families are very close, and it's an honor to wear it and represent him."
Triway's starting pitcher Kane Weaver, one of five juniors in the lineup, had lots of grit to hold Wooster to just two runs over the first six innings.
Sophomore catcher Easton Barnard showed a rocket arm behind the plate, throwing out two runners.
The future looks as bright as the opening-day sun for Triway baseball.
"Coach McDowell has done a great job since he's come in," Griffin Braun said. "There's no other guy we'd rather have leading the program right now."
Aaron Dorksen can be emailed at aarondorksen24@gmail.com. Follow him on Twitter at @AaronDorksen.