Bulldogs back on top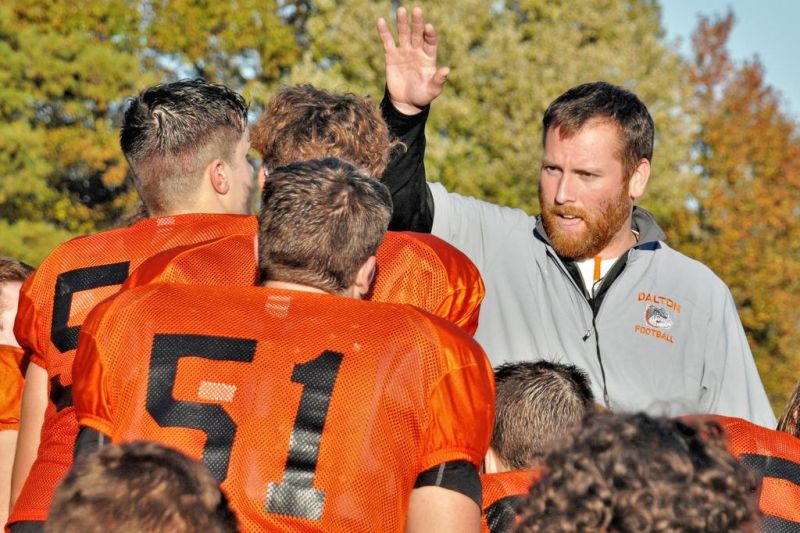 The Dalton High School Bulldogs have reclaimed their status as Wayne County Athletic League football champions.
After the Nov. 1 home game against Rittman, coach Broc Dial's gridiron gladiators will head to the "second season," and until the postseason trials and tribulations conclude, the team's followers will soak up each and every moment.
"I don't think we've hit our ceiling. I think we can match up with people. Our line play has improved greatly from the beginning of the season, and our skills are improved. So I think the sky's the limit for us right now," Dial said after Monday's practice.
After winning just four of 10 games in 2018, this is where the Bulldogs expected to be this time around. This also is where the Dalton community expected its team to be. It may be a small school in a small town, but the bar always has been high.
"Football is very important to Dalton," the 34-year-old Dial said. "There are just a lot of great things that have happened here in the past. We're just trying to keep that going right now. The parents are super-supportive. The community is super-supportive. There are not many places like this that exist."
It was the Bulldogs' recent 44-10 victory over Northwestern that allowed Dalton to claim the conference title outright this season. The Dawgs are 8-1 overall and 6-0 in the WCAL heading into the upcoming encounter with the rival Rittman Indians.
Dial was the head football coach at DHS in 2016 when the team went 7-4 overall and 5-2 in the conference, bowing to Kirtland in the first round of the playoffs.
In 2017 Dial's disciples captured WCAL honors, riding halfback Spencer Horst to a 7-0 league mark and 12-1 overall record, thanks to a 42-41 loss to the Cuyahoga Heights Redskins in a regional final. Dalton was outscored 21-14 in the fourth quarter. In earlier postseason appearances that fall, Dalton rang up blowout victories over Mathews and Windham.
Dial, now 27-6 in three seasons, wanted to take a break. Kaleb Reed took the reins in 2018.
"That was a tough decision," Dial said of his stepping aside. "Fortunately Dalton gave me the opportunity again. Really it comes down to Dalton being a great place. I love being here. With the game of football, you can have an impact on a lot of other people, and I kind of really feel like that's my niche in life now. I'm just trying to do the best I can with everything."
Senior quarterback Adam Bidlack is one of the many influencing forces on a team passionate about each other and the game. Through nine outings this season, he's thrown the ball 230 times, completing 156 aerials for 2,457 yards and 21 touchdowns. He's been intercepted six times. Against Northwestern he had 75 yards rushing and was 14 of 16 through the air for 214 yards and a pair of six-pointers.
"We just have a very good team chemistry," Bidlack said when asked about the Dawgs' success this season. "We're all close with each other, support each other and push each other to get better every day. I think we used last year as motivation for this year. We lost a few guys, but we're all pretty much still together. We didn't have a very good year. There was more of a learning curve."
Bidlack said the community's football DNA makes being a Bulldog all the more fun.
"I don't think there's any pressure from our fans," he said. "They just do a really good job of encouraging us. Even when we're doing bad, they're always there to support us because football does mean a lot in Dalton."
The Bulldogs are in high gear, having won six straight games after a 41-28 loss to Fairless on Sept. 14.
Sophomore Jaden Schlabach is a versatile teammate on both sides of the ball. Effective as a ball carrier and receiver, he also excels on defense. He and Tate Geiser lead the way with more than 240 tackles combined.
"Going 4-6 last year was not fun," Schlabach said. "So we came in during the summer and put in the work, pushed each other, and you can see the results now."
Schlabach is another student-athlete who understands just what the town's support means.
"Every Friday night our fans are there and loud," he said. "I think this brings our whole community together. It's a really good part of this community."
The school's McFarren Field is the focal point of Dalton's football kinship. School spirit is everywhere.
Cups have been placed in a portion of the chain-link fencing, spelling out the players' names and numbers, as well as six words that loom large in the program's mission and success story.
"One team. One dream. One vision."