College commits hope to take WHS baseball to the next level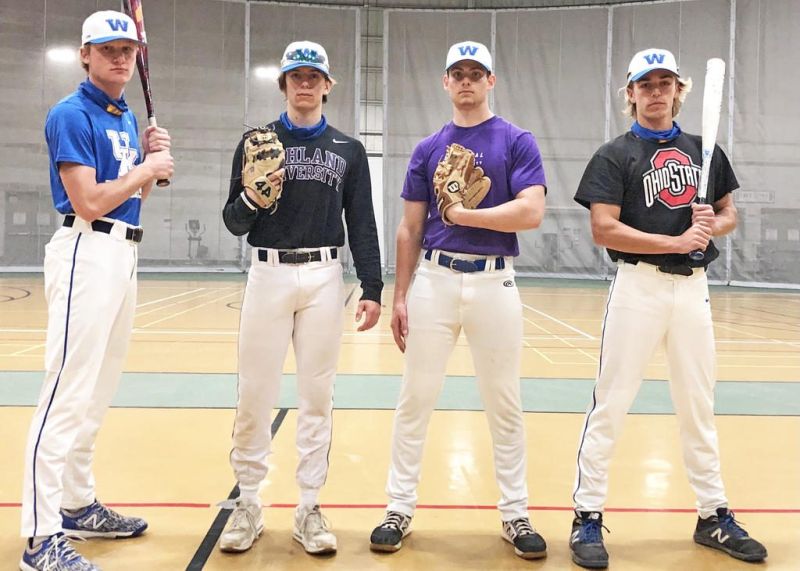 The Wooster baseball team is doing everything it can to take it to the next level.
Every time the Generals reach into their bucket of 44 numbered baseballs, they're reminded of their ultimate goal. The balls represent how many minutes the drive is from Wooster to Canal Park in Akron, where the OHSAA State Tournament will be held June 10-12.
"When we're done, it's someone's job to count the baseballs to make sure each one is there," fifth-year Generals coach Steve Young said. "If one is missing, whatever number is missing is the number of sprints the team runs.
"It just helps reinforce the goal of where we want to end up on a daily basis but also teaches and reinforces responsibility and accountability in terms of taking care of our things and taking pride in the little details."
Four Generals will play at the next level in college: seniors Tyler Pettorini (Ohio State), Chris Franks (Ashland) and Wayne Gerrick (Capital) and sophomore Blake Bowen (Kentucky).
Young, whose team had a 5-1 record after walloping Lexington 19-1 on Tuesday, believes several more Generals on his roster will wind up playing college baseball.
"It's a credit to these kids," Young said. "These guys have worked pretty hard to get where they are."
Pettorini, a 6-foot, 175-pound shortstop/pitcher, is the Generals' headliner. After earning Div. I first-team All-Ohio honors as a sophomore when he batted .523 with 19 extra-base hits, the Ohio State signee is determined to make the most of his final prep season. Currently, he's batting .652 with a team-high 15 hits and 11 stolen bases.
"I want our team to win a bunch of games and make a great run in the playoffs," Pettorini said. "It's awesome playing for Wooster. We have a really good team, and I love all three coaches: Young, (Doug) Johnson and (Joe) Winge. They put in the most effort I've ever seen from coaches."
Everyone connected with baseball in this region should know the Pettorini name. Tyler's grandpa, Tim Pettorini, Sr., retired in 2019 after a hall-of-fame career coaching at The College of Wooster. His dad, Tim Pettorini, Jr., played at The COW, and his uncle, Terry Pettorini, played at Ohio State and Akron.
Shortly after Tyler Pettorini transferred from Walsh Jesuit to Wooster as a sophomore, he committed to play for Ohio State after also being heavily recruited by Indiana.
"It's been good at times, bad at times," Pettorini said of committing early. "It's been good to know where I'm going but also brought some adversity — benches or parents yelling at me — but that fires me up."
College players have been granted an extra year of eligibility due to the COVID-19 pandemic, so that will create an added obstacle for incoming freshmen.
"It'll be a challenge for sure, but I think I have a pretty good chance," Pettorini said.
The growth Pettorini has made on and off the field since transferring to Wooster has been incredible, Young said.
"The maturity and leadership qualities that Tyler's developed are second to none," Young said.
Bowen, a 6-2, 170 sophomore third baseman/pitcher, was so impressive at the PBR Future Games held last year that several Div. I programs recruited him. He verbally committed to Kentucky over Kent State and West Virginia and also talked with Ohio State coaches.
The colleges were impressed with Bowen's combination of size, skill and growth potential.
"Both Tyler and Blake could be picked in the MLB Draft one day," Young said.
"It's nice to have (the early offer), but you never stop working hard," said Bowen, who's opened the season hitting .667. "You always have to be hungry to win, to be better. You don't want to be happy with just going to college; you want to make it to the next level and want to go pro."
Franks, a 5-10, 170 left-handed pitcher, has a fastball that's been clocked as high as 89 mph and a good assortment of other pitches. After performing well at a camp held at Div. II Ashland University, Franks wound up signing a scholarship offer to play for the Eagles.
"I pitched really well in the camp, and it was great to sign a scholarship," said Franks, who tossed a no-hitter with 13 strikeouts in Wooster's five-inning rout of Lexington.
Gerrick, a 6-1, 190-pound infielder/catcher, also performed well at a PBR event and attracted the attention of the Div. III Capital coaching staff.
"I went on a visit there, and I really liked the campus and their coaching staff," Gerrick said.
Young has been impressed with the off-season work of all of his future college players. He said Franks and Gerrick have made great progress in the weight room, adding Gerrick's team-first attitude showed by accepting the challenge to play catcher for the first time as a senior due to a need at that position.
Aaron Dorksen can be emailed at aarondorksen24@gmail.com. Follow him on Twitter at @AaronDorksen.