During pandemic, Main St. businesses work together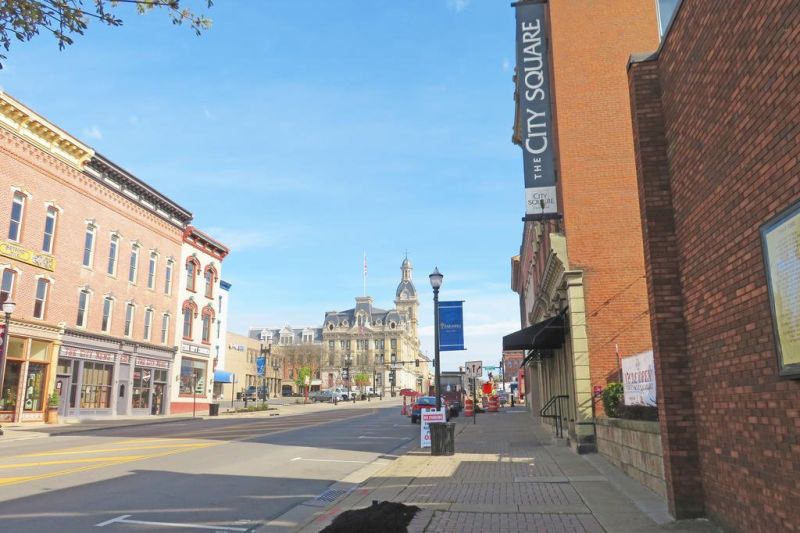 "This has been an adventure, hasn't it?" Shannon Waller said in response to how she's doing during the pandemic.
An ability to reframe challenges into the positive is one of many traits that make Waller well-suited for the role of executive director of Main Street Wooster Inc. Waller has held this position since her predecessor, Sandra Hull, retired in November 2019. Yet even with her positive attitude, collaborative spirit and resourcefulness, these are not easy times to be responsive to so many small businesses.
The struggle is real for small businesses on Main Streets across the United States that rely heavily on foot traffic from customers. A recent survey by Main Street America (www.mainstreet.org) paints a bleak picture for many small businesses.
Of businesses that responded to the survey, about one-third stated they could only make it two months before they would be at risk of closing permanently due to the disruption from the pandemic. Another third of businesses thought they could make it three to five months.
The survey also had bad news about revenues. When asked how business revenue changed since COVID-19 became widespread, more than half of the small businesses noted revenues were down 75 percent or more.
So how are things going in Wooster? That's where collaboration and community have paid off. The Wayne Economic Development Council, Wooster Chamber of Commerce and Main Street Wooster have worked together to share news, grants and financial-assistance information with businesses. Sharing information is crucial because there are a lot of programs. How could a small business owner ever have time to sift through all the materials available?
This is where Waller shines. She spends a lot of time processing information and making it available for businesses. It also helps that she has significant support from her trustees.
"We have bankers that are trustees, and we have accountants. Quite literally when someone calls me with a question about what they can apply for, our trustees can answer me immediately, and I could pass it on to our partners," Waller said.
In mid-March Main Street Wooster trustees set a goal of getting everyone through the pandemic. Waller sent that message around to Main Street Wooster businesses pledging support. "We don't want to see any businesses go under," she said. "Please reach out if you need help. We can help you find those resources."
"When I got the email from Shannon that she would provide support so that no businesses would go under during this time, that was a bit of light. It was good to hear," said Emily Mariola, owner of Flex Yoga.
The stay-at-home order has a tremendous impact on Flex Yoga. "It's a very tactile business. It's a personal business. Imagine that with masks and no touch. We'll find a way to move forward, but it will be very different," Mariola said.
Flex switched to online classes with optional payments. Like all businesses, it had almost no time to prepare but still responded quickly to the situation.
Businesses also are supporting each other during this time. "It's an advantage to being in a smaller town with connected activities and shared resources. I got a visit from Eric Lloyd of Sure House Coffee to see how I was doing," said Mike Mariola, owner of The City Square Steakhouse. "Just like it's hard for Emily's yoga teachers, it's hard for my wait staff because they cannot work from home. We're trying to push for a safe reopening."
Mike Mariola mentioned how anything but a full reopening affects business. "When you talk about 50 percent occupancy, you are talking about a money-losing proposition. In the restaurant world, we're talking about that transition period until the restaurant will reopen. How can we be creative?" he said.
A landlord in Wooster and chair of Main Street Wooster's Economic Development Committee, Josh Senger, echoed Mariola's comments on community and businesses supporting each other. "I'm confident that as we reopen businesses downtown, we'll have the community behind us," Senger said.
Businesses will need community support with revenues down and expenses still accruing. A lot of businesses are looking for extensions on rent and other payments. "We can't get directly involved," Senger said, "but as community members, we can help where we can."
"Main Street Wooster can provide best practices on how to have those conversations," Mike Mariola said. "I've seen a lot of variations on rent release and deferrals."
The fact Main Street Wooster businesses are interconnected is reassuring and perhaps the safety net needed during this time.
"The advantage that the Wooster downtown community has is that we've always been tight knit to begin with," Waller said. "I'm fairly new to the organization, and it's really gratifying to see how engaged and helpful everyone is."