Fresh approach for baseball Generals paying off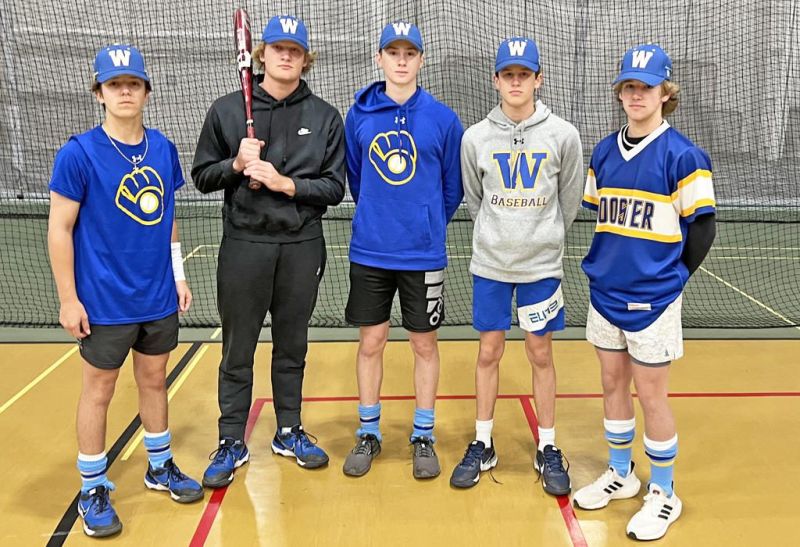 Most coaches will play their best players, even if they're underclassmen and it means they'll take the spots of older kids.
Wooster baseball coach Steve Young has taken a really "fresh" approach in 2022, and it's paid off more than he could have ever imagined.
The Generals are playing four ninth-graders on a regular basis and started the week with a 9-3 record including 4-1 in the Ohio Cardinal Conference.
Freshmen Brady Bowen (pitcher-infield), Sam Nielsen (first base) and Ben Winge (second base) have started the majority of games while classmate A.J. Likowski also has seen lots of action at pitcher and in the outfield.
Junior shortstop-pitcher Blake Bowen is clearly the team's best player. The Kentucky commit is making a serious bid to win OCC Player of the Year, leading Wooster in batting average (.588), doubles (seven), triples (three), home runs (five), RBI (29) and runs (21).
Young truly believes Bowen has a chance to be selected after his senior season in the MLB Draft. For now he's just savoring the chance to work each day with the 6-foot-2, right-handed throwing, sweet-swinging lefty hitter.
"Blake's obviously had a lot of success for us in big moments, but the thing I'm most impressed with is the growth and maturity shown in his approach at the plate," Young said. "We talked all off-season about how he may not see many fastballs and could go games without seeing one. He's done a great job adjusting his approach, taking what they give him and driving the ball to all fields. Just wait until he adds another 15 pounds of muscle in the off-season next year. His bat definitely projects for a potential draft pick."
Anyone who knows anything about Wooster baseball knew Bowen would likely have a big year after hitting .425 as a sophomore for the OCC champion Generals. He would have started as a freshman in 2020, but the COVID pandemic wiped out the season for arguably the Generals' most talented team in Young's five years at the helm.
But those freshmen? Who saw that coming?
Brady Bowen has joined senior Ashland signee Drew Becker (301, 4.02 ERA, 25 Ks, 15.2 IP) to form the team's 1-2 starting pitching duo for league series.
Brady Bowen has gone 2-0 with a 2.76 ERA and 14 strikeouts in 12 2/3 innings pitched, including a shutout to give Mount Vernon its only loss. When he's not pitching, he has been batting behind his brother in the cleanup spot and is second on the team with a .424 batting average.
Nielsen (.333), Winge (.292) and Likowski (.300), who Young said is the fastest player in the program, also have performed beyond their years.
"We want to get our best guys in the field," Young said. "That's always kind of been the philosophy since I took over, and these freshmen came in here and worked their butts off and they earned it.
"I don't care if you're 14 years old or if you're 18. If you're one of the best, you're gonna be on the field. It's not always the easiest thing to do because obviously you can get some pushback, but people don't necessarily see what we see every day in practice. These kids have earned absolutely everything they've gotten so far."
Blake Bowen has been impressed with the way his younger brother and fellow greenhorns have stepped up in varsity action.
"Coach gave (the freshmen) a chance, and they've proved that they can help us win," he said.
Don't take anything away from the senior class, which is led by starters Zach Harpster (center field, .371, 10 RBI, 11 R), Drew Rader (catcher), Jack Williams (right field, .257), Becker (pitcher-third base) and Karson Coblentz (left field).
Most of the seniors are two- or three-sport athletes and honor students. They've handled the freshmen joining their squad with complete maturity.
"A lot of places that I've been in and other teams that I've coached, this might not go so well," Young said. "But I think it really does speak to the leadership and selflessness of these seniors, to embrace these guys and just know, 'Hey, we're here as a team. We're trying to do what's best for the team.'"
Harpster said it's been a total team effort.
"Everyone bonds with everyone," said Harpster, a three-sport athlete who will play football at Heidleberg. "I don't think we have any negative energy at all this season. We're all working together to win the league and win some tournament games."
Brady Bowen just turned 15 in April. The baby-faced standout looks like it will be another couple years before he'll need to shave. However, he has played like a first-team All-OCC performer.
"Growing up seeing what my brother went through and my dad (Jeff) is a coach, they taught me a lot," Brady Bowen said. "The first game I started was against Mount Vernon. I did not expect to go in there and shut them out, and that really helped my confidence."
The Generals will play a two-game series against OCC-leading Ashland next week, followed by a series with always tough West Holmes the following week.
"We have our biggest games ahead of us and are right where we want to be," said Young, whose Generals are trying to become the school's first baseball team to win repeat league titles since 1984-85 when assistant coach Doug Johnson played. "We've got to make sure we just focus on each and every game individually and each pitch individually. Hopefully, we get the job done."