Golden Bear gridders banking on big improvement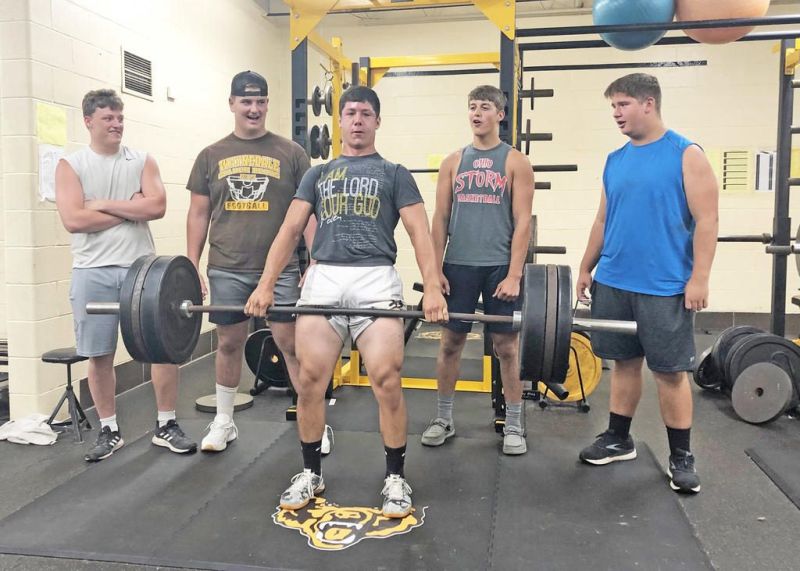 The OHSAA's unlimited summer instructional days for high school football have been a big change from just 10 days in past years and forced coaches to rethink how they do things.
Fifth-year Waynedale coach Louie Stanley has added to what the Golden Bears have done in the past but also has been mindful his players have summer interests and obligations beyond football.
"I think it falls into the old keep up with the Joneses," said Stanley, whose Bears have high expectations to improve upon a 3-7 record in 2020. "Coaches think, 'Everybody's doing more, so we've got to do more.' We definitely upped some of the stuff we've done in past years. If I would pinpoint anything, we've done more 7-on-7 passing scrimmages than ever before in my tenure. We got into the Ashland league in June and went to Triway on Saturday for a tournament."
The weight room has been open most of the summer, and coaches have been on hand to supervise. Athletes have been free to come and go and also get in extra throwing and catching, as well as speed and agility work.
"We have so many kids who also participate in basketball, baseball and wrestling, so I have to also respect that," Stanley said. "And then you throw in family summer vacations. It's such a fine line between trying to get more time with the kids and them doing other things that we tried to make it more about quality time instead of jamming in a bunch of days."
Whether it's coaching wrestling or football, strength training has always been at the forefront of Stanley's off-season program, and that hasn't changed.
"The biggest thing I've promoted for my entire 37-year career is weightlifting," Stanley said. "We promote out-of-season lifting, and then in-season we call it maintenance. We probably used about 15 coaching days, but the kids have been weightlifting most of the summer."
Stanley wonders if in future years the OHSAA will cut back on the number of football coaching days, which were increased due to lost time because of the COVID-19 pandemic.
"The (OHSAA) has to be careful," he said. "We all know football is the honey pot with the money and everybody loves it, but you don't want to force a kid's hand who also loves other sports."
Injuries and COVID-19 prevented the Bears from having the kind of breakout season Stanley thought might be possible in 2020.
However, a talented group of returnees at the skilled positions and a mix of hard-working linemen have Stanley eyeing a top-half finish in the Wayne County Athletic League.
"We never could get in sync last year because we had guys out every week," Stanley said. "We really felt like last year could be a come-out year for us. That's the team we had all the way up from freshmen. Now we're really banking on this year; our expectations are high. The kids have put in a lot of good work."
Health will be an even bigger concern this year with only about 40 players grades 9-12. There are 11 seniors, four juniors and 11 sophomores.
"Our biggest weakness is numbers in depth, but we have quality," Stanley said. "I'll take quality over quantity any day of the week. We've had some rosters with around 60 players that struggled to win. You can only put 11 players on the field at a time, and I really like the guys we have."
Leading the way will be senior third-year starting quarterback Peyton Lemon, who was the Div. III state wrestling runner-up at 170 pounds.
Lemon was 96 for 174 passing last season with 10 touchdowns and nine interceptions while also leading the Bears with 107 carries for 582 yards and five scores.
Stanley thinks the world of Lemon and what he means to the program.
"Peyton is a special kid for a lot of reasons," Stanley said. "He is an absolute coach's dream because of his work ethic and the way he treats people. He's constantly working out, studying, watching, learning, going to camps and clinics. He's always trying to elevate his game."
Despite all his success and talent, Lemon is as humble as they come.
"I'll look over after practice sometimes, and he'll be playing catch with a freshman, trying to help him," Stanley said.
Stanley also is excited about the receiving corps, which will be as deep as it's been in many years.
Sophomores Jeremy Reber and Jaden Zuercher are both highly touted while senior Josiah Raber and junior Brant Herman have big-play ability as well. That quartet also will help the defense.
"Jeremy is one of our fastest kids and has a lot of potential," Stanley said. "Jaden can catch everything. His dad is Brian Zuercher, who was a really good athlete here. Josiah is a three-sport athlete who's good at everything he does. He's a really good possession receiver. Brant is a big, strong kid who will play tight end and wide receiver."
Also expected to provide big contributions are seniors Justin Hershberger (fullback-middle linebacker), Luke Frantz (OL-DL), Gavin Morris (OL-DL), Jake Sundberg (C) and Caleb Zimmerman (RB-LB), along with junior Brayden Kidd (OL-DL).
Waynedale will host Tuslaw in a scrimmage on Aug. 7 and visit Fairless on Aug. 12.
The Bears will open the regular season hosting Tusky Valley on Aug. 20.
Aaron Dorksen can be emailed at aarondorksen24@gmail.com. Follow him on Twitter at @AaronDorksen.