Golden Bears' golden season ends with program's first state title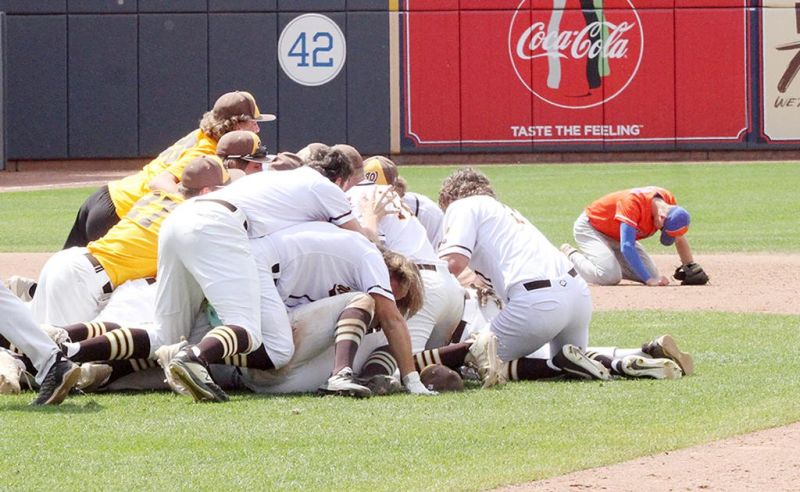 Then came the eighth.
In a game in which runs were at a premium, both teams in the Div. III state baseball finals at Canal Park in Akron needed to come up with one big hit in the eighth inning.
Only one did.
In walk-off fashion, the Waynedale Golden Bears celebrated a Div. III state title 2-1 victory over Edison in an eight-inning affair that saw Waynedale's Connor Gatti rip a sharp liner to right-center that scored Timmy Short. With that one swing of the bat the Golden Bears traveled back to Apple Creek with the school's first baseball state championship.
"It just doesn't feel real to be in this moment right now," Gatti said. "I always dreamed of being in this kind of spot, but it still doesn't feel real. I do know we have all worked hard for this and deserve this moment."
While the walk-off hit will be forever remembered, this game belonged to starting pitchers Otto Soloranzo of Waynedale and Edison's Ben Bates, who went toe-to-toe and gave their respective teams every chance to come away a winner.
Bates was masterful on the mound, allowing only six hits, five of them of the seeing-eye variety, striking out nine and keeping the Golden Bears guessing all game with a variety of off-speed stuff and a mid-80s fastball.
Soloranzo, a southpaw, was Bates' mirror image, going the distance, scattering nine hits — none of them hit very hard — while striking out nine and never issuing a free pass.
"Credit to both of those kids, they pitched amazing games," said Waynedale head coach Lucas Daugherty. "They were both tough to hit and deserved to win. I don't think Otto's ever been in this high pressure of a game, but we have been really impressed with his composure. He pitches the same every game, no matter who we're playing."
This Golden Bears' victory came down to several key moments that in most games would fall unnoticed. In a game of this magnitude, little mistakes became huge, small steps forward became giant leaps.
The first moment came in the opening inning, when Waynedale took advantage of some shoddy play in the field to forge a 1-0 lead. Dylan Raber led off with a single up the middle, was forced at second on Josiah Raber's grounder, then Bates misfired to first on a pickoff attempt, allowing Raber to scoot to second. Jay Mast then was hit by a pitch. Short rapped a ground ball to second, but the relay throw back to first after the force-out at second went astray and Josiah Raber scored the game's first run.
That would be it for the Golden Bears until the eighth, because Bates would buckle down and not allow any more scoring threats in regulation. Meanwhile, Soloranzo was equal to the task. He escaped a two-on jam second inning, then whipped through the third and fourth with ease before Edison finally found success in the fifth.
Bryce Michaelis singled to center and promptly stole second, and with two outs, Thomas Simon singled back through the box to plate Michaelis and tie the game. Simon then stole second, but Soloranzo induced an easy groundout to Short at third to end the threat.
Then came another major moment in the sixth. The Chargers' Dominic Dymond singled to begin the frame and Hayden Fox pinch-ran. Hayden Fry was asked to sacrifice bunt him to second, but he fouled the ball straight back, and an alert catcher Josiah Raber juggled and then caught it for an out. Fox had wandered far off the bag at first, and Raber fired to first as Fox sprinted back to the bag. His throw sailed wide of first baseman Braden Hershberger into right field, where Mast alertly backed up the play. Meanwhile, Fox saw the throw sail into right, and took off for second, arriving ahead of the throw.
However, he had never tagged up first base following the foul pop and the Golden Bears touched first for the out.
That set the stage for the eighth inning, a place Edison was quite comfortable, considering its regional final and state semifinal games both went eight innings and ended in victory.
Soloranzo may have been physically drained at this point, but his demeanor hadn't changed and he simply dug deep. He allowed back-to-back one-out singles, but struck out Dymond and retired the side on a Fry pop-out.
Bates was also over 100 pitches, but hadn't been hit hard in the slightest. Hershberger led off the eighth inning with a grounder up the middle and he hustled his way into an infield hit. Dylan Raber executed a perfect sacrifice bunt, something Edison failed to do earlier, and Josiah Raber was intentionally walked to put runners on first and second.
Mast's fielder's choice moved Hershberger to third and forced Raber at second, and with two outs, Short drew a walk to load the bases to bring Gatti to the plate.
Looking for a curve, Gatti instead got a belt-high fastball, and laced it into right-center, setting off a huge celebratory pile of Bears near second base as the Chargers consoled one another in the background.
"I trust our guys, and Connor Gatti is one guy I'd want up there in that situation," Daugherty said. "He doesn't try to do too much, and I had a lot of faith in him."
As for being focused, the Golden Bears were razor sharp. Daugherty said the entire team went together to Deegan Bee's calling hours, sharing with the family and then dining as a team. Bee was a Waynedale student who passed away June 8 following a car accident a few days earlier.
"This is the closest team I've ever coached or seen," Daugherty said. "There's just this incredibly unity, and what a tremendous thing for our community to unite around."
As the winning pitcher, Soloranzo did everything a coach could want from his starter. He said he was simply glad to have the opportunity to toe the rubber in such a big moment.
"I'm really happy to be here, to be part of this team," Soloranzo said. "I did my best to stay calm and stay positive, and my defense played great behind me."
Senior shortstop Ean Miller summed up the team's effort during a season that saw them rattle off wins in its final 26 contests.
"We're a family," Miller said. "This isn't about any one of us, it's about a group of guys who grew up together and wanted to play for each other.
"It just doesn't get any better than this."