Hamsher, Speicher lead Red Rider track teams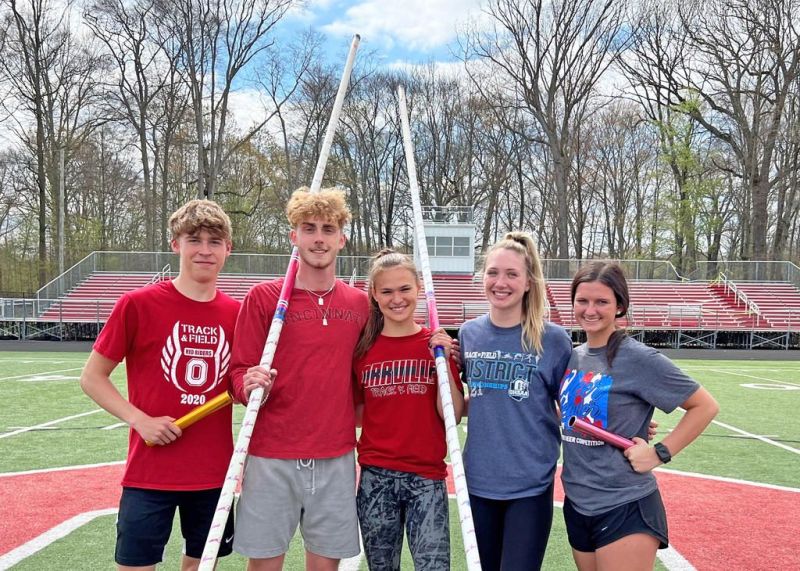 Orrville girls and boys track and field don't have the depth to challenge for a team state title like back in their heyday.
The Red Riders are longshots to even win the Principals Athletic Conference title.
However, longtime coaches Jason Ayers (girls) and Tyrone Mosley (boys) are both excited about the hard-working teams they do have, led by senior Ainsley Hamsher and junior Calvin Speicher.
The Riders don't have the quantity of athletes like in the past, but they clearly have quality.
Hamsher has a shot at winning a Div. III state title in the pole vault and also is an outstanding hurdler.
The University of Louisiana-Monroe signee placed third in the pole vault at state last year and has an area season-best vault of 12-6 this spring. That puts her close to the school record (12-8) held by former state champs Alex Eby and Alison Plybon.
"Ainsley is the heart and soul of our team, to be honest," Ayers said. "She was working with coach Mosley during the winter and led a group through lifting and winter workouts. She's a great captain. She's our leading point scorer. She's kind of our cheerleader. I don't know that I've ever seen that girl upset or pouting, even when she has a bad day. It's just kind of 'OK, I'll have a better day next time.'"
Hamsher said it feels like her high school career has gone really fast, and she's savoring the final month of her time as a Red Rider.
"We just had a talk in our locker room, and it was mentioned that we've got three meets left before the postseason," Hamsher said. "It's kind of sad, but at the same time, now is when you start to see the work you put in pay off and see the improvements."
Hamsher said pole vault is unique because she can make adjustments between each jump, unlike a sprinter who can't rerun a race.
"It's easy to get mental about it because it's a solo event, but the easiest way to get better is to find a way to push through those tough times," Hamsher said. "I have to thank my pole vault coaches, Dave Mackey and Karlie Lax. They're one of the best coaching duos in Ohio in my opinion. I don't think I would be anywhere close to 12 feet if I did not have them by my side."
Hamsher has come up short attempting the school record three times but is optimistic she'll be able to pull off the jump of a lifetime as the weather warms up and the competition rises.
"To even be up there with (Eby and Plybon), that's insane," Hamsher said. "They're two of the best vaulters to come out of Ohio. To beat their height would be an incredible feeling."
Also excelling for the Orrville girls have been junior Caylin Grimm (sprints, relays) and senior Caitlyn Race (400).
"Caylin's kind of bouncing around for us, 100, 200, 400 and then all three relays," Ayers said. "It just kind of depends on what the team needs. She had a pretty bad injury a couple years ago, when she needed a pin put in her foot.
"Caitlyn is a senior who is right there with Ainsley as far as being a leader and a captain. She has worked her butt off in the 400 and has been dropping time consistently throughout the season. It's great to see a kid who wasn't one of our top runners the last couple of years come out and see the hard work pay off."
Speicher has the area's fastest time in the 110 hurdles (14.91) and is second in the 300 hurdles. He'll likely have a PAC showdown with Tuslaw's Jared Wenzel — the two are second and first, respectively, in those events on the leader board.
If that's not enough, Speicher's 6-2 high jump trails only West Holmes' Kyle Maltarich (6-3) this season.
"Calvin is a true track athlete," Mosley said. "He's our leading point scorer and a great worker and team leader. He can do anything I ask him to do: the 110 and 300 hurdles, high jump, the 4-by-1, 4-by-2 and 4-by-4 relays. He could be a decathlete. In fact, his dad Dave Speicher was a college decathlete at Marietta and Toledo."
Speicher, who also plays basketball, said track and field is his true passion.
"I do a lot of different things and practice a lot of different events," Speicher said. "Over the summer I do Junior Olympics with the USATF, Hershey championships, and I've gotten to nationals three times. This last year it was in Florida."
Other standouts include senior Dominic Goodard (tied area-best 12-6 pole vault), freshman Jax Haley, junior Ben Crabtree and freshman Talon Beichler.
"Dom has had a tremendous season," Mosley said. "He's done a good job in the 110 hurdles, ran on relay teams and placed first or second in the pole vault in every meet.
"Jax is one of our top point-getters, and I've been really impressed with him. Crabtree is coming right along. Beichler is a good freshman thrower, and we're starting to peak at the right time. We have a lot of kids who are contributing in many different ways, which I'm very proud of."
The Riders will head to the PAC Meet at Northwest on May 12.
Fairless and CVCA are expected to be strong in both the girls and boys team races, but the Riders hope to push for top-three finishes.