Harper leaps into the record books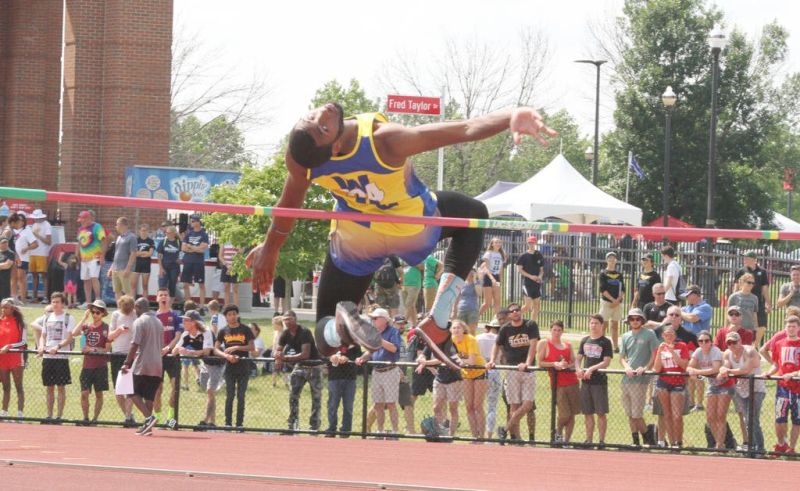 With a Div. I state title in the high jump on the line, all of the tell-tale signs of a pressure-packed finish were evident. The heart raced, nerves on edge, sweating it out as jumpers fell off one by one.
And that was Wooster head coach Brian Questel.
His jumper on the other hand was Cool Hand Luke.
If there was any pressure on Wooster senior Lonnie Harper, it didn't show, and even when he cleared his winning jump at 6-11, the emotional picture he painted was a small fist pump and a tiny scream of elation.
That pretty much sums up the guy who now owns Wayne County's best-ever jump that comes with an All-Ohio gold medal.
Harper won the Div. I high jump in a field where an unimaginable eight competitors were still alive at the height of 6-08 during the heated action at Jesse Owens Memorial Field in Columbus on Saturday, June 1.
It was high drama at its best, but Harper was nearly perfect all day long as he continually put the pressure on the competition to match his effort.
Eventually the eight jumpers dwindled to three at 6-11, and it was there that Harper put together his best jump of the day. While he failed to officially clear 7-00, unofficially he did because that clearing leap at 6-11 was easily 2 or 3 inches over the bar.
"I made sure on that one," Harper said. "That was the most competitive meet I have ever been in; 6-08 won it last year, and shoot, I've got to really jump the best I've ever jumped to win it this year. There were eight guys left at 6-08 this year, and that is crazy, but that also spurs me to really work to do my best."
Harper, last year's runner-up in Div. I, said he had to take the next step up, the only step left to garner a title.
Harper was the only competitor who was clean through 6-09. When favorite Etaijen Easter, who cleared 7-01 in regionals, bowed out at 6-09, the door was open. Harper missed once at 6-10 before making it, along with Shaker Heights' Jaivon Harrison and Shandon Morris of Middletown.
All three missed their first attempts at 6-11 before Harper uncorked an otherworldly jump to put the pressure on. Neither of his opponents could clear the height, and Harper was crowned king.
"This means everything to me," Harper said. "The one thing that really drives me is that I love doing it for my loved ones who root me on. I do it for my mom and for my late dad. It means so much for me to do this for them."
Questel said his pupil's ability to adjust on the fly and remain calm under all circumstances make him the jumper he is.
"Lonnie is very aware of where his body is, whether it is on the approach, on the plant or in the air," Questel said. "The second thing is that he is very intelligent on being able to make corrections. He is really good at knowing where he needs to be and how to adjust. Plus we have implicit trust in one another. When I make a suggestion, he can buy into it, and he knows he can push back if he thinks something isn't going to work, and we have a conversation about what will be the best way to approach a jump. We have that complete trust, and that makes it work. When we are done discussing, we always seem to come up with a solution that we both believe in."
Questel said Harper is very dedicated to his craft and said it would have been really interesting to see exactly where the state champion would have been this season had he not lost five weeks to an ankle and then a groin injury.
He said Harper has gone with an eight-step approach this year as compared to 10 last season. The groin injury actually forced them to use a six-step approach at one point. They then went to the eight-step, and at the Ohio Cardinal Conference meet, Harper tried the 10-step, but Questel said it looked really ragged so they stuck with the eight.
"He jumped so superbly off the eight at districts that it made sense to become as technically perfect in that method as we could, so we opted for refinement over speed, and it paid off."
Considering Harper started high jumping as a sophomore, it has been an amazing climb to the top for the unassuming senior who now owns a gold medal and the top jump in Wayne County history.
"I couldn't be happier right now," Harper said following the competition. "This is just a dream come true."