Hilltop, WCS get the racing season off and running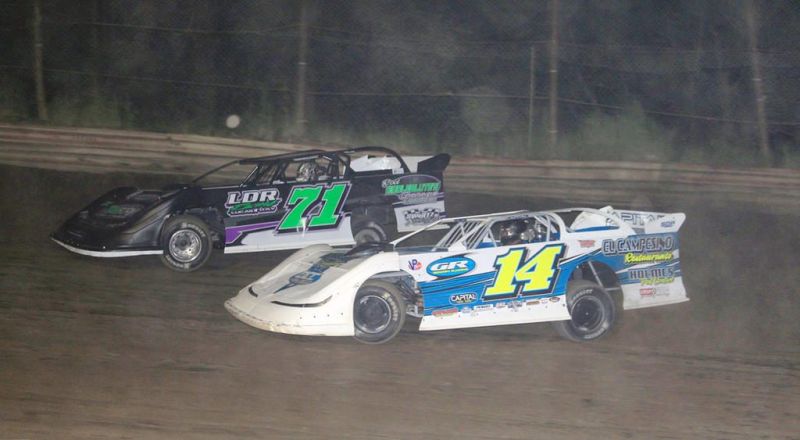 'Round and 'round they go. And the area's dirt-track fans couldn't be happier. Racing has returned to the Hilltop Speedway near Millersburg and the Wayne County Speedway near Orrville, making Friday and Saturday nights a little more normal than in recent months.
"We're not perfect, but we're doing our best," said Buck Smitley, owner of the 3/8-mile Hilltop facility on County Road 150.
In its June 13 program, 90 racing machines entered the gates of the banked oval known for "slideways" action that keeps fans on the edge of their seats.
"I think our turnout was pretty good all the way around," said Smitley, who, with the help of his wife Amy, has owned and run the track for the past 10 years. "Maybe we could have had a few more spectators, but I think people are still a little afraid to go out where there's a crowd."
Smitley said the car count would have exceeded 100 had all classes of racers been on the docket. To get things rolling again, five of the seven usual classes (including the mini-wedge go-karts) took to the track. More recently, a reduced card was to showcase the street stock, modified lights and mini-stocks.
"We don't really know what's in store. Nobody does. We're trying to do social distancing and have our track workers wear masks," Smitley said. "I want to do what the health department wants us to do. I don't want anybody to get sick. The health department has been pretty good to us. We do the best we can. It's hard to control that many people, and I don't like to be one of those tough guys."
That having been said, track owners find themselves constantly juggling tough situations that range from competition rules and driver demands to rain-outs and scheduling that fits in with other racing facilities in their region. Hilltop is one of a handful that feature Friday affairs. The Wayne County Speedway on North Carr Road operates in the more-common Saturday-night mode.
The local bullrings are not unlike hundreds of others nationwide that are known as the grass roots of the racing that takes place on a much larger scale. Throughout history, most of the NASCAR and World of Outlaws stars, for example, cut their teeth on tiny ovals — many in the Midwest.
"We're a good late model track," Smitley said. "We have a lot of good drivers and cars that come to our track from all around. Our corners are wide, and that makes for good dirt-track racing. Plus, our admission is just $12, which makes it affordable for the fans."
The Wayne County Speedway is known for attracting many big-name drivers associated with the winged sprint cars. Wooster's own Jac "Wild Child" Haudenschild, one of the most successful sprint car drivers ever, helped put the WCS dirt on the map. The late models also attract many fans.
The schedule for June 27 racing at WCS calls for the FAST Sprint Car Series, late model, super stock, mini-stock and modified drivers to take on that 3/8-mile oval. Admission is $17.