Inexperienced Pirates working on getting better each day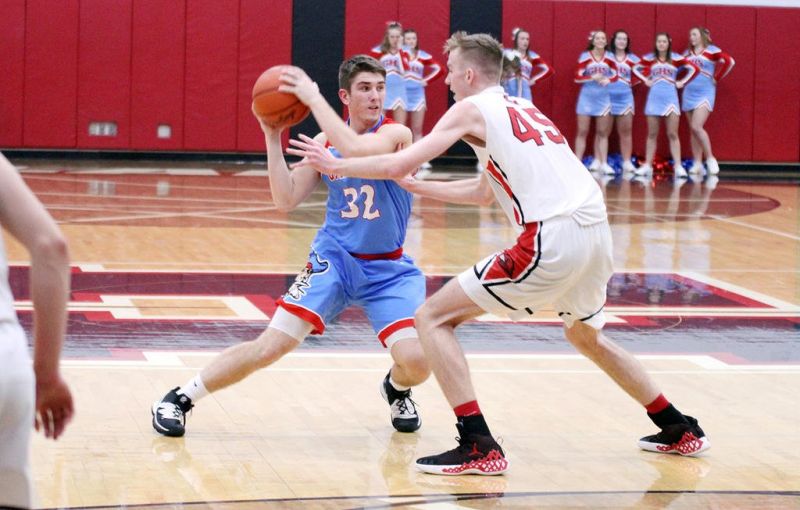 While the Garaway Pirates and Hiland Hawks have waged plenty of tight battles over the years between two of the most successful boys basketball program around, this year that has not been the case as the inexperience of the Pirates has reared its ugly head in a pair of losses to the Hawks.
The initial contest on Dec. 20 saw Hiland post a 68-43 win, and the Hawks again rolled on Friday, Jan. 31, darting out to a big lead en route to a 55-37 win.
Coming off of several really strong campaigns, the Pirates have not experienced any type of a rebuild under head coach Terry Rowe. However, this season has presented some new challenges, among them trying to build continuity among a group with very little varsity experience.
Rowe said whether the team is 16-0 or 6-10 at this point, over the years the coaching staff has put little stress on the record and more on learning how to gain ground each and every practice or game.
"It's about preparing to play the best basketball possible at the end of the year, and regardless of where we are, the goal is to get back into the gym and make ourselves better for tomorrow. That is something that hasn't changed. We were saying the exact same things to our teams the past two years where we have been very successful," Rowe said.
Rowe said 16 games into the season he hates to call his team inexperienced and won't use that as an excuse. He said they have seen some good qualities as the team grows together and plays through the fire.
"We're seeing some kids getting more comfortable in their roles, and we are getting some confidence, but what we are really hoping to see is a big jump in improvement over the next couple of weeks," Rowe said. "I guarantee that these kids are going to work at this to get better, and our hope is that they are rewarded with some victories as we get close to tournament time."
This one belonged to Hiland all the way, mainly because Will Schlabach seized every opportunity to pile up his 20 points. After misfiring a couple of times early, Schlabach began to light it up. His pair of 3-pointers inched the Hawks out to a 10-5 lead. Two early drives from Schlabach to kick-start the second quarter and a couple of acrobatic scores from Hunter Sommers pushed Hiland's lead to 28-9 late in the first-half, and the route was on.
When Korrie Hostetler hammered home his second dunk of the game in the third period, it was all a formality, although Rowe's team kept fighting.
The three-headed beast of Schlabach, Sommers and Hostetler was strong all night in the absence of leading scorer Sam Habeger. Both Hostetler and Schlabach added 14 points.
Trailing 44-18 late in the third period, Garaway's Brevan Raber hit on an and-one, and after Schlabach hit a trey, Zach Bickford hit on a drive and then tossed in a running buzzer-beater to bring the score to 50-24 through three quarters.
Matthew Beachy, who paced the Pirates with 15 points, hit a trey and added a couple of field goals in the fourth quarter. Alexander Roden and Brady Roden each scored to trim Hiland's lead, but it was far too late for a comeback.
"We've had to alter some things Xs and Os-wise, but we have been stressing growth all year long," Rowe said. "We are learning the game and growing as a team. We've got kids from every grade learning how to play some key roles on our team, and we have guys who really haven't played a lot together at this level."
Rowe said the team's 6-10 record is indicative of both his group's inexperience and a difficult schedule that has tested them.
"We'd like to think that few small-school teams play the nonconference schedule we face aside from this Hiland team," Rowe said. "That has challenged our kids, which is good. Our kids have battled and continue to play hard in practice, and our bond is becoming closer as a team."
More exciting was the junior varsity game, where the two teams once again waged an epic battle before the varsity action took place.
Trailing by one point, Hiland's Jack Hershberger scored on a put-back to give the Hawks a one-point lead at 30-29 with less than two minutes to play. Trey Yoder then made a steal and was fouled, splitting the pair for a 31-29 Hiland edge.
That lasted until the one-minute mark when freshman Drew Mullet delivered a dagger 3-pointer to put the Pirates back up by one. He then made a key steal that led to a Mason Steiner free throw with eight second left. Hiland's final 3-point try was off the mark, and the Pirates escaped with a 33-31 win.